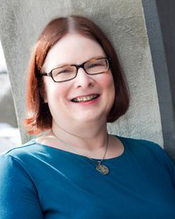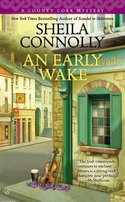 At the heart of the County Cork Mysteries is the second book I ever wrote, set in a small pub in a very small town in southwestern Ireland. It was inspired by a real pub called Connolly's, which I've come to know well over the past decade (especially after having tea with the owner in the back room, with her Irish Wolfhound by the fire and her cat in my lap).
I chose to write about Ireland because I never knew my father's parents, both of whom were born there (although in different counties), and I thought seeing the country might be a way to get to know them. My grandmother and grandfather came to New York separately, in 1911, and connected when he made milk deliveries to the back door of the house where she was a servant. They didn't marry until 1918, and they had my father a year later. My grandmother was 38 at the time.
They went on to have two more children. My father became a chemical engineer and earned a master's degree. His younger brother was a nuclear engineer at Stanford, after getting a Ph.D. at Cal Tech. Their baby sister worked in television in New York on the show Mr. Peepers in the 1950s—not bad for a girl from Syracuse, although she went home to marry a hometown Irish boy (it did turn out that he'd been a spy in Paris in WWII, complete with trench coat—I've seen the picture). That's quite an impressive list of achievements for the offspring of two poorly educated Irish natives who grew up raising cows out in the country. Is it any wonder I wanted to know more? So I made my first trip there in 1998.
What did I learn in Ireland? That there's a particular kind of humor that seems familiar to me. There's also a sense of fatalism: even when things are going well (like during the brief Celtic Tiger), there's the sense that a bad turn is just around the corner, but that's nothing new and we'll get through it somehow. That the Irish people love words and talk and songs, and they love sharing all of those.
The new book in the series, AN EARLY WAKE, is about music. Not the pipes and tin whistles kind, but contemporary music. I based Sullivan's pub in the series on Connolly's, and for reasons that are still a mystery to me, Connolly's was once a center for bands and music in West Cork. If you see the place, you end up scratching your head: it's all of two rooms, and it holds no more than 200 people legally, and only half of them in the back room where the stage is. The stage was maybe a foot off the floor and about ten feet square. Yet still they hosted bands you might have heard of, like the Cranberries.
How did the word get out? That's even more mystifying. No Internet in those days. No money for advertising, in the Cork papers or on the radio. The owner of the place would book the bands and people would just show up. He's gone now, but I asked his 24-year-old son just how it happened, and he said, quite simply, "magic."
And he's right. There's something magic about Ireland. I felt it the first time I saw the place, and it keeps bringing me back. I want to write about it because I want others to see what's so special about the country and the people. It's not all rainbows and leprechauns (although I've seen plenty of the first, and maybe a few of the second); there's something deeper and more complex going on that draws you in.
The title of that first Irish book of mine (never published) was Home of the Heart. It still fits.
About AN EARLY WAKE
Pub owner Maura Donovan may have Irish kin, but she doesn't seem to have the luck of the Irish. Who could have foreseen that bringing live music back to Sullivan's Pub would lead to a dead musician?
Summer is ending in County Cork, Ireland, and with it the tourist season. Expat Maura Donovan is determined to keep Sullivan's Pub in the black as the days grow shorter—but how? When she hears that the place was once a hot spot for Irish musicians who'd come play in the back room, she wonders if bringing back live music might be Sullivan's salvation.
As word gets out, legendary musicians begin to appear at the pub, and the first impromptu jam session brings in scores of music lovers. But things hit a sour note when Maura finds a dead musician in the back room the next morning. With a slew of potential suspects, it's going to take more than a pint and a good think to force a murderer to face the music.