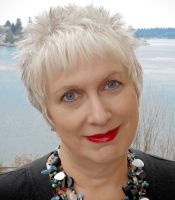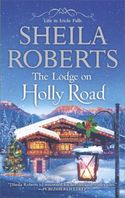 I remember last Christmas asking myself, "What would happen if Santa ever lost his holiday spirit?" Hopefully, Christmas is about more than the jolly, old guy in the red suit and the world wouldn't end if he took some time off. Still, I thought this would be a fun idea to play with, so I created James Claussen the quintessential Santa, who has played Santa Claus for family events, local hospitals and shopping malls. But now, with the loss of his wife, James has lost his joy in the season. In fact, he's lost his joy, period. Which is where Olivia Wallace's Icicle Creek Lodge in Icicle Falls comes in. This year Santa is going to THE LODGE ON HOLLY ROAD  where he'll meet a lot of people, all in search of a meaningful Christmas, and maybe he's going to find his Christmas Spirit again. That's the plan, anyway. We'll see if things go according to plan.
Things don't always go according to plan in books or in real life. A season that holds so much joy for so many can be equally hard for others. Personal loss, dysfunctional families, gatherings that go awry – anything can sneak up on us to steal our holiday joy.
Since Christmas is my favorite holiday I try to always make sure there's something I can appreciate about the big celebration, always some pocket of fun I can sew into the season. I find great comfort in celebrating the message of this holiday: God's love, peace on Earth, goodwill toward men. It's the biggest birthday bash in the history of the world and I think that's always worth celebrating. I love being with family, too. I remember one Christmas when we had a big dumping of snow and I couldn't make it to my brother's house for the extended family celebration. I have to admit, I wasn't a happy camper. We had to postpone our own little family celebration too, as my daughter's family was snowed in and couldn't get to us. But we did get together once the snow left and made up for lost time. Last Christmas I was between chemo treatments and wearing a wig. But I was still here and that was something to celebrate! This year I have hair again – even more cause to celebrate!
And of course, I'll be celebrating with the release of THE LODGE ON HOLLY ROAD as well as a special reissue of THE NINE LIVES OF CHRISTMAS featuring Ambrose, the snarky cat trying desperately to hold onto his 9th life by bringing together a shy pet lover and a commitment phobic fireman. Ambrose has made it to the small screen this year with THE NINE LIVES OF CHRISTMAS making its holiday debut on the Hallmark channel.
Needless to say I will have much to celebrate this Christmas. I hope you will too!