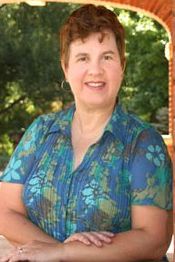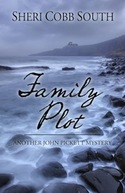 As a writer of fiction, I tend to spend a good deal of time in an imaginary world of my own creation; that seems to come with the territory, and as long as it doesn't interfere with my functioning in real life (as it did the time I became so wrapped up in mental plotting that I drove myself home from Mobile, Alabama—a distance of about twenty miles—without afterwards recalling how I'd gotten there), it isn't a problem. Every now and then, though, my two worlds collide, with dangerous (see above) or, more frequently, ludicrous results.
One of these occurred during the spring of 2012, when I was writing the Regency-set mystery that eventually became FAMILY PLOT. During the course of researching that book, I'd discovered that digitalis, the medicine still used today to treat heart patients, had existed as early as 1785, and that it is derived from the foxglove plant. I used my new knowledge in plotting the mystery at the center of the book. (This is not a spoiler, as the cause of death is determined very shortly after the discovery of the body.)
Meanwhile, in real life, my husband and I had bought a house in Colorado the previous fall, and now that the winter snows were gone, we were ready to do some landscaping. So we went to Lowe's to shop for plants. While browsing the garden center, I came across a big table covered with flowering plants whose tall stems and long, cuplike purple flowers, resembling the fingers of a glove, looked strikingly familiar. I looked at the shelf label, and my suspicions were confirmed.
I didn't think, didn't hesitate, just called to my long-suffering husband, Mike, and blurted out the first thing that came into my head. "Oh, look! Foxglove! I killed somebody with that!"
Oops.
I think they have my picture posted at Lowe's these days, right under a sign that says, "HAVE YOU SEEN THIS WOMAN?"
FAMILY PLOT
In disgrace with her aristocratic in-laws, recently widowed Lady Fieldhurst is exiled to Scotland with her three young nephews in tow. On impulse, she and the boys decide to stay at an isolated seaside inn under an assumed name, where they can enjoy a holiday far away from the scandal that still plagues the family.
But trouble soon finds them when the boys discover an unconscious woman on the beach—a woman who bears a startling resemblance to the local laird's daughter, missing and presumed dead for the last fifteen years. Uncertain whether to welcome her as a returning prodigal or denounce her as a fraud, Angus Kirkbride sends to London for a Bow Street runner—which presents a dilemma for Lady Fieldhurst, since she has chosen to call herself Mrs. Pickett after the handsome young man who saved her from hanging for the murder of her husband.
Meanwhile John Pickett, hopelessly pining for Lady Fieldhurst, resolves to forget her by marrying another. When magistrate Patrick Colquhoun receives Kirkbride's summons, he packs Pickett off to Scotland before his most junior runner can do anything rash.
Upon his arrival, Pickett is surprised (though not at all displeased) to discover that he has acquired a "wife" in the person of Lady Fieldhurst. But when Angus Kirkbride dies only hours after announcing his intention of changing his will in his daughter's favor, "Mr. and Mrs. Pickett" must join forces to discover the truth about a family reunion suddenly turned deadly.