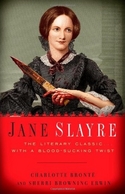 Ah, the holidays! Chestnuts roasting, stockings hung by the chimney, city sidewalks dressed in style, people laughing, mulled cider spices warming the blood… Yes, blood. I have to think of the vampires. They enjoy the holidays, too. One of my favorite things about this time of year is snuggling by the fire with a good book. What does an author of vampire stories read during the holidays, you ask?
Some childhood favorites:
1. How the Grinch Stole Christmas by Dr. Seuss. Sometimes shopping makes me feel like a Grinch, but the Whos down in Whoville always bring out the best in me. My heart grows three sizes with every read. Bring on the roast beast!
2. The Little Princess by Frances Hodgson Burnett. Like lead character Sara Crewe, I've always been a princess in my own mind. The magic of Sara's imagination in keeping the hard times from getting to her always reminds me, in a way, of the magic of Christmas. And of course, she has her own sort of Christmas miracle at the end. Did you know that The Little Princess was originally based on Charlotte Bronte's abandoned manuscript Emma, about an heiress being abandoned penniless at a boarding school? No wonder I love it! I'm partial to Charlotte after working with her on Jane Slayre.
Some Romance:
3. The Mischief of the Mistletoe by Lauren Willig. A new one in my holiday rotation, featuring intrigue between the bumbling Reginald "Turnip" Fitzhugh and headmistress Arabella Dempsey over a mysterious Christmas pudding. Fans of the Pink Carnation series will love it, and maybe some new fans will discover the series.
4. Naughty or Nice by Sherri Erwin. A little self-indulgence here. My Christmas set romance highlighting the transformation of a young widow to a woman in love… with two men, a god and a man. Will she choose Naughty, or Nice?
Some Fun:
5. The Stupidest Angel by Christopher Moore. Moore is an author who never fails to make me laugh out loud, and who doesn't need more holiday cheer? Archangel Raziel comes to earth to deliver a Christmas miracle to a small boy, and ends up botching his mission to chaotic results.
6. The Joy of Cooking Christmas Cookies by Irma Rombauer, Ethan Becker, and Marion Rombauer Becker. Bakers will delight in the treasure trove of new holiday recipes, and even non bakers will enjoy flipping through the pictures to remember cookies and good times from Christmases Past.
And a traditional favorite:
7. A Christmas Carol by Charles Dickens. Every year, Scrooge's trials remind me to be thankful for all I have in my life. Plus, I enjoy Dickens's scintillating prose. I'm not just saying that because he's my current writing partner on Grave Expectations, out in May 2011.
God bless us, every one!
Sherri Browning Erwin lives in Western Massachusetts with her husband, two kids, and a corgi. She writes contemporary and historical fiction with a paranormal twist. Her latest release is Jane Slayre. Look for Grave Expectations in May 2011. Learn more about Sherri and her books at www.sherribrowningerwin.com or join Sherri on Facebook at or Twitter.
Click here to leave a comment on Sherri's blog.