Nikki snagged another glass of champagne and sipped as she walked through the living room of Max Ingram's house. Tailored suits, designer gowns, and plenty of flashy jewels caught her eye as she walked the perimeter, distracting her from her mission. Focus. She turned her attention to taking in the extraordinary security measures. Fuck. Mia wasn't kidding about this. A burly guy stood at the foot of the stairs with a dog sitting at his feet. The dog looked like a military sentry on duty. Her heart thumped in response.
No worries. The stupid dog won't attack a random guest.
In her ear, Jared's voice said quietly, "You're on duty. That's your third glass of champagne."
She turned and saw him standing near the patio. Then she pointedly scratched an itch with her middle finger, making sure he took note. Although the champagne was quality, she still preferred to blend in as the help. Unfortunately, Ingram had his own waitstaff, so she couldn't jump in for a shift and disappear.
Even worse, between the alarm system and the dog, she didn't see an easy way to breach the house undetected. And the painting Mia wanted was too big to take tonight. Of all the jobs they'd planned so far, this one was proving to be most difficult.
A woman in a gold dress sidled up to Nikki and said, "Hi. I'm Maria Darpos. I don't think we've met."
"Hi."
The woman waited patiently, and when Nikki didn't answer, she prompted, "And you are?"
Mia was suddenly at her other side, presumably to rescue her. She should know better. Nikki despised being underestimated.
Before Mia could open her mouth, Nikki lowered her voice and said, "Do you know Baxter Padgett?"
"Of course. Everyone here knows Baxter."
Leaning even closer, Nikki said, "I'm his mistress."
Maria sputtered and stared at Nikki, who only offered a sly smile and a lift of her shoulder. Then the woman scurried away.
Through gritted teeth, Mia said, "What happened to keeping a low profile tonight?"
"What was I supposed to do? She made a point of talking to me and expected me to interact. It would've been more suspicious for me to dodge her."
"Do you know who Baxter Padgett is?"
"Yeah. Dude's like ninety and probably can't get it up anymore. If she asks, he won't deny it. I make him look good." She finished her champagne and set the glass on the table beside them. "Now, if you'll excuse me, as Jared has pointed out, I'm on the clock."
Nikki wandered down the hall and toward the kitchen. No one stopped her, although she did get a few odd looks. She'd hoped to find another way upstairs to at least get eyes on the painting. There seemed to be a staircase for the servants to use, but the kitchen was bustling with activity, and she couldn't see if it would be a clear path.
By her count the hallway had a motion detector, and every window on the first floor was wired. Mia had a right to be concerned. Ingram didn't leave much to chance.
As she neared the foyer again, she heard a voice that made her stop in her tracks. It couldn't be. She knew that voice—it was scored on her soul—but she thought she'd never run into Wade again. Last she'd heard, he was out of the game.
She tucked herself next to a tall potted plant, hoping to stay clear of the dog and the host. She peered through the leaves to get a glimpse. Damn it all to hell. There he was. His blond hair a little shorter, slicked back in an odd way, and he wore glasses that hid his eyes. He was still in shape and wore a suit well. She'd recognize him anywhere.
"Mr. Ingram. It's so good to finally meet face-to-face."
"Walter, it's about time. I've heard so much about you from Brad."
Walter, my ass. Wade Palmer was running a con on her mark. Fuck. Having Wade around would mess with everything they were trying to do. Too much exposure. Part of her wanted to run, but she wanted to figure out Wade's scam. If she knew what he was after, she could avoid him.
The men exchanged bogus pleasantries and Nikki rolled her eyes. Stupid shit like that was why she hated a con. It was so much simpler to just take what she wanted. Wade shifted, and Nikki moved to get out of the way. She didn't want him to see her, so she ducked into the bathroom down the hall.
As she flipped on the light, her heart bumped again at her reflection. The blond wig didn't suit her coloring and any idiot could probably tell it wasn't natural, but at the same time, they wouldn't really remember her either. She tucked the chin-length hair behind her ears and leaned against the sink.
A knock on the door jolted her.
"Occupied," she called. "I'll be out in a minute." She ran the water for effect and let it run over her wrist, the motion and temperature calming.
It had been a trick Wade taught her when she panicked on a job. Panic struck when she was caught off guard.
She didn't panic anymore. She did the planning, so there were no surprises. She twisted the taps with more force than necessary to stop the flow of water. After patting her hands dry, she turned the doorknob with a friendly smile on her face and a prepared apology on her lips. But as soon as the lock unlatched, the door pushed in, and she stood toe-to-toe with Wade.
Whatever calm she'd thought she felt before opening the door fled, as did the air in her lungs. Wade was here, in her space, staring into her eyes as if years had not passed. As if he had every right to have his hands on her.
"Nikki." Her name came from his lips in a puff of air. He stared at her like she was a mirage and might fade in a moment.
She stepped back out of his grasp. "What the hell?" she asked with forced bluster.
"It really is you." He tucked his hands in his pockets and rocked back on his heels. "I thought for sure I was following some other woman until you called out. What are you doing here?"
Pointing at the gown she wore, she said, "Working." She picked up the crystal dish from the counter and shoved it into her purse. "I assume you're doing the same, Walter."
His eyes flashed at the sound of his phony name.
"Times must be tough if you're stooping to snatch small trinkets."
She smirked. "Every little bit helps. Isn't that what Dodger taught us? Heard you were out of the game."
"I am. Mostly."
She wanted to ask. Wanted to know what he'd been doing. But she couldn't afford to care. She pushed past him to get to the door.
He touched her arm, sending a jolt of awareness through her body. "Secret's safe?" he said quietly.
"I've never been a snitch." For a second, they both stood in silence, and she was pretty sure he was remembering when they first met and she let him steal from her. She'd felt sorry for him and let him get away with it. Then she'd had to hear from Dodger for-fucking-ever about how some dumb boy got the better of her.
"I know," he finally mumbled.
She opened the door and as she stepped back into the hall, she heard, "Good to see you."
How the hell was she going to convince Mia to walk away from this job?
(C) Sloane Steele, Carina Press, 2021. Reprinted with permission from the publisher.
Counterfeit Capers #2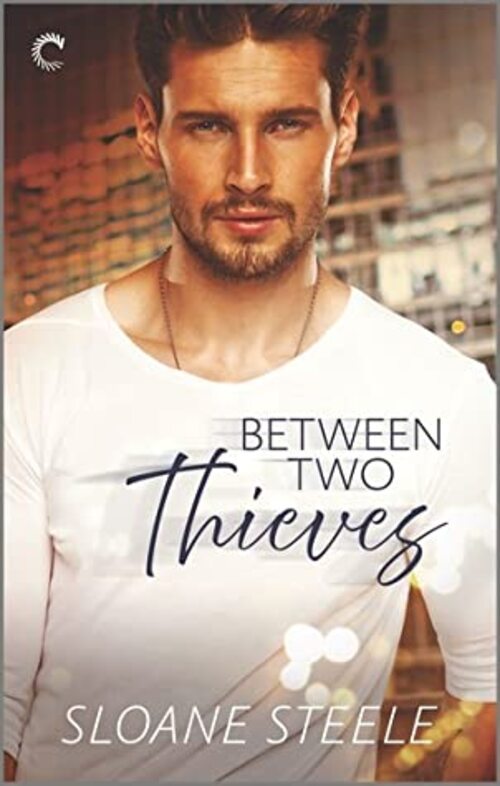 Don't miss this new high-stakes romantic caper series, where they're planning the art heist of the century—to right the wrongs of the past.
She's no stranger to theft—but this time, it's her heart at risk of being stolen.
Get in. Get out. The two basic rules of thieving.
But when Nikki Russo runs into ex-boyfriend Wade Palmer, getting out gets mighty complicated, mighty fast. Burned by Wade before, her life was less difficult with him gone—even if it was less exciting.
Nikki's working for the good guys now, trying to restore some ill-gotten gains to their rightful owners. Wade is doing one last job for his mentor—who also happens to be Nikki's dad.
Now it seems they're after the same high-value painting. And maybe a little of that thrill they used to share. Teaming up with a man she's not sure she can trust won't be easy, especially when Nikki discovers there's a lot more at stake than Wade first let on.
But then, Nikki's always loved a challenge. Where's the fun in easy anyway?
Counterfeit Capers
Book 1: It Takes a Thief
Book 2: Between Two Thieves
Book 3: To Catch a Thief
Romance Contemporary [Carina Press, On Sale: June 29, 2021, e-Book, ISBN: 9780369703125 / eISBN: 9780369703125]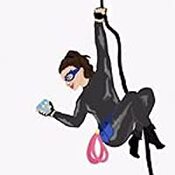 Sloane Steele is the pen name for contemporary romance author Shannyn Schroeder. Shannyn is a part-time English teacher, part-time curriculum editor, and full-time mom, even though her kids are pretty self-sufficient teens. In her downtime, she bakes cookies, reads romance, and watches far too much TV. She's a sucker for a good heist and even more, loves a team who can pull one-off.