One of the best things about cozy mysteries is the introduction to a hobby the author is either passionate about or just picked up because they always wanted to try it. Throughout the mystery, the reader can either enjoy something they love, or learn a few fascinating tricks of a trade they can appreciate. Cozy readers after all, are intelligent and open to new and exciting new artistic outlets, that's what makes us unique in the reading world—author can sell us their books and a new hobby.
Fair warning dear readers, Allie Pleiter is one of those gifted artist/authors who will allow you to escape into her world, and make you want to empty the aisles at your local craft store of every knitting supply possible! But isn't that what makes reading a great new cozy mystery all that more special?
Kym: Welcome to the Cozy Corner, Allie!
Allie: Thank you so much! I'm delighted to be here.
Kym: You've recently expanded your amazing career as a romance author, non-fiction author, speaker and career coach to a mystery author. What made you broaden your personal writing into a new genre?
Allie: The chance to do a knitting-themed mystery was just too good to pass up! I enjoy writing from the first-person point of view, and this was an opportunity to stretch some new fiction muscles while meeting a whole new world of readers. The genres were also closely enough related that I felt many of my romance readers would enjoy a cozy mystery as well. I'll still be doing romances for Love Inspired. I'll also be continuing my work coaching writers and speaking on creative productivity. As you can tell, I'm happiest when I'm doing a wide range of projects!
Kym: You've incorporated your love of knitting into your new Riverbank Knitting Mysteries. Was it the deadly needles clicking away with ease at your fingertips that made you plot a murder? (Even as a kid I thought those things were scary!)
Allie: Actually, I have always thought it a bit too obvious to make those sharp pointy sticks a murder weapon (although never say never…). I come up with some other creative tactics for the murders in my stories. Mostly, I would have to say I am intrigued by the dynamic of something so soothing and creative as knitting set up in contrast to a drastic crime like murder. 
Kym: I find my plot creativity while creating something else. Did you find yourself knitting more while writing On Skein of Death, or unable to find the time to knit with another project in the works?
Allie: Knitting has always been the counterbalance to writing for me. It's tactile, it's not looking at words (reading sometimes can feel too much like work), and I love the energy of creating something beautiful. But yes, I do some of my best thinking—and problem-solving—with yarn and needles in my hands. The repetition of the task frees up my imagination, and lots of good things always come from that!
Kym: You have developed your own method of getting things done on a busy schedule called The Chunky Method that you teach to other authors and professionals. If your heroine, Libby Beckett from the Riverbank Knitting Mysteries, was going to use your Chunky Method to plan for the visit of famous Norwegian knitting celebrity Perle Langager at her Y.A.R.N. shop, what would be on her to-do list? And is it reusable for any big party event? Not that I want to poach or anything;)
Allie: You know, I've never thought of Libby utilizing The Chunky Method!! I have often had clients tell me they take the tactics they learned from me and apply them in all kinds of ways outside of their writing. I certainly do. I would advise Libby to make a master list, think about how much she can accomplish before she feels overburdened or tired (i.e. her "chunk"), and then break down that list into a series of chunks. Showing Libby apply Chunky Method tasks in a plot is definitely an interesting idea. Keep your eyes peeled in future Riverbank Knitting Mystery books…
Kym: Yay! I will definitely do that! I'm not a knitter but I can appreciate the artistry of the craft and love your descriptions of the yarn, different pieces that were created and the tools—those beautiful deadly tools! You captured this carver's attention with those, do you really have a pair of hand-carved knitting needles? (I have a couple hand-carved carving knives:) Which of your sets are your prettiest and which are your favorites?
Allie: I'm afraid Libby's hand-carved and pearl-inlaid needles are totally a product of my imagination. But if they existed, I'd probably shell out the hefty price-tag they command in a heartbeat. As for my favorites, I have several sets of interchangeable circular needles, and most often use those. My favorite things to knit are shawls, and those are often too large to manage on traditional straight needles. But I do find the straight needles beautiful, and have a large vase of them on top of my yarn shelf. I love the idea of beautiful, artful tools.
Kym: That sounds like a beautiful bouquet! How do you create a story involving a craft that isn't appealing to everyone and still make it so intriguing?
Allie: Great question! One of the ways is to communicate what makes the craft appealing to the character—in this case the sense of art and color and texture. Many readers have commented on how the book captures the feel of Libby's store and her passion for the craft. I also think there's a balance to be achieved where the craft is part of the story, but doesn't take over the story. It's a murder mystery that happens to involve yarn, not a yarn murder mystery. 
Kym: Other than Libby's beautiful Y.A.R.N. shop, what is your favorite place in Collinstown?
Allie: Oh, that's easy. The Perfect Slice Pie Shop. I really love pie. Too much, probably, but Margo would tell me there's no such thing.
Kym: LOL, I'd join you any day of the week at The Perfect Slice! With every new series, I'm always curious if there was a certain town, business, or location that inspired the author for their fictional setting. What or where inspired Collinstown, and Y.A.R.N.?
Allie: Yes, there is, but I'm not telling. 🙂
Kym: The secrets of a mystery writer;) Hank is an awesome English Bulldog and a great model! What made you choose him for Libby's adorable companion and have you used your own dog to model some of your creations? (My kid wants to dress up her new puppy all the time!)
Allie: Yes, I'm a devoted dog owner of a Lhassapoo named Paisley, and many of her antics show up in Hank's personality. I have always loved the great visual character of English Bulldogs but never owned one. This was my chance to slip-on that experience. I should probably admit, however, that Paisley isn't nearly as fond of the sweater I knit for her (there's a pattern for the dog sweater in the back of the book) as I would like.
Kym: I saw your wonderful pattern, but sadly it is waaaay over my head—maybe someday…sigh. What are you currently plotting now over your skein of yarn?
Allie: I'm at work on the third Riverbank Knitting Mystery, a holiday tale for 2022. The second, Knit or Dye Trying, comes out in February. I have another Love Inspired romance coming out in September, and I'm at work on a new series for that line as well which will launch in 2022. Lots in the works—and that's just the way I like it! 
Kym: More the better for us readers! If our readers want to find you on social media or find out more about your Chunky Method where can they reach you? 
Allie: alliepleiter.com is always a good place to start, but you can also find me at:
Instagram: https://www.instagram.com/alliepleiterauthor/
Facebook Page: https://www.facebook.com/alliepleiter
Twitter: https://twitter.com/alliepleiter
Goodreads: https://www.goodreads.com/author/show/453346.Allie_Pleiter
BookBub: https://www.bookbub.com/authors/allie-pleiter
Kym: Thanks for joining us on the Cozy Corner!
Allie: I'm so glad to have had the chance to visit!
Until next month get cozy and read on!
A Riverbank Knitting Mystery #1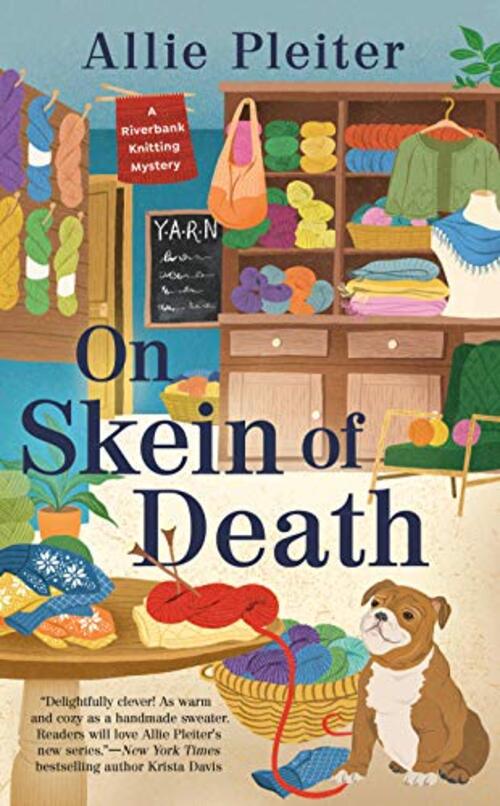 For Libby Beckett, opening her charming yarn shop, and introducing customers to the joys of knitting and crochet, is the work she was meant to do.  Until the yarn she loves is used for murder….
Libby has come home to Collinstown, Maryland to live her dream and open her own yarn shop, aptly named Y.A.R.N., along the Chester River. To Libby, Y.A.R.N. stands for "You're Absolutely Ready Now." But the acronym changes whenever inspiration strikes, and customers add to the list of suggestions that fill the blackboard wall in a shop stuffed with color, fiber, and comfort.
Libby is thrilled when she lands famous Norwegian knitting celebrity Perle Langager for a series of events  at Y.A.R.N. Libby's English bulldog, Hank, has been modeling one of Perle's doggie sweaters, and customers just can't wait to see Perle in action. The mayor of Collinstown even decrees a Collinstown Yarn Day to celebrate. But once Perle arrives in town, she seems distracted and on edge.  And when she's found strangled with a skein of red yarn, Libby knows she has to solve a knotty mystery before her new life unravels.
Mystery Cozy | Mystery Culinary [Berkley, On Sale: June 1, 2021, Mass Market Paperback / e-Book, ISBN: 9780593201787 / eISBN: 9780593201794]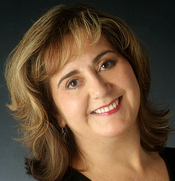 Bestselling international author Allie Pleiter honed her talents in the world of popular fiction, where she still releases multiple books a year. Allie has over 50 published titles to her name, and over 1.5 million Allie Pleiter fiction and non-fiction books have been sold around the world.
Her well-known Chunky Method system trains writers at every level to formulate plans and meet deadlines in a way tailored to their unique working style. Allie runs an active coaching practice helping writers and all kinds of creative people be more productive, as well as training productive people to be more creative. Already a national speaker among writing associations, Allie now extends her reach to entrepreneurs, speakers, consultants, and anyone who needs to bolster their productivity and creativity in a demanding marketplace.
Allie is an avid knitter, confirmed coffee junkie and firm believer that "pie makes everything better." She holds a BS in Speech from Northwestern University and lives in the suburbs of Chicago with her husband and the world's most adorable dog.
***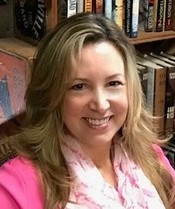 Kym Roberts writes by day and is a pro-surfer in her dreams by night. Her humor is often raunchy, her jokes are often bad, but her hunger for a story keeps the adventures coming fast. Experience the thrill & catch the wave of passion, mystery, and suspense with her at kymroberts.com, on Facebook @KymRobertsAuthor911, and on Twitter @kymroberts911.