I've always loved August – Summer is winding down, and though it's still hot as a firecracker in most places, by the end of the month there is a hint of cool relief to come. Plus there is that enticing scent of new crayons in the air as the kids get ready to head back to school!
There is still plenty of time to indulge in a little cozy reading at the beach, or in the comfort of your own air-conditioned haven. And this month sees a wide variety of new cozies to choose from -there's a little something for everyone here!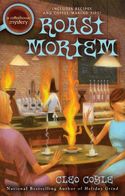 Leading the way into August is Cleo Coyle's latest installment of her Coffeehouse Mystery series, ROAST MORTEM (Berkley Prime Crime; $24.95).
After being rescued by the firefighters of Ladder Company 189, Village Blend coffeehouse owner Clare Cosi is more than happy to come teach her new heroes how to make a good cup of coffee with their new espresso machine. While getting to know her new friends, she learns that somebody is touching café's around town, putting the firefighters in more than usual danger.
So being the natural nosy sleuth that she is, Clare begins to poke around, trying to find clues to who might be setting the town ablaze, but will Clare's fires be snuffed out before she finds the real culprit? The suspense percolates a'plenty!
Cleo Coyle once again delights her readers with her caffeine-infused stories, and the addition of luscious recipes and coffee-making tips make ROAST MORTEM a must have book for any cozy collection!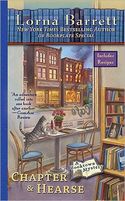 There is a new sub-category of mysteries these days, one that focuses on books with a bibliophile theme – and Lorna Barrett's Booktown Mystery series fits into that niche just perfectly! Her latest book, CHAPTER AND HEARSE (Berkley Prime Crime; $7.99) finds mystery bookstore owner Tricia Miles in the midst of solving another mysterious event in her beloved town of Stoneham, New Hampshire.
Between juggling her own shop, helping her sister Angelica with her cookbook store, and a couple of competing boyfriends, Tricia has her hands full. But when a gas explosion takes the life of the town's history bookstore owner, Tricia jumps into investigative mode to find out exactly what happened and why.
Lorna Barrett's lively series about a town full of bookstores are always fun, and full of excitement that will keep her book-loving, mystery reading fans happy.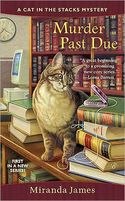 Keeping with the book theme, a brand new series from author Miranda James debuts this month, and promises to be a delightful addition to the cozy mystery family.
MURDER PAST DUE: A Cat In The Stacks Mystery (Berkley Prime Crime; $7.99) features widower Charlie Harris, the librarian of Athena, Mississippi's library, who loves book and cats with equal passion. When a former classmate, the famous author Godfrey Priest, returns to town and ends up dead, it's up to Charlie to find out just who in town hated Godfrey enough to kill him. And the job was going to take a while, because the author had a whole lot of enemies lined up with a grudge.
In an unusual twist, James uses a male main character for this cozy series in what is usually a female dominated genre. It was a refreshing change of pace, and I look forward to more stories about the gentle librarian and his Maine Coon cat, Diesel.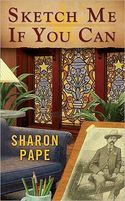 Another debut series comes from author Sharon Pape. Her book, SKETCH ME IF YOU CAN: A Portrait of Crime Mystery (Berkley Prime Crime; $7.99), features police sketch artist Rory McCain, a gal with a passion for solving mystery and who has an unusual partner helping her out – Federal Marshal Zeke Drummond – who has been dead since 1870.
When Rory's favorite uncle died, he bequeathed his home and his private investigation business to his niece. As Rory settles in to her new home, she is surprised to find she's not living alone! The ghost of Ezekiel Drummond is in residence and ready to help her with her caseload, much like he helped her uncle. The only thing he asks is that she help find out who shot him in the back all those many years ago. Rory is a little skeptical, but finds that the confident spirit's advice might come in handy, especially when her life suddenly is on the line!
This promises to be a dandy series to look forward to!
For those readers who enjoy crafting as well as mysteries, the next two books will be right up their alley!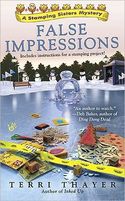 FALSE IMPRESSIONS is Terri Thayer's latest book in her Stamping Sisters Mysteries (Berkley Prime Crime; $7.99), and the lively story left a favorable "impression" on me!
April Buchert has joined the Stamping Sisters group in her hometown of Aldenville, Pennsylvania, where she finds kindred crafting and mystery loving spirits among the ladies. But when it comes to the fuzzy details of Mary Lou Rosen's brother's death, April's new friends are reluctant to discuss the details. Would her new friendships be jeopardized as April digs into this unusual situation?
Terri Thayer treats her readers to a fast-paced story that will keep them on the edges of their seats to the very last page. She also includes directions a stamping project that is just adorable.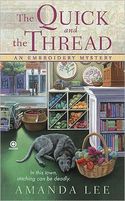 Fans of needlework will be thrilled with Amanda Lee's new book, THE QUICK AND THE THREAD: An Embroidery Mystery (Obsidian; $6.99).
Marcy Singer has just opened The Seven Year Stitch, a needlework shop specializing in embroidery, in the tiny town of Tullulah Falls, Oregon. But when Marcy finds a dead body in the basement of her store on opening day, the business truly gets off to a shaky start. The deceased turns out to be the man who rented the shop before Marcy, and he left a cryptic message scratched on the wall before he died. It's up to Marcy to sew up the mystery before her shop unravels at the seams.
Amanda Lee's debut novel is charming with just the right amount of suspenseful bite to delight mystery fans. The Embroidery Mystery series looks to be one to look forward to with new stories to come.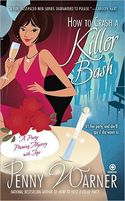 Also out this month is Penny Warner's latest book, HOW TO CRASH A KILLER BASH: A Party Planning Mystery (Obsidian; $6.99).
Presley Parker's latest event in her party planning business is setting up a Murder Mystery Party at the recently renovated de Young Museum in San Francisco's Golden Gate Park for her ultra-rich, ultra controversial client, CeeCee Williams. Everything is going swimmingly until CeeCee turns up dead during the party, and suddenly Presley has a real life murder mystery on her hands.
Penny Warner's party- planning mayhem found in her series is always guaranteed to be fun-filled as well as intriguing. She also includes plans for hosting your own Murder Mystery Party at the conclusion of the story!
Other cozy mysteries to check out include: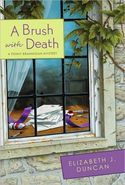 A BRUSH WITH DEATH: A Penny Brannigan Mystery by Elizabeth J. Duncan (Minotaur Books; $24.99) – Set in Wales, an artist sets out to solve a decades old mystery involving fraud, murder, and illicit love.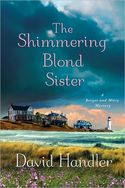 THE SHIMMERING BLOND SISTER: A Berger and Mitry Mystery by David Handler (Minotaur Books; $24.99) – Police officer Desiree Mitry sets out to capture a notorious criminal, only to find herself under investigation when the bad guy turns up dead.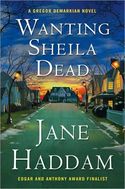 WANTING SHEILA DEAD: A Gregor Demarkian Novel by Jane Haddam (Minotaur Books; $24.99) – Retired FBI agent Gregor Demarkian is called in to find out who wants America's Next Top Anchor dead.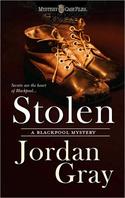 STOLEN: A Blackpool Mystery by Jordan Gray (Harlequin; $7.99) – Molly and Michael Graham set out to solve a World War II murder mystery in Blackpool, England. New series.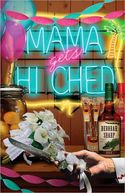 MAMA GETS HITCHED: A Mace Bauer Mystery by Deborah Sharp (Midnight Ink; $14.95) – A "Gone With The Wind" Southern wedding for Mama is spoiled when the caterer turns up dead.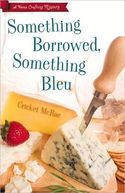 SOMETHING BORROWED, SOMETHING BLEU: A Home Crafting Mystery by Cricket McRae (Midnight Ink; $14.95) – Something stinks in Spring Creek, Colorado, and it's not just the cheese! Murder, mayhem and wedding plans – sounds like a party to me!
That should keep everybody busy for a while, or at least till the weather cools off! Be sure to stop back by for my interview with author Carolyn Haines, the genius behind the Sarah Delaney Booth Mystery series! Until then, cozy reading, ya'll!
---
Sharon Chance has been a freelance entertainment journalist for the past fourteen years. As a regular contributor to the Wichita Falls Times Record News, she has written well over 1,600 articles covering everything from concert and movie reviews to museum openings to interviewing some of the top musicians performing today, including members of Bon Jovi and Guns and Roses.
But her true love lies in the world of books. A voracious reader from a young age, Sharon began reviewing books at the urging of her sister-in-law, who was a big fan of the Oprah Winfrey Book Club. What began as a simple fun attempt at sharing her views of books she enjoyed has developed into a work of passion for Sharon. In addition to being a senior book reviewer for the Times Record News, Sharon is also a regular guest contributor for the Las Vegas Review Journal's Book Nook, as well as having written for several other publications.
A distant relative of the great Edgar Allan Poe, Sharon has a fondness for mysteries, especially those of the cozy kind. In her new column, Sharon's Cozy Corner, Sharon hopes to bring news of the latest in the cozy mystery genre, as well as insightful interviews with the authors who write them.