Missy Dubois is the definition of southern charm in the small town of Bleu Bayou, Louisiana. She's got sass and spunk, with a style everyone wants—and Sandra Bretting has brought her to life in a most entertaining way with her Missy Dubois Mystery series.
I was elated when Ms. Bretting agreed to sit down in our Cozy Corner and chat for a spell.
Kym: Welcome to the Cozy Corner, Sandra!
Sandra: So glad to be here, Kym. I love your blog!
Kym: Your first Missy Dubois Mystery, MURDER AT MORNINGSIDE, was released last summer by Lyrical Press. What captured your attention about Missy?
Sandra: She reminded me of someone I met a long time ago who hailed from Louisiana. Missy is fearless: she follows her heart instead of her head. She's not always prudent, but she's always interesting.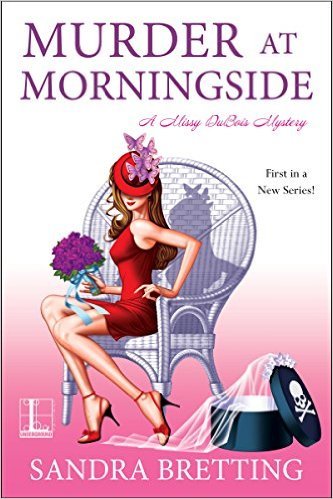 Mystery Cozy [Lyrical Press, On Sale: May 24, 2016, Paperback / e-Book, ISBN: 9781601837134 / eISBN: 9781601837134]

Milliner Turns Investigator to Solve Murder on a Plantation
Kym: Missy is quite the hatmaker, how did you develop the knowledge about her trade?
Sandra: Books, books and more books. I've always loved hats, but now I know how to piece one together. I also visited a hat shop in New Orleans that makes custom hats to order. (I'd use the word "bespoke," but that word is wwwaaayyy too popular right now.)
Kym: LOL, have you been known to don a few fancy hats? (If so, do you have a pic to share?)
Sandra: I have. One of my favorites is a hat I brought with me on a family trip to Paris. Since we visited in July, I went with a paper straw hat with a pinstriped hatband. Kinda jaunty, don't you think?
Kym: That's awesome, I love it! In your second Missy Dubois Mystery, SOMETHING FOUL AT SWEETWATER, our resident hatmaker has outgrown the current location for her store, Crowning Glory. She finds a steal of a deal in the Sweetwater Mansion that's up for sale. Did you model this mansion after a famous mansion?
Sandra: It's more an amalgamation of the pretty mansions I've seen on the Great River Road. All have grand columns and wraparound porches, and some even have widows' walks, which I find fascinating.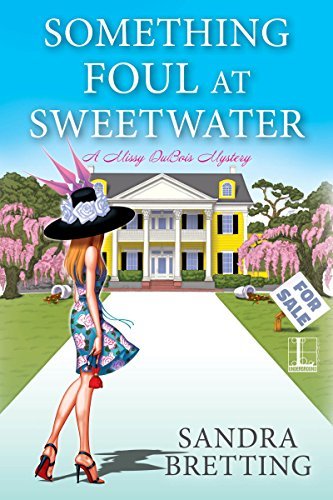 Louisiana hat maker Missy DuBois is making a name for herself veiling Southern brides-to-be with her sophisticated designs. She's also gaining a reputation for unveiling murderers . . .
Missy is shocked when she sees the asking price for the Sweetwater mansion . . . in a good way. With business thriving at Crowning Glory, it would be nice to set up shop surrounded by alabaster columns and gleaming mahogany. The Southern connections only deepen when it turns out the real estate agent is Mellette Babineaux, a college classmate and sorority sister. But when Missy drags her best friend Bo along to the mansion for a second look, they barely make it past the live oaks before they discover Mellette's dead body in a shed.
Now, for the sake of her college friend, Missy finds herself investigating everyone from a superstitious Cajun caretaker to a Rolls Royce-driving billionaire—and finding that lots of closet space can mean lots of skeletons, too . . .
Mystery Cozy [Kensington, On Sale: December 20, 2016, e-Book, ISBN: 9781601837158 / eISBN: 9781601837158]
Kym: Tell us about Bo. Who would you put in the role as Missy's best friend?
Sandra: Bo is tall, dark and handsome, but he doesn't necessarily think so. I'd probably pick someone like Ryan Gosling (I love his crooked smile) and make him dye his hair for the part.
Kym: He would fit perfectly in the role. How did you get comfortable writing with a Cajun accent? It's one thing to understand it, it's quite another to put it on a page and have readers unfamiliar with the rhythm and fluidity of the accent be able to actually hear it as they read?
Sandra: I've met several people with Cajun accents (I live in Houston, so we're next-door neighbors with Louisiana Cajun country), and sometimes even they can't understand each other. It's a very guttural dialect; almost as if the speaker is swallowing her words. I also watched videos of people on YouTube, which is a great source for anything audiovisual.
Kym: Youtube has become a vast resource center! You grew up on the West coast, went to school in the mid-west, (go Mizzou!) and ended up working in Texas. How has living in the different regions of the United States, developed your writing?
Sandra: I think it's given me a better ear for how people actually speak. I grew up in Southern California, where every sentence tends to end on the upswing. It's that sunny California vibe that's a cliché for a reason. Here in Texas, my friends speak more slowly; they're not in a rush to get on with it. I think it's helped me develop characters that are more realistic.
Kym: You're a reporter by day, and a novelist by night. Is it difficult to switch hats?
Sandra: Not really, because I'm lucky enough to write feature articles for the Houston Chronicle. As with books, there's a clear beginning, middle and end, and usually an inciting incident that kicks everything off. Working for the paper has exposed me to some very interesting people, while writing books has made my newspaper reporting more lively.
Kym: You've written two intriguing stand-alone mysteries, UNHOLY LIES and BLESS THE DYING, two titles that I absolutely love! Can you tell us a bit about them?
Sandra: UNHOLY LIES was my firstborn, so it'll always hold a special place in my heart. It's about a small-town reporter (like they say, "Write about what you know"), who investigates the death of a local church organist. Turns out the woman had been having an affair with her pastor, so I got to explore a lot of juicy things about leadership and conscience. BLESS THE DYING takes place in a hospital, and its involves a cop who's poisoned in a very matter-of-fact way.
Kym: In January, you expanded your family to include, Chance, an adorable rescue from the pound who's become your series mascot. How has his training gone? Has he brought new challenges to your writing schedule?
Sandra: Ah, Chance. Gotta love him. Here's a picture of the little guy, since I can't resist that puppy face. His training has gone…well, let's just say it's been interesting. We might have to repeat our puppy class at Petsmart. If anything, he's helped me as a writer, though, because now I don't look insane when I take walks and talk to myself about plotlines.
Kym: What can we expect next from you and Missy?
Sandra: The next book in the Missy DuBois Mystery series debuts in May. It's called SOMEONE'S MAD AT THE HATTER, and this time the danger turns personal for Missy. Thankfully, my publisher wants at least three more books, so I get to hang out with Missy and her friends for a while.
Kym: Where can our readers find you on social media?
Sandra: My website is www.sandrabretting.com and my Facebook page is SandraBrettingBooks/ I love to hear from readers, and I welcome any and all questions.
Kym: Thank you for joining us at The Cozy Corner Sandra!
Sandra: It's been my pleasure, Kym. Thanks for the interesting questions!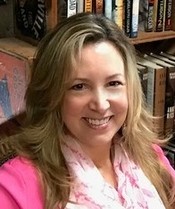 Kym Roberts is a retired detective sergeant who looks for passion, mystery and suspense in every book she reads and writes. She can be found on the web kymroberts.com, on Facebook at Kym Roberts (author) and on Twitter @kymroberts911. Look for her cozy mystery release, Fatal Fiction, A Book Barn Mystery available for a limited time for just 99¢. A Reference to Murder and Perilous Poetry available for on Pre-order now!