Writes:
Across genre! However, be assured there's a love story in all Laura Spinella novels—hotter love stories in my L. J. Wilson Clairmont Series Novels. But today I'd love to chat about Unstrung, my newest book baby—women's fiction with a serious crush on romance.
About:
I'm the something for everybody author—unless you're totally opposed to finding a love story in your novel. In that case, we might make good shopping buddies, or share a coffee, but I'm probably not your cup of tea.
So what do I mean by "writing across genre?" Well, my books can be ethereal, like in Ghost Gifts, where readers can indulge in mystery, a psychic gift, and slow burning romance. On the other hand, Unstrung travels a different path—grittier, more emotional, a story that examines the "why" behind our choices, as seen through one precarious violinist's calamitous life. In either case, my writing probably appeals to readers who crave copious amounts of plot and character.
What I'm looking for in my ideal reader match:
Pace. If you enjoy a story that moves, we might be a match. I appreciate delicate, deft descriptions, but my books focus more on storytelling. If nearly every chapter ends with a mini-cliffhanger and you're turning pages well past your bedtime, I've succeeded.
Men. Okay, let's talk about the men. I love to write from a male POV, and think I've created some swoon-worthy men along the way. But I also refuse to give up substance! Readers' pulses may pound; more importantly, I like to think my guys have one. Aside from beguiling, my male characters are complex, intriguing, funny, smart and unpredictable. (Naturally, female characters must match them toe-to-toe.)
Threads. If you enjoy a layered plot with lots of interconnecting threads, you've opened the right book. I don't like to read one-note books and I don't write them.
Can I keep you guessing? Ghost Gifts might be defined as a mystery, but UNSTRUNG has plenty of twists that will keep readers off balance and asking: What's next? I aim for the unexpected.
The chameleon effect. As noted above, I'm a genre jumper. But I think that's a good thing. If you like my writing style, imagine how many different stories I can tell you.
Travel companion. Laura Spinella novels are great on the go—airport and airplanes, the beach, doctor's offices, a weekend at your mother-in-law's—distraction is part of the formula.
Entertainment package. Years ago, an interviewer asked what was the one thing I wanted for my readers. I was surprised how quickly I came up with the answer: I want them to be entertained. I think a good book has to bring all the tools to the table—plot, character, A-game writing, and heart to satisfy the reader. I always look forward to the challenge.
What to expect if we're compatible:
If we're in sync, I should leave you wanting more! Laura Spinella novels will keep you busy for some time, certainly get you through the rest of winter.
UNSTRUNG is a stand alone novel—a Publishers Weekly most anticipated book for spring—but Ghost Gifts readers can look forward to Foretold, book two in the trilogy, out this October.
Sign up for my newsletter! I do monthly giveaways that include not only Laura Spinella goodies, but signed books from many beloved authors.
Here's some bonus fun! Watch the official trailer for UNSTRUNG, and get a sneak peak at its volatile and page-turning story.
Thanks for letting me visit; this was fun! I hope Fresh Fiction readers will check out UNSTRUNG!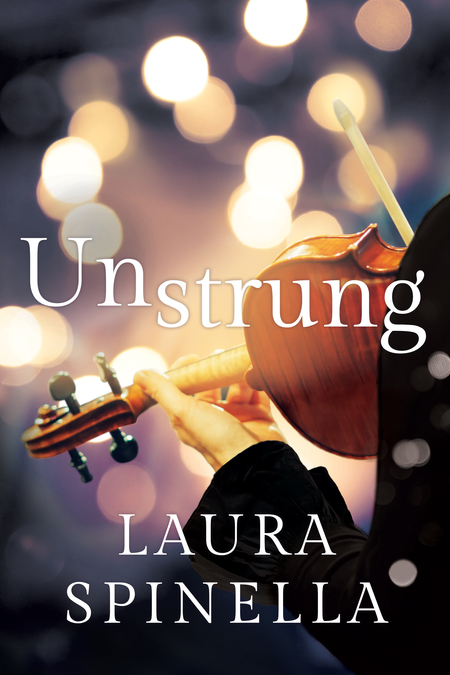 Even as a violin prodigy, Olivia Klein courted trouble. But when her marriage to high-stakes investor Rob Van Doren takes another wrong turn, Olivia acts out once too often. A night of bad behavior results in community service hours. Time is to be served with Theo McAdams, an inner-city teacher whose passion for music eclipses Olivia's. As she inches toward a better place, life surprises Olivia in the form of her first husband—baseball legend Sam Nash.
Years ago, Olivia fell in love with Sam. Their impulsive marriage imploded with a fateful car crash and harsh parting words. Olivia never expected to see him again. But now Sam is back, and he wants her forgiveness. He also wants to recapture their volatile love affair. Olivia is torn between rekindling romance and saving her marriage. To her surprise, it's the presence of the young music teacher—and the lessons from a reckless past—that may bring harmony to Olivia's off-key life.
Romance Contemporary [Montlake Romance, On Sale: February 21, 2017, Paperback / e-Book, ISBN: 9781503937352 / ]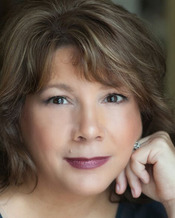 Laura Spinella is an East Coast author, originally from Long Island, New York. She pursued her undergraduate degree in journalism at the University of Georgia. The southern locale provided the inspiration for her first novel, Beautiful Disaster, which garnered multiple awards, including a Romance Writers of America RITA nomination. She's also lived on Maryland's Eastern Shore and in North Carolina before relocating to Massachusetts. She and her family currently live in the Boston area, where she is always writing her next book. Ghost Gifts is Laura's third work of romantic fiction. She also writes sensual romance under the pen name L. J. Wilson.