Thanks so much for chatting with us today! Can you tell us a bit about your new novel, Pride, Prejudice, and Other Flavors?     
Thanks so much for having me! Pride, Prejudice, and Other Flavors is a gender swapped reimagining of the Jane Austen classic Pride and Prejudice, where she's the Mr. Darcy and he's the Lizzie Bennet.
It launches a new series about the Rajes, an Indian American family descended from royalty (think the Indian Kennedys) who have built their lives in San Francisco. It's the story of two strangers from completely different worlds that explores cultural assimilation, identity, and the meaning of the word home.
Dr. Trisha Raje is an accomplished brain surgeon, working on the forefront of cutting edge medicine in her field, and yet, her family's perception of her is still her biggest weakness. How did Trisha's need for her family's acceptance change throughout the novel?
I believe that for all of us, our need to be accepted by those who make up our world follows our journey of self acceptance. How much you care about what those around you think of you is directly proportional to how much you accept yourself for who you are. The first step in that journey is digging into who you are. I think Trisha's is on that journey. Like anyone from a close-knit family, at the start of the story, Trisha sees herself through the lens of her family's opinion, and that combined with her own guilt about mistakes she's made make her feel like a misfit. By the end, she strengthens her bonds with her family, because she comes to learn things about herself and rights wrongs, while also taking ownership of what is good about being her. She finds the courage to question her beliefs about herself and her actions and consequently is able to fight for her place in the family.
I loved how creative and delicious the meals DJ comes up with are in this book! I could practically taste them. What kind of research did you do into a chef's process creating new recipes, and do you have a favorite recipe to share?
I love to cook and for decades now, I've spent copious amounts of time watching Food Network, which I now like to pretend was me working hard all along. In all seriousness though, my entire life has been research for writing a chef. My favorite part of writing DJ's food-whispering was how he uses it to navigate the world and his own need to love and nurture in the face of a harsh and judgmental world. As for a favorite recipe, there is one in the book and I also include recipes in my newsletter. Here's my simplest one: put a tablespoon of honey in half a cup of mascarpone and whip for a creamy dip for fruit or a topping on baked goodies.
Your book is obviously inspired by Pride and Prejudice – are you an Austen fan? Do you have a favorite novel of hers? Why do you think Austen's novels have endured for so long?    
Of course I'm a fan. I dreamed of doing an Indian adaptation of Pride and Prejudice back in middle school, way before I even knew that there was such a thing as an adaptation or a retelling.  I think Austen's genius lies in the fact that she wrote from a place of complete honesty when it came to her belief that women deserve to get what they desire. Society has always set out to convince women of their shortcomings. Women internalized that (it is still hard not to), and the ones who didn't couldn't always gather the courage to publicly claim it.  Jane Austen did that through her heroines, claimed a woman's right to getting what she wanted, which in my opinion lends timelessness to her work.
Pride and Prejudice is probably my favorite of her books, but really it depends on the phase of the moon when you ask me. I love the drama of Pride and Prejudice, the romanticism of Persuasion, the angst of Sense and Sensibility, and the comedic mixups of Emma. But what really pulls me to her writing is the sharp social commentary. Austen effortlessly dressed her themes in character and story, but what she's exploring is the power imbalances in society and the courage it takes to value yourself enough to shatter ranks in the face of those imbalances in order to get what you desire.
Elizabeth Bennet and Fitzwilliam Darcy (and now Trisha and DJ!) are such an iconic couple! Do you have a favorite romantic pairing? Books, movies, etc., are all fair game!        
I'm going to go with Shrek and Fiona. Fun, invested in each other's happiness, and totally badass.
I love asking authors what books they've read recently. Care to share a few books that you've enjoyed lately?   
I loved Meg Donohue's You, Me, and the Sea, a retelling of Wuthering Heights that was just so beautiful it totally engulfed me.
I am also reading and loving Kennedy Ryan's Long Shot, Nisha Sharma's My So Called Bollywood Life, and Falguni Kothari's The Object Of Your Affections.
What's coming next for you?
I'm working on the next book in the Raje series: a two generational reimagining of Jane Austen's Persuasion set on a fictional Food Network show called Cooking With The Stars (yes, more food!). Think, Dancing With The Stars but with a star paired up with a chef instead of a pro dancer. The chef heroine is on the show to save her failing restaurant and prove herself to her super successful mother. And the celebrity she gets stuck with is the legendary soccer star her family persuaded her into dumping years ago when they believed him to be a nobody.
I'm also finishing up a novella set in this series that's a romp about a bride who runs away the night before her wedding. The groom finds her and has that one night to convince her that they're meant to be together as they traipse around San Francisco in search of the connection they've lost. It's all very Before Sunrise-ish and it's going to be part of an anthology called Once Upon A Wedding with ten other second chance romances set at weddings. That comes out on June 11th.
Rapid Fire Random Questions
Favorite animal: Giraffe
Coffee or tea: Tea, always.
Favorite book to re-read: Vikram Seth's A Suitable Boy
Beach or mountains: A beach nestled in mountains?
When you were younger, what did you want to be when you grew up?: A writer. For real.
Dream vacation: Every vacation is a dream. It's time to explore the world and restore yourself, what can be better than that?
Aside from reading and writing, what are your hobbies?: Playing poker, cooking, 'painting' henna, dancing.
Five people you'd invite to your book club (dead or alive): Michelle Obama, Oprah Winfrey, Zoya Akhtar, Mindy Kaling, Trevor Noah
Favorite movie: I'll go with my favorite movie this year: Gully Boy (It's on Amazon Prime. Watch. It.)
You have a totally free afternoon – no deadlines, no obligations, no Twitter notifications!  What do you do?: Go out to lunch with my husband and kids. If they aren't around, get under the sheets and binge Chopped on Food Network.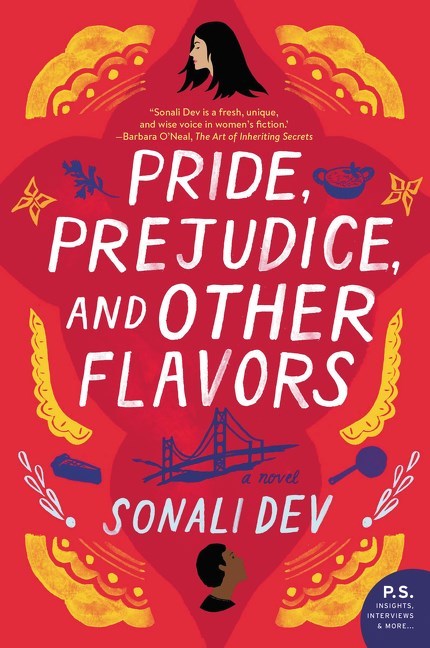 Award-winning author Sonali Dev launches a new series about the Rajes, an immigrant Indian family descended from royalty, who have built their lives in San Francisco…
It is a truth universally acknowledged that only in an overachieving Indian American family can a genius daughter be considered a black sheep.
Dr. Trisha Raje is San Francisco's most acclaimed neurosurgeon. But that's not enough for the Rajes, her influential immigrant family who's achieved power by making its own non-negotiable rules:
· Never trust an outsider
· Never do anything to jeopardize your brother's
political aspirations
· And never, ever, defy your family
Trisha is guilty of breaking all three rules. But now she has a chance to redeem herself. So long as she doesn't repeat old mistakes.
Up-and-coming chef DJ Caine has known people like Trisha before, people who judge him by his rough beginnings and place pedigree above character. He needs the lucrative job the Rajes offer, but he values his pride too much to indulge Trisha's arrogance. And then he discovers that she's the only surgeon who can save his sister's life.
As the two clash, their assumptions crumble like the spun sugar on one of DJ's stunning desserts. But before a future can be savored there's a past to be reckoned with…
A family trying to build home in a new land.
A man who has never felt at home anywhere.
And a choice to be made between the two.
Multicultural Indian | Romance Contemporary [William Morrow Paperbacks, On Sale: May 7, 2019, Paperback / e-Book, ISBN: 9780062839053 / eISBN: 9780062839060]

A delicious deconstructed Pride and Prejudice for Austen Fans of all ages!

An engaging Austen-inspired story to be savored and enjoyed!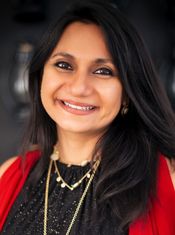 Sonali Dev's first literary work was a play about mistaken identities performed at her neighborhood Diwali extravaganza in Mumbai. She was eight years old. Despite this early success, Sonali spent the next few decades getting degrees in architecture and written communication, migrating across the globe, and starting a family while writing for magazines and websites. With the advent of her first gray hair her mad love for telling stories returned full force, and she now combines it with her insights into Indian culture to conjure up stories that make a mad tangle with her life as supermom, domestic goddess, and world traveler.
Sonali lives in the Chicago suburbs with her very patient and often amused husband and two teens who demand both patience and humor, and the world's most perfect dog.
***
Fresh Fiction Editorial Manager Danielle Dresser is an avid reader, lackluster-yet-mighty crafter, and accomplished TV binge-watcher. Once upon a time, she was a publisher publicist and continues to cultivate her love of books and reading by chatting with the best authors in the business. She lives in Chicagoland with her very own romance hero husband, darling daughter, and two tempestuous cats. Follow her on Twitter and Instagram, @dj_dresser.