One of the things I have a love/hate relationship with when it comes to writing is the research I do. Some of it can be fascinating and some of it's boring.
I learned early in my writing career when I did a lot more nonfiction writing that I needed to contact experts in whatever field I was writing the article in. I had to have their opinion to use as quotes and then fact checkers would make sure the information was accurate.
Finding experts was sheer torture. I hated cold calling people I didn't know to ask them to give an opinion for what I was working on. I always felt tongue-tied. I had to contact doctors and lawyers. I spoke to private investigators and firefighters and the list goes on.
For the most part, everyone I spoke to was kind and eager to be helpful. The more I had to reach out to experts, the easier it became.
With fiction, I'll do the same thing I did with the nonfiction writing. When I have a question, I'll call on an expert if I can't figure out what I need to know. With STEALING THE BACHELOR, the heroine's chocolate shop is raided. I did a lot of research. Talked to the FDA, to attorneys and researched cases where individuals duped the public by promising a product did something when it actually didn't.
In the past, I needed to find information about money laundering. The story I was working on at the time had a villain who was passing illegally obtained money through local businesses. This villain had to be good enough to fool the authorities. I needed to know how people who laundered money got caught so I'd know how the character could avoid it.
I researched so many different avenues but what I needed to know kept eluding me. So I figured out the person I needed to speak with had to be someone at the FBI. I picked up the phone and was connected to a very helpful, soft-spoken agent. He asked me a few questions and I blithely answered.
Later, I couldn't for the life of me remember if I'd said I was asking because I'm a writer and needed the information for the story. I remember asking him how I could fool the FBI.
After I was finished asking the questions, I thanked him for his time and went about my day.
It wasn't long after that my doorbell rang. I answered and a woman dressed in a dark suit introduced herself as an FBI agent and showed her identification. I nearly had a heart attack. I know I appeared fidgety and nervous because I thought she thought I was involved in money laundering.
Then she explained she was in the neighborhood investigating a neighbor who'd applied for a high security job and she was questioning neighbors about the guy. I started snickering and when she gave me a questioning look, I told her I'd contacted the FBI about money laundering and thought she was there to check up on me.
We both had a good laugh. But after that, I always make sure I clarify that the information I seek is for fictional use only.
Sonya Weiss is a freelance writer and ghostwriter. Her published clips include feature newspaper articles, magazine articles, essays, children's short stories and writing projects for business clients. She is a columnist at Families Online Magazine.
Her fiction has won honorable mention in various contests and she was the first place winner of Harlequin's 'The Baseball Diamond' writing contest.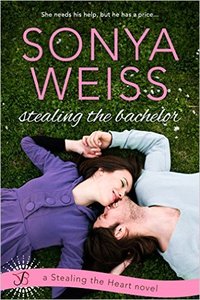 A sweet category romance from Entangled's Bliss Imprint…
She needs his help, but he has a price…
Having missed out on the "drop-dead-gorgeous" gene in her family, Ann Snyder decides to kick a little butt in the business world instead. That is, until her skeezy manager's "side business" has the FDA raiding her chocolate shop. Now Ann's in huge trouble…and the only person who can help her is the adorkable guy who completely humiliated her in high school.
Lawyer Eric Maxwell has been in love with Ann as long as he can remember. He figured he never stood a chance-don't the beautiful girls always prefer the bad boys to the nerds? So he makes Ann a deal. He'll provide her with free legal services…if she'll move in and help transform him from nerd-without-a-clue to bona fide bad boy.
And once the transition is complete, all he has to do is prove that he's the only bachelor for her…
To comment on Sonya's blog please click here.