I spend a lot of time writing because I always have ideas and characters whose story I can't wait to tell. These ideas can be sparked by something I see in the news, or it stems from me playing the what-if game. Like what if that soccer mom is really a spy? Or what if that guy walking his dog just got left at the altar?
Because I'm a pantser, meaning I don't plot out the story first, I don't always know how the story will play out. So it's like I'm reading the story as I write it.
But I also spend a lot of time reading and I love to recommend great books to others. I also love discovering new authors and reading books that I just can't put down. I've read in every genre under the sun though I do have some favorites.
I love romance novels. Contemporary, paranormal, historical. Someone mentioned Duchess Wars by Courtney Milan to me today and I just put that one on my to-be-read list. I also love to read sci-fi. I loved the original Roswell, The 100, and the X-Files.
I'm a big fan of Star Trek. Someone gifted me a copy of Star Trek, The Next Generation Technical Manual for the U.S.S. Enterprise. How geek-cool is that? It was written by authors who worked on Star Trek.
Anyway, I thought I'd share a list of books that I've read recently that are so good I gave up sleep to finish them.
Renegades by Marissa Meyer. She's a fantastic storyteller. The second in the series is Arch-Enemies which was just as edgy and full of twists and breath-holding as the first one. The third in the series is Supernova and I'm looking forward to reading that one. The author has a Lunar Chronicles series and those books got their start as Nanowrimo novels and since it's November, those of you who are participating-Go NaNowriters!
Another series I recently read that's a page-turner begins with Scythe by Neal Shusterman. The second in the series, Thunderhead,  was just as compelling as the first. The third book will be released soon, The Toll.
I just finished one last night titled Daughter of Deep Silence by Carrie Ryan and this author is a master at keeping readers guessing.
I also have a keeper shelf. If you're a die-hard reader you know what this means. This is the place on my bookshelf where I keep the books that I reread. I have a lot, and some of them are several years old. I can't share them all because there's not enough room in the post but I'll share a peek with you here:
#Starstruck by Sariah Wilson, Perfect Chemistry by Simone Elkeles, A Family at Last by Carolyne Aarsen, The Bride Wore Chocolate by Shirley Jump, The Hating Game by Sally Thorne, How to Love by Katie Cotugno, The Book of Ivy by Amy Engel, The Revolution of Ivy by Amy Engel, Doctor, Doctor by Lori Handeland, The Marriage Bargain by Jennifer Probst, Just Friends…To Just Married by Renee Roszel, You're Marrying Her? by Angie Ray and The Groom, I Presume by Annette Broadrick.
Happy reading everyone, and if you know a series you think I'd enjoy–because I'm always looking for something to read–feel free to drop me a line!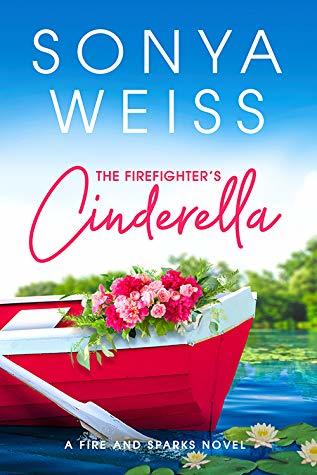 What's a Cinderella to do when she's accidentally kicked her Prince Charming in the face and broken his nose? Hold an audition, of course.
Harper Bailey is desperate to keep her family's amusement park business up and running, but her employees keep quitting, and the man playing prince to her Cinderella in the company's mainstage show is just the latest casualty. When sexy firefighter Rafferty Bradford, the most eligible bachelor in their small town, offers to step in, Harper agrees–reluctantly. After all, she and Rafferty are ex-best friends with a ton of past history. Surely they'll have zero chemistry onstage.
Rafferty has his own reasons for agreeing to play Prince Charming, and none of them are good. If Harper finds out the truth, it'll just reinforce every rumor she's believed over the years about Rafferty's bad rep. But when their chemistry explodes both onstage and off, he'll have to choose between happily-ever-after for himself. . . or the Cinderella he's fallen for.
Romance Contemporary [Entangled, On Sale: November 18, 2019, e-Book, ISBN: 9781640638518 / eISBN: 9781640638518]
Sonya Weiss is a freelance writer, ghostwriter and author. She's addicted to great books, good movies, and Italian chocolates.
She's passionate about causes that support abused animals and children. Her parents always supported her bringing stray animals home although the Great Dane rescue was a surprise.