Welcome back to Fresh Fiction, Jennie! Can you tell us a little bit about your latest book, WISH UPON A COWBOY?
Sure! Thanks for having me! And I'm super proud of this book! It's fun, sweet, sexy, and will make you laugh and cry! It's the fourth book in my hockey-playing Cowboys of Creedence series.
Logan and Harper's story is about a mother who is fighting to get back her son and a rancher who is trying to save his ranch, and how they help each other to accomplish both. It has a hot cowboy, a sassy heroine, an adorable eight-year-old boy, a marshmallow-eating cow, a feisty kitten, and a Christmas miracle at its heart. It received a STARRED Review from Booklist calling it a "smart and delicious romance" and Publishers Weekly claims "Able plotting, red-hot sex, and a large dollop of sweetness make this holiday charmer ideal all year round."
It's a perfect romance-reading treat to give yourself for the holidays!
Harper Evans has just gotten out of jail, but she lost custody of her son to the mother of her deceased husband. She's willing to do whatever it takes to get her son back, and that means finding a job so she can afford a better life. Even with her difficult past and present circumstances, Harper is still the type of person who will help anyone who needs it, and Logan is no different. What do you think readers will find most inspiring about Harper?
Harper is tough, she's had to be growing up with a criminal for a mother. She's also had some really rough breaks and is experiencing a lot of loss. But she's a fighter and won't give up until she gets her son back. She's also very kind-hearted. In the opening scene, she gives up her last few dollars so a hungry child can eat. Logan gets a glimpse of all these different sides of Harper-when she's being funny and quirky, but also when she digs in and helps him to save the ranch. She's a hard worker and has a feisty spirit. So much of this story is about the sacrifices and struggles and deep emotional connections of mothers to their kids. I think her journey as a mom and her resilience to get up after being knocked down and keep fighting is what readers will find most inspiring.
Logan Rivers is a former hockey player and now works on his family ranch. There's more work than he anticipated so he wants to hire a housekeeper, but most of the applicants are trying to find a way to get close to him instead of actually working. Harper has no idea who Logan is, and is hired on the spot when he sees how much she needs this job (the fact that she's gorgeous is an added bonus).  What are your favorite qualities about Logan?
Logan is a true cowboy. He loves the land and animals and gives back to his community and fellow ranchers. He's funny and warm. He coaches a kid's hockey team and readers see his heartbreak for Floyd, the young boy on his team whose mom has been in jail. He's got brown hair, blue eyes, and a scruff of whiskers across his chiseled chin. He's tall, broad, and has the muscles of a guy who hauls bales and breaks horses on a ranch every day. He is also charming, quick to laugh and tease, and a bit of a flirt. He's a natural athlete, and playing hockey and being on a team is what saved him when he was younger and felt like the dumb kid after being diagnosed with dyslexia. He still struggles with the learning disability and has made a huge mistake which could cost him the ranch. But he's a hard worker and you see him fight to save his cattle in a blizzard and know he will do what it takes to save his ranch. With all his troubles, he can still laugh at himself and has some pretty good air-guitar skills.
Some things just work well together, like cowboys, small towns, and the holidays! Lucky for readers, WISH UPON A COWBOY has all three. What do you love about the small town you created in this series? How would the inhabitants of Creedence, CO, celebrate the holiday season?
I am from a small town in Kansas and also lived in a small town in Montana, so my heart is in that type of community. And small towns LOVE holidays! I tried to show that Christmas spirit in the way Creedence decorated the town square and the Creedence Christmas Celebration that they hold every year at the church before the Candlelight Service on Christmas Eve. I've introduced lots of fun characters from the town, like Ida Mae Phillips, Logan's Sunday school teacher, and Bryn, the waitress from the diner who has a heart for taking in strays and calls out a Christmas SOS when her goat destroys the pies meant for the celebration. One of the themes of the books is the Christmas Star and how it guides you to what is important, and I love the scene on Christmas morning when all the pieces of the story come together and give that heart-clenching Christmas miracle feeling.
Neither Harper nor Logan is looking for love, and they both have been hurt in the past. Is it hard to bring two people together when they are nervous about falling in love?
It's fun! I love throwing them into situations where they have to work together or where they can have fun together, like searching for a Christmas tree or fighting to save the cattle in a blizzard. I love giving them ways to see each other in their true selves and know that is who they are falling for.      
Thanksgiving was yesterday, so that means Black Friday Deals! Do you take advantage of the sales, or do you sit back and let everyone else go crazy?
My husband loves Amazon's Black Friday lightning deals! He goes crazy that day grabbing all his Christmas gifts. I love to shop but I typically work the day after Thanksgiving. But I remember one year when my boys were little, my husband and I went out crazy early–like 5 am, and fought the crowds to snag these amazing deals on two Gameboys, which we normally wouldn't have been able to buy. But the look on our boy's faces Christmas morning was totally worth it.      
Christmastime is officially in full swing now – what are some of your annual traditions?
We usually get a live tree on Thanksgiving weekend and I love the lights and the pine scent that fills the house. We always go to the candlelight service on Christmas Eve then everyone comes to our house for lasagna. One of my favorite traditions is inviting all the grandmas to our house on Dec 23rd for our annual Cookie Bake where we make all sorts of Christmas cookies and Eggnog Creme Puffs and pass plates of cookies out to all our neighbors.      
What can readers expect from you next?
My next book, A Cowboy State of Mind, kicks off the new Creedence Horse Rescue series. It will be Bryn and Zane's story and starts off with an emotional horse rescue and tears at your heart as each new abandoned animal finds its way to the ranch. It has a crazy fun cast of animals from a mini horse named Shamus to a giant hog named Tiny, and the reader will fall in love with everyone. Especially the scarred but hunky lone wolf hero and the kind-hearted heroine who find themselves given the chance to save not just a horse, but maybe each other.
 Rapid Fire Random Questions 
Dragons or unicorns: Unicorns, for sure!
Five people you'd invite to your book club (dead, alive, fictional, etc.!): The Dowager Countess from Downton Abbey, the Marvelous Mrs. Maisel, Reese Witherspoon, Ellen, and Kristin Bell – oh my gosh, Seriously, wouldn't this be a hilarious group to discuss books with!! Lol!
Some of your auto-buy authors: Janet Evanovich, Susan Elizabeth Phillips, Fannie Flagg, Jodi Thomas, Nora Roberts
Favorite flower: Lilacs or pink roses
Earliest celebrity crush: Sean Cassidy
Hobbies you have (aside from reading and writing): I LOVE to play volleyball and play in a couple of leagues
Dream vacation: A month traveling around Europe with my husband.
Sweet or salty snacks: Both – I love chips and I can NOT go to the movies without buying popcorn, but then I always have a small bite-sized candy like a mini-Snickers in my purse to use as a chocolate chaser after my popcorn. My two favorite snacks are Crunchy Cheetos and Peanut M&Ms
You have a totally free afternoon – no deadlines, no obligations, no Twitter notifications!  What do you do?: First, I'm trying to imagine how amazing it would be to have that kind of day-lol! But it does happen once in a while. I have to make it happen. And when it does, my perfect day is to get my family together to go to the movies, out to eat, and then to play board games (which exactly describes my birthday every year). 🙂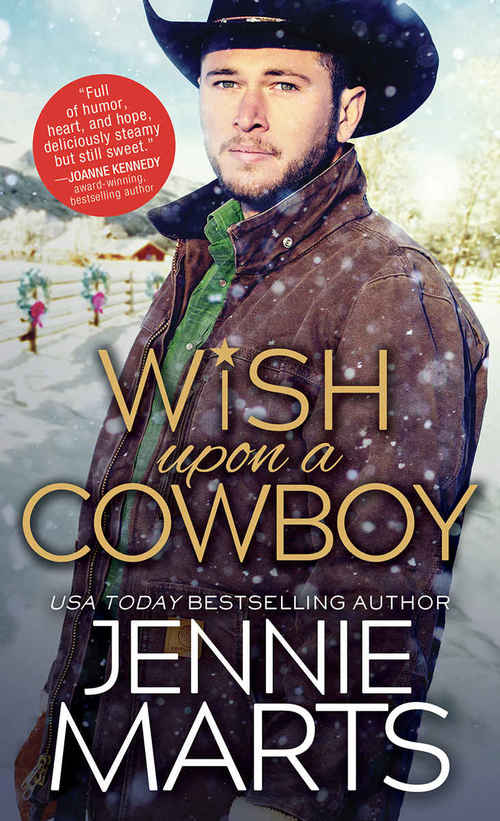 Hot on the ice and tall in the saddle…
Rancher and hockey coach Logan Rivers' attempts to hire a housekeeper are hindered by women more interested in marriage than meal-planning. So when snarky Harper Evans arrives with zero romantic interest in him, he couldn't be happier. But as he gets to know her, he finds himself hungering for more than her cooking.
Down-on-her-luck single mom Harper Evans came to Colorado with one goal: to find her son and bring him home. Temporary work for a local rancher seems perfect, but to keep the job she has to deny her feelings for the hot cowboy who's heating up her kitchen.
Logan's secret learning disability has caused a financial mistake that could cost him everything. With the holidays approaching and a storm closing in, he and Harper have to save his ranch and fight for her son. But can Harper trust the cowboy who is offering her both a home—and his heart?
Romance Contemporary | Romance Western | Holiday [Sourcebooks Casablanca, On Sale: November 26, 2019, Mass Market Paperback / e-Book, ISBN: 9781492689089 / eISBN: 9781492689096]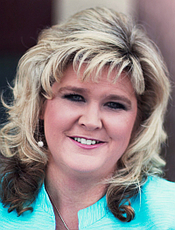 USA TODAY Best-selling author Jennie Marts loves to make readers laugh as she weaves stories filled with love, friendship and intrigue. She writes for Entangled Publishing and reviewers call her books "laugh out loud" funny and full of great characters that are "endearing and relatable." She is living her own happily ever after in the mountains of Colorado with her husband, two sons, two dogs and a parakeet that loves to tweet to the oldies. She's addicted to Diet Coke, adores Cheetos, and believes you can't have too many books, shoes, or friends. Her books include the contemporary western romance Hearts of Montana series, the romantic comedy/ cozy mysteries of The Page Turners series, the hunky men in the Bannister family in the Bannister Brothers Books, and the small town romantic comedies in her upcoming Lovestruck series of Cotton Creek Romances.