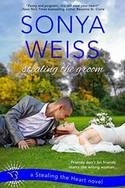 I love stories. In all sizes and genres. I was fortunate enough to be raised in a home where reading was greatly encouraged. As a kid, I read everything from Louis L'Amour books (thanks, Dad) to Stephen King and Sidney Sheldon (thanks, Mom). When I was child, I read every book one of my teachers kept on a shelf in the class. I can still remember how I felt reading "The House With a Clock In Its Walls" by John Bellairs.
I think that most of us are natural born storytellers even if we're not writers. Some of us just put those stories down on paper. Or on a computer. Not because we dream of making the big bucks (though that would be nice) and not because we dream of hitting the New York Times bestseller list (that would be nice too. Really, really nice) but because we have to.
Just like books take readers on a journey to mystic lands where a boy with a scar on his forehead overcomes evil, so writing takes writers on a journey. When I write, I don't know where the characters' story is going to take them. I don't know how they're going to triumph or what they'll find amusing.
But I do know that I write for the same reason that I read as a child. Because I could enter another world if only for a little while. I could experience angst, sorrow, anger and ultimately hope that all would end well. My life was touched by the authors who penned those stories.
So I write. I write for me because I have to. But I also write for readers because I hope that in some way, I can touch their lives in a positive way. That I can encourage them, make them laugh, give them that all-is-well feeling after reading something I've written.
I hope that's what I leave them with when they finish Chad and Amelia's story in my debut novel STEALING THE GROOM.
Chapter One

"For the last time, you can't steal a man!"

"Chad is my best friend—it's not the same as stealing," Amelia Snyder whispered in response to her sister Ann's warning. Besides, how was she supposed to steal the groom if he never showed?

Amelia crouched by a row of evergreen bushes on an incline above the majestic red-brick church and aimed her binoculars at the limousine pulling into the long circular drive.

"Finally, he's here," Amelia said, darting a look at her reluctant partner in crime. The close sister bond between them was the only reason why Ann was here, by her side, offering support as she always had. When their parents were killed in a car accident almost fifteen years ago, her oldest sister Abby had just turned seventeen, Ann was fifteen, and Amelia was ten. Even when the siblings didn't agree, they were always there for one another.

"Thank you for helping me with my plan," Amelia said, giving her sister's hand a little squeeze.

Ann clamped her lips tightly together, her way of showing disapproval for what she'd referred to repeatedly as "Amelia's Folly." "We should forget this wild scheme and go inside. We still have time to change into our dresses before the ceremony begins."

Ignoring her older sister, Amelia focused all her attention on the scene below. Her sister didn't understand what was at stake if this wedding proceeded to the "death do us part" ending.

Camouflaged in the thick, prickly underbrush, Amelia kept her gaze glued to the entrance of the imposing building, afraid to blink lest she miss something important.

She had one shot to save her best friend from a life of sure misery. She didn't intend to blow it.

With a little bit of luck, the element of surprise would be on her side. She'd be in the limousine with Chad and on her way out of their quiet little town of Sweet Creek within seconds.

Though she hadn't slept more than six hours combined the last two nights, alternating between worrying over her sister Abby and worrying over Chad, her senses were on full alert. She knew the ramifications if she didn't succeed.

Chad would end up miserable married to Claire, the bridezilla. She would bleed him dry financially and drag his name through the mud. His finances and his reputation would be ruined. He'd become a broken man exactly like his father. Bitter. Angry.

Well, Amelia wouldn't allow it, not if she could help it.

She couldn't forget how Chad was the boy who'd punched the bully teasing her after her parents' death. The one who'd taken her to prom when her date had chicken pox. The one who taught her to how to fish, how to change a tire, and how to defend herself against boys who wouldn't take no for an answer.

She had to do whatever it took to prevent Chad's life from spiraling downward.

Therefore, failure was not an option. Friends did not allow friends to marry the wrong woman.
About the Author
From the time she was a child, Sonya knew she was destined to be a writer. If she didn't like the ending of a book or movie, she would write her own ending. When her children were young, she often wrote stories to entertain them. At the urging of one of her daughters, she submitted a short story and to her surprise and delight, it sold.
Sonya loves writing all things romance whether it's writing contemporary adult or teen fiction and still hasn't lost the wonder that she gets to do what she loves.
She enjoys reading, movies, chocolate, and laughter and credits her daughters as being the sweetest blessings in her life.
To comment on Sonya Weiss's blog please click here.