Ends February 8th!
Special Book Launch Offer!
Order LOST IN TIME (Book 3 in The Fine Art of Deception Series) before February 8th and you'll get it at a special subscriber discounted price! ($2.99 instead of $4.99) You'll also get Book 1 in The Fine Art of Deception Series with a printable bookmark and character cards — ALL FOR FREE!! And, your purchase will register you for one entry in the drawing to win the Lost in Time Grand Prize – A Peridot and Pearl Necklace! ($350 Value!)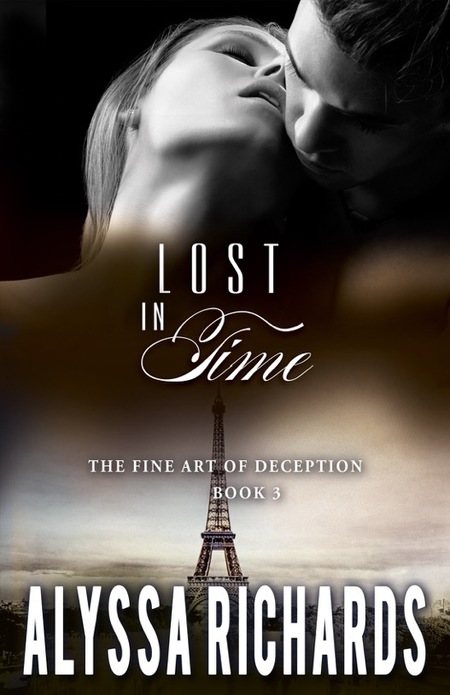 Searching for the answers she needs, will Addie lose everything she has?
Adeline "Addie" Montgomery is searching for the truth. As she and Blake travel back to 1922, she expects her nemesis Otto is behind a string of art forgeries. The only problem is that the villain has completely disappeared. Addie must now find Otto without blowing her cover to keep the past intact, as long as a lover from a past life doesn't get in the way…
Blake Greenwood wants nothing more than to catch Otto and return to the present with Addie, the love of his life. When his mother goes missing as well, he leaves Addie alone with his half-brother to save his family. As the future begins to change in unexpected ways, Blake and Addie begin to question everything. Can they find Otto and save their relationship before what they had disappears for good?
Lost In Time is the third book in an absorbing series of paranormal romance time travel novels. If you like museum capers, psychic powers, and romance that's both steamy and sweet, then you'll love Alyssa Richards' thrilling conclusion to the Fine Art of Deception Series.
Romance Time Travel | Romance Paranormal [Dragonfly Publishing, On Sale: November 22, 2016, e-Book, ISBN: 2940153830438 / eISBN: 9780979226588]
Special Book Launch Offer – LOST IN TIME! – Alyssa Richards
Here is what you will receive if you order "Lost in Time" before February 8th!
Free E-Book of The Fine Art of Deception, Undoing Time.
Lost in Time Discounted Purchase Price: $2.99 instead of $4.99
Free Character Cards.
Free Bookmark of "Somewhere in Time".

And…One (1) Entry in the Drawing to win the

Lost in Time Grand Prize:

A Peridot and Pearl Sterling Silver Necklace! ($350 value)