Rancher and military hero Bane Westmoreland is on a mission to reconnect with the one who got away. And when the beautiful chemist's discovery puts her in danger, Bane vows to protect her at all costs…
Read on for a sneak peek of
BANE
the latest in New York Times Bestselling author
Brenda Jackson's The Westmorelands series
"Why are you acting so secretive?" Bane asked, puzzled. "You've never acted that way with me before."
No, Crystal hadn't. But then the Bane she used to know, the secret husband she'd loved more than life itself, would not have forgotten her for five years. He would have moved heaven, hell and any place in between to have her with him so the two of them could be together.
"You're not the only one who's changed. Just like you're not the same, I'm not the same."
They faced off. She didn't see him move, but suddenly his body brushed against hers and she drew in a sharp breath. The touch had been electric, sending a sizzle through her. Suddenly, her mind was filled with memories of the last time they'd touched. Really touched. All over. Naked. Those memories were enough to ignite a fire in the pit of her stomach.
"You may not be the same," he said, breaking into the silence between them, speaking in a low tone. "But you kept your wedding vows."
He spoke with such absolute certainty, she wondered how he could be so sure. But of course he was right. "Yes, I kept them."
He nodded. "And before doubt starts clouding that pretty little head of yours, let me go on record to say that I might not be the same, but I kept my wedding vows as well. Now, why did you come to the door with a gun and packed bags?"
Just like she didn't want to involve her mother and Aunt Rachel in whatever was going on, she definitely didn't want to involve Bane.
She nibbled her lips as she tried coming up with something that would sound reasonable. Something that wasn't too much of a lie. So she said, "The reason for the packed luggage is because I'm taking a trip."
"Where are you headed?"
If she told him the truth, he would question her, so she said, "Chicago."
"Fine. I'll go with you."
She blinked, anxiety closing in on her. "Go with me?"
"Yes. I'm on leave so I can do that," he said calmly. "Besides, it's time I got to know you again, and I want you to get to know me." She knew she was a goner when he asked in a husky voice, "You do want to get to know me all over again, don't you, Crystal?"
Getting to know Brisbane Westmoreland the first time around had been a roller coaster and she'd definitely enjoyed the ride. There was no doubt that getting to know the new Bane would be even more exhilarating.
As if he knew what she was thinking, he caressed the side of her face with the tip of his finger. "I definitely want to get to know you again."
Then he brought her body closer to his. She felt his erection, pressing hard against her middle and a craving she'd tried to put to rest years ago reared its greedy head, making her force back a moan. If she didn't get her self-control back, she would jump his bones without a second thought. And that wasn't good.
She didn't even know him anymore.
But then she stared into his eyes. Hazel eyes that had branded her the first time she'd gazed into them. Eyes belonging to Bane. Her Bane.
At that moment, she didn't care that they'd both changed. She wanted his hands on her and his tongue in her mouth.
He bent his head closer, and she refused to consider anything other than what she wanted, needed and had gone five years without. She clutched tight to his shoulders and leaned up on tiptoes to cover his mouth with hers.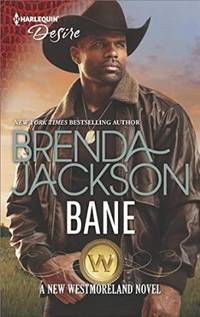 New York Times bestselling author Brenda Jackson's last Westmoreland bachelor is a navy SEAL on a mission to protect the woman who got away
After five years, navy SEAL Brisbane Westmoreland is back home on his ranch and ready to reclaim the woman he left behind. But when he tracks her to Dallas, he's in for a shock.
Crystal Newsome isn't ready to forgive Bane for saying he loved her then vanishing from her life. Only now the beautiful chemist needs his protection. As their own irresistible chemistry takes over once again, can Bane keep Crystal safe and convince her they can have the second chance they both deserve?
Don't miss
BANE by Brenda Jackson
available December 2015 wherever
Harlequin® Desire books and ebooks are sold.
www.Harlequin.com
Copyright ©2015 by Brenda Streater Jackson