"Erin Quinn writes with power, passion and heart," Nalini Singh, NYT Bestseller.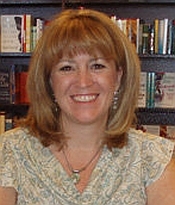 Sometimes a man can change your life.  Sometimes he can do more than that—he can change the way you feel about your life….  Tiarnan, hero of Haunting Desire, is just such a man.  In his youth, he blazed hot and fast, battling his enemy and charging into the fray without thought or fear.  But now Tiarnan is older and wiser.  Time and circumstances have used and abused him.  He's become a warrior who's lost his will to fight.  A leader who refuses to take charge.  A lover who is afraid to touch.
Enter Shealy O'Leary, a woman who sees behind the mask to the man…the man whose courage and loyalty is boundless, who puts himself between her and danger time and again.  She knows that Tiarnan is someone who can help her shed the baggage of a lifetime and become the woman she's always wanted to be.  And she's right.
Here's a small excerpt from a favorite scene in HAUNTING DESIRE—one that might give you a glimpse into Tiarnan's heart.
"When I saw those men," he said, and his voice still held a deep, raspy tone, as if he'd screamed himself hoarse. "When I saw him with his filthy hands on you . . ."
He stared into her eyes, unable to put words around what he'd felt. But it seemed she didn't need him to explain. The hand on his chest moved up until it rested at the base of his throat, her touch light and tentative over the pulse that surged there. It was as if she held in her palm everything that made him alive, every reason, every sadness, every hope.
With a soft groan, he circled her with his arms, pulling her yielding body tight against his, finding that nothing felt close enough. She was soft and pliant beneath the heavy tunic she wore, but it was a barrier he couldn't tolerate. The first time they'd come together it had tasted of desperation and desire born of denial. Before that, it had been years since Tiarnan had last known a woman's touch. A lifetime since he'd wanted to lose himself in the intoxicating flavor and scent of a female. But he wanted Shealy now.
He gripped the hem of the too large tunic and pulled it up and over her head in one movement, leaving her as nude as him beneath the furs. His muscles still ached, his joints still burned, but none of it compared to the throb of need that swelled and consumed him.
He'd fought to protect this woman and now here she was in his arms, making every misery worth enduring. He might not have conquered the foe, but he hadn't failed her either, and for that he was grateful in ways that couldn't be explained with mere words.
The soft rub of fur against his back contrasted with the hot burn of Shealy's flesh against his chest and the dissimilar sensations merged into one overwhelming pleasure that whipped his arousal until it became all he was. All he'd ever be again.
HAUNTING DESIRE will be wherever books are sold on April 5.  Would you like to see the trailer?  Go to here
Erin Quinn (also known as Erin Grady) is an award winning author. Her books have been called "riveting," "brilliantly plotted" and "beautifully written" and have won, placed or showed in the WILLA Award for Historical fiction, the Orange Rose, Golden Quill, Best Books, Book Buyers Best, and Award of Excellence. Book three in her Mists of Ireland series, HAUNTING DESIRE, will be in bookstores April 2011.
She lives in Arizona with her husband, two daughters and three dogs (all of whom have made debuts in her stories—the dogs, that is, not the husband and kids.)
Don't miss any of the Mists of Ireland