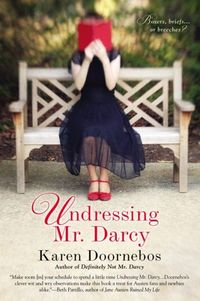 Who likes their men tall, dark, and…British? Or, as I've seen floating around Facebook:
I like my men
like I like my tea.
Hot and British.
Okay then. Might I suggest UNDRESSING MR. DARCY published by Berkley, Penguin just released this week.
Did I mention 'undressing?' And guess what? Just for fun I tossed a pirate into the book, too, who happens to look strikingly like Johnny Depp…
She's all plugged into her cell phone and laptop.
He's a hard-cover book reader and writes with a quill pen–a 'Mr. Darcy' reenactor from England. Can he claim her heart without so much as a GPS?
It'll take three festivals filled with Austen fans, a trip to England, an old frenemy and a flirtatious pirate from Hero Con to find out…
'…a fun adventure…Doornebos crafts a clever tale that blends the beauty of Regency England with a modern-day romance between a woman who is never far from her social media accounts and a Mr. Darcy reenactor who is adorably old-fashioned in every way…'
— 4 Stars, RT Book Reviews
Like so many of you, I fell for Mr. Darcy all the way back in high school. Little did I know back then that I would end up majoring in English Literature in college and spending six months living and working in London in my early twenties. Now, just a few years later 😉 I'm a lifelong member of the Jane Austen Society of North America and I've traveled back to England a couple of times, most recently to do research for UNDRESSING MR. DARCY.
I've included a couple of photos of my latest trip for you here. One of them was taken at the Roman Baths in Bath, England where I set a Jane Austen Festival ballroom scene. The other was taken at the tea room The Jane Austen Centre in Bath in front of a portrait of Colin Firth as Mr. Darcy. I'm telling you, that research trip was rough, ha ha ha…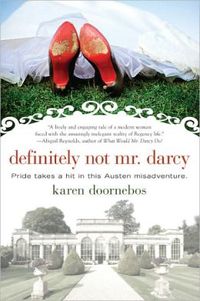 My first novel, DEFINITELY NOT MR. DARCY is about a reality show set in Jane Austen's England and the book is now published in three countries.
If you like hearing about Darcy and Jane Austen, join me on Facebook, Twitter, and Goodreads! You can also find me at my group blog AustenAuthors.net.
… But the young woman and Aunt Ella weren't looking at her. They were beaming at a tall, dangerously good-looking man on the other side of the rope wearing a formfitting Regency tailcoat, cravat, buff breeches, and black riding boots. He had an antique, leather-bound book tucked under his arm and didn't carry suitcases but toted old leather trunks—leather trunks on a wheeled cart? A tumble of black hair spilled onto his forehead.

How could he look so much better in person than in his author photo? She made a mental note to update that shot—it would increase their crowds. Pleased with his looks (for marketing purposes, of course), Vanessa cleared her throat, as if to clear her mind.

He wore his Mr. Darcy garb on the plane? Then she found herself trying not to notice the slight tug of his breeches, the snug way they fit him—

Huh? He was a client, after all, regardless of whether he was paying her or not.

Even if he had been a prospect, she preferred a man in a well-tailored Italian suit or blue jeans and a button-down shirt, didn't she? What woman, at thirty-five years old, with a condo, her own business, family ties, and a thing for modern American amenities, would consider a man from another continent—not to mention the nineteenth century? She didn't understand it.

And, let's face it, Mr. Darcy's skill set—chiefly, diving into a pond in his shirtsleeves—would get him nowhere in today's job market.

'Miss Ella Morgan and Miss Vanessa Roberts, I presume?' he asked in a bass-range voice that needed no emoticons to get attention. Then he bowed.

He was none other than a very official-looking Mr. Darcy. On the big-screen TV above him, a bomb exploded on the news, and when Vanessa tucked her long brown hair behind her ear, her earbud popped right out.
Yes, there is a scene in which Mr. Darcy does his 'stripping off' down to his drawers…UNDRESSING MR. DARCY is available here, at your favorite bookstore, or online in paperback and ebook.
Karen Doornebos is the author of UNDRESSING MR. DARCY published by Berkley, Penguin. Her first novel, DEFINITELY NOT MR. DARCY, has been published in three countries and was granted a starred review by Publisher's Weekly. Karen lived and worked in London for a short time, but is now happy just being a lifelong member of the Jane Austen Society of North America and living in the Chicagoland area with her husband, two teenagers and various pets—including a bird. Speaking of birds, follow her on Twitter and Facebook! She hopes to see you there and on her website www.karendoornebos.com.
Keep an eye out for my guest blog post here at Fresh Fiction on December 9th! I'll be posting more pictures of my trip to England and having more Darcy fun! Follow my blog tour that launches on December 1st on the Penguin blog. Get ready for some fun, some travel, and some undressing!