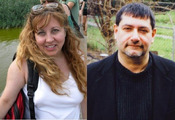 Wonderful reviews are coming in for my new culinary mystery Billionaire Blend. Kirkus honored it with a Starred Review, RT Book Reviews named it a Top Pick among December's Mysteries and Thrillers, and Publishers Weekly called it "a highly satisfying mystery." But what matters now is what you think.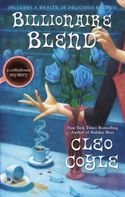 (Read the First Chapter by clicking here.)
As the book opens, single-mom Clare Cosi is working hard to keep her landmark coffeehouse running smoothly. She's still struggling in a difficult economy to make ends meet, hold on to her employees, and keep her historic Greenwich Village shop from falling apart.
Then boom! Her shop really falls apart.
Some nut sets off a car bomb on the street outside, badly damaging the century-old coffeehouse. Forced to close and lay off her beloved employees, Clare is devastated and makes a wish for her problems to be magically solved. But she soon finds out…
Some wishes come with a price.
When that car bomb ripped through her shop, Clare saved the life of an anonymous customer, one who turned out to be billionaire tech-whiz Eric Thorner, the most successful developer of smartphone and game Apps in the world.
After Eric recovers from his wounds, he thanks Clare by hiring her to create the most expensive coffee blend on the planet. Clare is thrilled with her good fortune, but there is a catch. That deadly car bomb was planted in Eric's luxury vehicle. It looks like someone wants to murder the billionaire, and as Clare is pulled deeper into Eric's world of cutting-edge luxuries and cutthroat rivals, she begins to wonder: Is this charming CEO truly marked for termination? Or was that bomb a dangerous ruse, and is he the one making a killing?
To solve this mystery, Clare will have to bribe a bomb squad lieutenant; conjure up a menu for a "billionaire's potluck"; fix her daughter's love life; stop a Slayer while working with one; and stay alive while doing it. Coffee—can get a girl killed.
By the end of Billionaire Blend, you'll have taken trip around the world, and have over 20 fantastic recipes to try in your own kitchen, including a list of secret off-the-menu coffeehouse drinks, and tasty foods enjoyed by the characters in the book, namely:

Clare's Billionaire Bars
Baileys Irish Cream Fudge
Pumpkin Spice Muffins
Italian Beignets
Chocolate-Bottom Banana Bars
French Apple Cake Squares
Twinkie Cupcakes
Make your own Kahlua
Skillet Lasagna
"Coffee Hunter" Ugandan Stew
Crunchy Almond Biscotti (easy food processor method)
Quesa Fundido (Mexican Hot Cheese Dip) and more…
One last note for new readers: Although Billionaire Blend is the 13th book in my Coffeehouse Mystery series—now celebrating ten years in print—you can absolutely read it as a stand-alone novel; and if you enjoy the characters, you can read more about them in the previous books.
Click here to download a free title checklist of all 13 Coffeehouse Mysteries, in order, including brief story summaries.
Happy holidays to you. May you eat (and read) with joy!
~ Cleo
Free Cookie Swap Recipes!
CLICK HERE for a free recipe PDF of my meltaway Key Lime Coolers, a beautiful snow-dusted cookie for the holidays with a sweet-tart tang that will brighten up any dark winter night. They freeze well, too, and you can make them with any lime.
CLICK HERE for a free recipe PDF of my Oatmeal Cookie Brittle: no flour and no butter (no kidding)! As holiday cookies go, this is a guilt-free treat, packed with heart-healthy, high-fiber oats yet a buttery-crisp delight to eat, especially with coffee, tea, or cocoa.
Win Wolverine's Favorite coffee!

What is Wolverine's favorite coffee? It's my new "Coffee Pick" for the winter! Every week, I have a free coffee drawing at my website. My new weekly prize is a free package of Laughing Man Coffee, co-founded by actor Hugh Jackman, who seeks to help developing world coffee farmers. The profits go to charity, and I'm glad to be spreading the word. To sign up for my weekly drawings, write an e-mail that says "sign me up" and send it to: CoffeehouseMystery@gmail(dot)com. And you can enter to win a package today. See how below.
Get more free recipes by visiting my website.
Watch the official Coffeehouse Mystery Trailer here
Praise for BILLIONAIRE BLEND
*Starred Review —Kirkus
Top Pick! —Romantic Times
"…a highly satisfyingly mystery."—Publishers Weekly
One commenter on this post will win an autographed copy of the BILLIONAIRE BLEND – hardcover edition and a package of Wolverine's favorite coffee from actor Hugh Jackman's company Laughing Man Coffee (all profits to charity).
To comment on Cleo Coyle's blog please click here