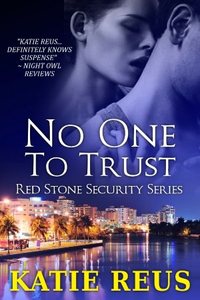 Red Stone Security #1
Kindle:
B007ED610Y
e-Book
Amazon
Barnes and Noble
Kobo Books
iTunes Bookstore
No One to Trust – ON SALE for $0.99 cents one week only!
Praise for the novels of Katie Reus:
"Explosive danger and enough sexual tension to set the pages on fire!"
— New York Times bestselling author Alexandra Ivy
"Sexy suspense at its finest."
– Laura Wright, USA Today bestselling author
"Lusty, heartfelt and shows that love can conquer all."
— RT Book Reviews (4 stars)
"A well-plotted, excellently delivered emotional and sensual ride that grabs hold and doesn't let go!…Ms. Reus delivers mystery, suspense and a romance nothing short of heart pounding!"
—Night Owl Reviews
No One to Trust, Book 1 – Red Stone Security Series
Computer security specialist Elizabeth Martinez has never been able to turn her back on her brother Benny. When his risky lifestyle finally lands him in harm's way, Elizabeth finds herself dragged into the dangerous underworld with him and into the cross hairs of one of Miami's death-dealing drug lords. Only after her ex-boyfriend saves her does she realize she might have no choice but to depend on the one man she has tried so desperately to forget.
Former Marine Porter Caldwell never should have let Elizabeth walk away from him all those months ago. She means more to him than anything and now that she's in danger and turned to him for help, he won't make that mistake again. When a local gang targets her and she's nearly killed in a drive by shooting, Porter vows to do whatever it takes to keep her alive. Even if it means turning his back on all that he's sworn to uphold.
Read an Excerpt of NO ONE TO TRUST
Lizzy opened her eyes and sat straight up in bed as she heard a low creak from somewhere in her house. Her heart pounded wildly against her chest as she eased out of bed. Something felt…off. She didn't know what it was, but could feel it straight to her bones.
Her house had been built in the fifties so it was always making settling sounds. The noise she'd just heard could be nothing but she wasn't taking the chance.
Porter was sleeping on her couch and Benny was still in her guest room. She'd checked on her brother an hour ago and he'd looked a lot better than he had when they'd brought him home. A lot of the swelling on his face had gone down.
She tiptoed across her room and cringed when the floorboards groaned beneath her. Easing the door open, she peeked out to find the hallway empty. Good. Porter must still be asleep. She nudged the half-open door to the guest room all the way open. Her throat clenched at the empty bed. The sheets were rumpled but Benny wasn't there. He always did this. Just left without saying goodbye. She should be used to it, but it hurt more than she'd admit. When she felt wetness on her cheek, she brushed away a few stray tears that managed to leak out.
"He left fifteen minutes ago."
She swiveled at Porter's voice and barely refrained from screaming. Her hand instinctively flew to her throat. "You almost gave me a heart attack… You saw him leave?"
Porter nodded, his face an unreadable mask. "He must have called someone to pick him up because he snuck out the front door. I watched him get into a car and drive off."
Anger punched through her, swift and hard even though it had nothing to do with the man standing in front of her. This wasn't his fault. "Why didn't you try to stop him? Or wake me up?"
His shoulders lifted in a casual shrug. "He's a grown man. If he wants to leave, it's not my business."
She started to respond when she realized how little clothing Porter had on. No shirt and pinstriped blue and white boxers that did little to cover the bulge between his legs. Oh my… She forced her gaze upward but his entire body was drool worthy and she couldn't stop her gaze from roaming everywhere.
His broad chest was male perfection. With a ripped eight pack and just a smattering of dark hair covering his pecs, he was all sharp lines and taut muscles. She'd never thought much about male legs before, but his were something she'd definitely remember. Muscular and lean but not bulky. Runner's legs. Why had they never gotten naked together again? Right now she was having a hard time remembering her own name, let alone why she'd ended things with him. She nervously licked her lips as she imagined what it would be like to wrap her own legs around—
"Don't look at me like that." His voice was a low growl.
As her eyes snapped up to meet his, she fought the heat creeping into her cheeks. Thankfully the only source of illumination was the moonlight streaming in from the blinds. She wondered how long she'd been staring at him like he was a slab of meat. "Like what?" she whispered. Immediately she wanted to take the question back. It was lame and she knew exactly what she'd been doing. She'd been undressing him with her eyes and she was only sorry he'd stopped her.
He reached out and tucked a wayward curl behind her ear. Instead of withdrawing his hand, he cupped her cheek.
"Lizzy," he softly breathed out her name.
About Katie Reus
Katie Reus fell in love with romance at a young age thanks to books she pilfered from her mom's stash. Years later she loves reading romance almost as much as she loves writing it. However, she didn't always know she wanted to be a writer. After changing majors many times, she finally graduated with a degree in psychology. Not long after that she discovered a new love. Writing. She now spends her days writing dark paranormal romance and sexy romantic suspense.
Look for Katie at web site, Twitter, Facebook, Amazon and GoodReads.