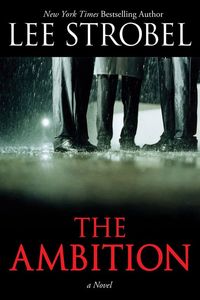 A corrupt judge in a mob murder case. A disillusioned pastor hungry for power. A cynical reporter sniffing for a scandal. A gambling addict with a secret.
Zondervan
May 2011
On Sale: May 1, 2011
Featuring: Garry Strider; Eric Snow
320 pages ISBN: 0310292670 EAN: 9780310292678 Hardcover
Add to Wish List
Deceit, Deception, and Death
New York Times bestselling nonfiction author delivers his debut thriller, THE AMBITION
After reaching millions with his bestselling "A Case For" series, Lee Strobel probes into the power of ambition in the city he knows best: Chicago. From corruption inside the halls of justice to betrayal in the back alleys, THE AMBITION launches a major new voice in fiction.
"The much published author writes with great confidence and plots like a screenwriter . . . Strobel succeeds in his new direction."—Publishers Weekly
Edgy characters, corruption and political intrigue populate Strobel's debut novel.
"THE AMBITION is inspired by real-life stories that I covered at the Chicago Tribune," said Strobel, former award-winning legal editor of the daily. "I've been in that world of reporting on the crime syndicate and political and judicial corruption. While this is a work of fiction, I do refer to some actual stories to add some color and texture to the book."
The novel references actual historical figures, including Chicago mob hitman Harry "The Hook" Aleman and murdered Arizona investigative reporter Don Bolles, cases Strobel covered for the Tribune. The e-book version features video clips of Strobel elaborating on these real-life stories.
"I used two unique perspectives of having been an investigative reporter in Cook County, which is notorious for corruption, with then serving as a pastor in a megachurch," said Strobel. "It was an amazing opportunity to write a book that bridges these two worlds."
A corrupt judge in a mob murder case. A disillusioned pastor hungry for power. A cynical reporter sniffing for a scandal. A gambling addict with a secret.
Mafia defense lawyer Tom O'Sullivan has bribed Judge Reese McKelvie to help settle a gambling debt with mobster Tom Bugatti. O'Sullivan recorded the transaction—a recording that threatens the lives of anyone who hears it.
Discouraged investigative journalist Garry Strider has just been passed over for the Pulitzer. After drowning his sorrows, he returns home to find his girlfriend moving out. She's found faith at the Diamond Point Fellowship. Ever the cynic, Strider begins investigating the megachurch and its poster-boy pastor, Eric Snow.
Snow, a former .com millionaire, decides that politics – not faith – will transform America. He becomes a candidate for the vacant seat of a corrupt former senator. His opponent: Judge Reese McKelvie.
Especially for Fresh Fiction readers: A chance to win one of 10 copies of THE AMBITION. E-mail Fresh Fiction The Ambition with your name and address to [email protected] by May 24. Random drawing winners will be notified May 25.
Strobel earned his journalism degree from the University of Missouri and was awarded a Ford Foundation fellowship to study at Yale Law School, where he received a Master of Studies in Law. He was a journalist for 14 years at the Chicago Tribune and other newspapers, winning Illinois' top honors for investigative reporting and public service journalism from United Press International. He also taught First Amendment Law at Roosevelt University. A former atheist, he served as a teaching pastor at two of America's largest churches. Married 38 years, Lee and his wife, Leslie, live in Colorado and have two children, Alison and Kyle, both authors.