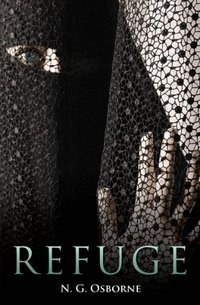 A captivating tale of love between the unlikeliest of people in the unlikeliest of places
Cranham & Keith
November 2012
On Sale: October 24, 2012
Featuring:
Charlie Matthews; Noor Khan
464 pages
ISBN: 061569540X
EAN: 9780615695402
Kindle:
B009LU196Y
Paperback / e-Book
Amazon
Barnes and Noble
iTunes
Kobo
* * *
In 1991, on a dusty, sweltering night, Noor Khan, a beautiful, headstrong Afghan refugee, comes face-to-face with Charlie Matthews, a brash, young American aid worker. To Noor's fury, Charlie breaks every cultural norm and pursues her. She wants nothing to do with him: her sole aim in life is to earn an overseas scholarship so she can escape the miseries of the refugee camps.
However when Noor's brother threatens to marry her off, she is forced to seek refuge in Charlie's home, of all places, and suddenly everything Noor believes in is put into question.
Set in the mystical and seething city of Peshawar, where no one is without an agenda and few can be trusted, Refuge is a timeless and unforgettable love story about the struggle for love and purpose in a cruel and cynical world.
"A brilliantly compelling romantic drama set in a world where love is a lethal indulgence and women are best neither seen nor heard," Refuge is a "deeply affecting tale of forbidden love", that the London Sunday Express calls a "discovery of the year".
Refuge is available at amazon.com, barnesandnoble.com, iTunes and kobo.com. It is author N. G. Osborne's debut novel. He can be found at www.ngosborne.com andwww.facebook.com/Refugenovel
Read an Excerpt
NOOR HURRIES DOWN the claustrophobic alleys of the camp, her notebooks held tight to her chest. With each gust of wind ever more dust coats her face and her headscarf edges further back until her hair billows behind her like laundry on a line. Noor prays she can get to their hut without running into a fanatic. There have been more and more attacks on 'loose women' of late.
My bad, my bad.
She can't get the expression out of her head. She's never heard it before. She assumes it's an American way of saying 'I'm sorry'.
What an odious man.
The American had amused her at first, but the way he had stared at her, blocked her path …
Noor hears someone running towards her. Her heart quickens. She turns just as they come around the bend. A man bowls in to her, and she tumbles to the ground. The man comes to a rest on top of her.
Her hands search for her assailant's face. She scratches at his eyes, cheeks, nose, whatever she can dig her nails into. The man screams in pain. She shoves him off of her and clambers to her feet. She makes sure her weekly wage is still secure in her pocket.
"Stop, please stop," the man says in an American accent.
The man raises his head, his face smeared with dirt and blood. He recognizes her.
"I'm sorry," he says. "I didn't mean to scare you."
"You didn't," she says.
She gathers up her fallen books. The man tries to help her.
"Don't," she says.
She gets up and sees him standing there with the mango in his hand.
"I just had to find you," he says. "You're the most beautiful woman I've ever laid eyes on."
Noor gives him a withering glare and turns for home.
"Wait, you forgot something," he says.
"Keep the mango," she says.
"No, something else."
Noor looks back. The American is holding out a piece of paper. Down the way she hears some men approaching. She edges over to him and snatches the piece of paper. She hurries away and doesn't stop until she's outside their hut. She stands there with her back against the wall and gathers herself. If it wasn't for the paper in her hand she could be convinced that she'd just had an hallucinatory experience.
She pushes open the corrugated metal door and steps inside. It's hotter in the hut than it is outside. Her father sits on a stool reading by the light of a flickering lamp. Bushra squats nearby stirring daal in a blackened pot.
"Evening my love," her father says.
Noor nods a greeting, and her father rises.
"We'll leave you to bathe. Come on Bushra"
He opens the door and a gust of wind rushes in. Noor places the books on the floor and unfolds the crumpled piece of paper. It's a hundred rupee bill. She turns it over and sees the man has written on it.
'If you're married or engaged—'
Those words alone make her shiver.
'Please throw this away.'
It's what I should've done. In fact I should've never taken it in the first place.
'But if you aren't, maybe we could meet tomorrow at 5PM in the lobby of the Pearl Continental.'
Of course, the Pearl Continental; the greatest den of inequity in the whole of Peshawar.
"Noor, you done yet?" Bushra shouts.
"Nearly," she shouts back.
At the bottom he's scrawled his name. Charlie Matthews.
Noor stuffs the bill in her pocket with her wage. She glances at the circular metal tub in the corner, the soap scum on its surface evidence that Bushra and her father have already used it. Noor undresses and hangs her clothes on a nail on the wall. She steps into the tub and using a thin bar of soap scrubs her body as hard as she can.
Was this Charlie Matthews trying to buy my services? Does he really think an Afghan girl's honor can be bought so cheap?
She shudders knowing that many are. She dries herself with a towel and puts on her nighttime shalwar kameez. She retrieves the bills and puts them in her pocket.
"I'm done," she shouts.