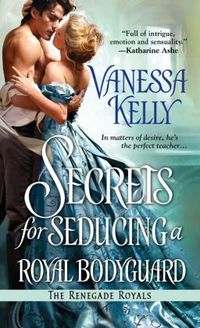 Renegade Royals #1
e-book
Kindle
nook | iTunes | Kobo

Paperback
Amazon
Barnes and Noble
Books-A-Million
Powell's Books
IndieBound
Book Depository
"If the remainder of Kelly's Renegade Royals series is as arresting and entertaining as this kickoff, then Regency romance fans are in for a royal treat… Kelly combines diverting dialogue, delightful surprises, and finely tuned pacing to make this a winner."
~Starred review, Publishers Weekly
---
Now on shelves—Vanessa Kelly's Secrets for Seducing a Royal Bodyguard!
I confess that I've always been fascinated by British royalty, especially bad boys like Prince Harry.  After all, who doesn't like a handsome prince, especially one with a bit of an edge?  And so I developed The Renegade Royals, my new Regency-set romance series featuring heroes who are the illegitimate sons of England's royal princes.  In SECRETS FOR SEDUCING A ROYAL BODYGUARD, book one in the series, my hero is the bastard son of that famous royal scoundrel, the Prince Regent. Unlike his father, however, Aden St. George is a loner who rejects a life of privilege for one of danger as a British spy.  Aden is about to embark on his most dangerous mission yet—rescuing the beautiful and brilliant Lady Vivien Shaw from the clutches of a criminal conspiracy. SECRETS is a story about a man willing to put his life on the line to protect an innocent woman and that woman's courageous fight to stand up for the man she loves.
Here's more:
In matters of desire, he's the perfect teacher…
Accomplished spy Aden St. George prefers to stay away from the frivolous ton, especially after the way his mother was used by the Prince Regent. But his latest mission compels him to guard unconventional, vibrant Lady Vivien Shaw. Rescuing her from kidnappers was easy. Resisting her beauty is not. Duty demands he keep an eye on her—and naturally, his lips soon follow. For someone who views entanglements as a weakness, this is pure, delicious folly…
Though grateful for Aden's help, Vivien has secrets she must keep hidden. Yet with her abductors still at large, she needs Aden's protection almost as much as she craves his touch…
"Kelly launches a new Regency-set series with Secrets for Seducing a Royal Bodyguard, and the novel's thrilling blend of highstakes danger and intense passion will definitely resonate with fans of Mary Jo Putney and Joanna Bourne."
~John Charles, Booklist
---
Vivien stared at him, mystified. Aden did not strike her as a man who found the world a very amusing place, at least not to this extent.

"Have you been drinking?" she asked suspiciously.

"No," he choked out. "It's all you. You lured Tumbler away from the ball, pushed him into a fountain, and then offered to haul him out. If word does get out, the poor man will have to rusticate in the country for a year."

Suddenly, she saw an image of Lord Tumbler's outraged, dripping countenance staring back at her and she dissolved into helpless giggles. That started Aden off again, and it took several minutes before they were able to bring themselves under control. Vivien, wrung out by all the conflicting strains of the evening, finally subsided into a few watery giggles as she dabbed at her eyes with her gloved fingertips.

"Here, let me," he said, extracting a handkerchief. He leaned over and pressed her eyes dry with a gentle hand. She held her breath, trying not to tremble under the soft touch.

When he finished, he stayed close, studying her face. "Vivien, what am I going to do with you?"

His wry, exasperated tone brought a sudden rush of tears to her throat. Since Papa's death, no one in her own family had worried about her, or lifted a finger to protect her. Aden had, but his help probably stemmed from his innately chivalrous nature and sense of duty rather than from emotion. As foolish as it was, she longed to be more than an obligation, or a burden to be disposed of as efficiently as possible.

While she fiddled with the ties of her cloak, the only answer she could muster was a shrug. When his gaze sharpened, she looked down at her lap, unable to face his piercing inspection.

She heard him draw in a breath and then two fingers came up to her chin, tilting her face up to meet his gaze. As she studied the severe lines of his handsome face, her heart twisted with an aching, hopeless desire.

A surprisingly tender smile curved his lips. "My poor sweetheart, you've had rather a trying evening, haven't you?"

Oh, Lord. If he kept staring at her like that, with so much sympathy warming his eyes, she would start crying.

"I'm fine," she whispered. Except for the pathetic crack in her voice.

Slowly, the warmth in his eyes transmuted into a seductive heat. When his gaze dropped to her mouth, she could swear all that heat flicked a kiss of fire across it. Her lips parted in an involuntary gasp.
"To put it bluntly, I loved this book."
~Top Pick, Night Owl Reviews
---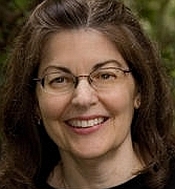 Regency Romance That Sizzles