Danielle: Welcome back to Fresh Fiction, Stefanie! Please tell us a bit about yourself and your new book, FOREVER STARTS NOW. 
Stefanie: Thanks for having me! I'm Stefanie London, Aussie gal living in Canada. I'm the USA Today bestseller of more than thirty contemporary romances and romantic comedies that meet at the corner of sweet and sexy. Outside writing, I love to read, knit, bake and play video games.
My latest release, FOREVER STARTS NOW, is a fake relationship romance between an Aussie hero searching for his father, and a prickly diner owner whose life has stagnated after divorce. At the heart of it, this story is about understanding who you are and being authentically yourself. There are also very strong themes of family and belonging. Both Monroe and Ethan have had their lives shaken up by devastating news, and we meet them in the aftermath of trying to figure out where they're headed.
It's funny and heartfelt and you might tear up a little. There's a steamy kiss in a haunted house, a wacky town mascot and a quirky cast of characters to fall in love with. I hope you'll check it out!
Forever Falls, the fictional small town at the heart of your novel, sounds charming, quaint, and full of nosy neighbors! Where did the inspiration come for this delightful place?  
I've created a few fictional small towns now, and I always seem to start with an image. I'm a very visual person and I need to "see" my stories. Forever Falls is on the coast and the story takes place at the end of winter when the town is a little battered from the cold and the tourists haven't yet arrived. It's a place with rough edges and loads history—much like the hero and heroine of this story. I had an image of a man standing on top of cliff looking out into a storming ocean as if he might find answers there. From that point, I start adding details like the kinds of businesses that would be there, main figures of the town etc.
One of the things I always love to do with my fictional towns, is to create some quirky element that will make readers smile. In this case, Forever Falls has a very quirky mascot with a funny origin story. I have to admit, this one was totally ripped from the headlines. I came across an article about a "rare golden bird" that turned out to be a seagull who'd fallen into a vat of curry. It struck me as such a funny tale, that I decided to include a similar story about the town's mascot Goldie and the man who saved her.
I love a good fake dating storyline—I especially love when the two characters try to deny they have any actual feelings for each other, even when it's painfully obvious they are meant to be! Have you written a fake dating plotline before? What do you like about the fake dating romance trope? And what challenges can it bring?  
I have! The fake relationship trope is definitely in my top 5 of all romance tropes. I find it's a great story set-up for creating tension and that delicious "will they/won't they" pull that readers enjoy so much. I also love that this trope is ripe for pairing a hero and heroine who feel like they shouldn't match well, but somehow do. Opposites attract is my top favorite trope, and it pairs really well with a fake relationship story.
As fun as it is, it can be a real challenge to create believability. Let's be real, the amount of people who actually have fake relationships is probably way lower than what romance novels would lead us to believe. That's part of the fun! But it's also a big part of why it can be hard to come up with a situation where the reader will buy into the catalyst for such an arrangement. It's also challenging to come up with a fresh twist on this trope, since it is so popular and has been done so many times.
Monroe and Ethan both have a lot going on… Monroe is dealing with a breakup and trying to keep her diner afloat. Ethan is recently out of a relationship and looking for the American father he never knew. What do Monroe and Ethan's personal problems show readers about them as characters?  
For Ethan, truth is fundamentally important and finding out that he was lied to his entire life has shifted the way he views his family. But it's also an indication of where he needs to grow. He's a very black and white person who needs to learn to deal with the messiness of the grey areas in life. His journey is about learning to be okay with uncertainty and understanding that life is way more nuanced than a set of yes/no rules.
For Monroe, her journey is about not seeing failure as a permanent status. She was the kind of person who had big things on the horizon, and then finding out that her husband was cheating on her really knocked her entire life on its axis. She let go of striving for anything and fell into stagnation because the idea of trying again and potentially failing was too painful to her. In some ways, she's similar to Ethan because she's also quite rigid. But through helping him find his father, she learns that it is possible to dust yourself off and try again. 
I LOVE asking romance authors for book recommendations! What are some of your favorite recent-ish reads?  
I have been on a bit of a mystery kick lately. I really enjoyed Meet Your Baker by Ellie Alexander, which is the first book in the bakeshop mystery series. I also loved Live and Let Chai by Bree Baker. For romance, I got to read an early copy of The Road To Rose Bend by Naima Simone and it blew me away. She's a phenomenal writer and if you love small town romance with a hefty dose of angst, you must check this one out.
What can readers expect from you next?  
All the things! I'm currently working on several more small-town romance set in my Aussie seaside town, Patterson's Bluff. There's a Christmas book set there coming out in December and a cross-over book between Patterson's Bluff and Forever Falls out in November.
I've also got an exciting new series launching in print next year. It's called Paws in the City and it's a romantic comedy series about a pet social media agency in New York. The first book is out next May and features a hero who's been dubbed "The Hermit of 5th Avenue." If you love to laugh and cry with your romance reads, this series will deliver all those moments.
The best way to stay up to date is to sign up for my newsletter, because I always give sneak peeks at books before they release: https://stefanie–london.com/newsletter
Rapid Fire Random Questions 
Favorite Romance Trope: Opposites Attract
Go to mani/pedi nail polish colors: A classic red
Do you dog-ear or use a bookmark in your books?: Both… I try not to dog-ear but I always lose my bookmarks.
Pancakes or waffles?: Pancakes with lemon and sugar
Favorite book from childhood: Anything Sweet Valley High
Morning person or night owl: I'm like a solid 10-6 kinda gal lol
First thing you'd splurge on if you won the lottery: A cottage by a lake and flights for my whole family to come visit
A song that will always cheer you up: "Roar" by Katy Perry
Favorite season: Fall/Autumn. I just wished it lasted longer in Toronto!
You have a totally free afternoon – no deadlines, no obligations, no Twitter notifications!  What do you do?: Grab a coffee from my favorite café, go to the bookstore to treat myself to a new book and then come straight back to read on my couch.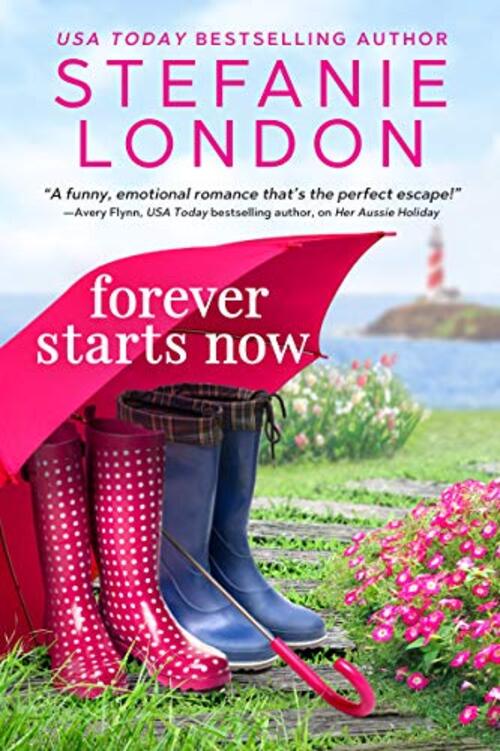 What happens when two people who've given up on forever find it in each other…?
Single men are as scarce in Forever Falls as a vegetarian at a barbecue. That is, until Ethan Hammersmith moves in. After his fiancée gave him an ultimatum, he left Australia and never looked back. He isn't in America to find a new girlfriend, though. He's searching for the father he never knew. But now it's like he has a flashing sign above his head that says "available." Thankfully, the manager of the local diner is willing to give him cover–if only she weren't so distractingly adorable.
Monroe Roberts, town misanthrope and divorcée, knocked "forever" permanently off her wish list ever since the love of her life skipped town with the cliché yoga instructor. And good riddance. She's got this struggling diner to keep her busy, trying anything to boost sales…until a hot Australian strolls in and changes everything. Monroe's restaurant is packed full of women who aren't there to order food, unless Ethan is on the menu. This could sink her business faster than ever. So–light bulb–what if they pretend to be together?
It sounds like the perfect plan. Until they realize there is some very real chemistry in this fake relationship. But is it enough to heal two hearts that have been so deeply wounded?
Romance Comedy | Romance Contemporary [Entangled: Amara, On Sale: June 29, 2021, Mass Market Paperback / e-Book, ISBN: 9781649370235 / eISBN: 9781649370365]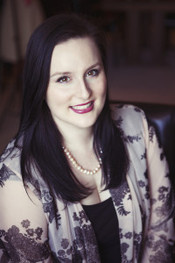 Books that make you laugh a little, and love a lot.
Stefanie London is the award-winning, USA Today bestselling author of contemporary romances and romantic comedies.
Stefanie's books have been called "genuinely entertaining and memorable" by Booklist, and "Elegant, descriptive and delectable" by RT magazine. Her stories have won multiple industry awards, including the HOLT Medallion and OKRWA National Reader's Choice Award. She has also been nominated for the Romance Writers of America RITA award.
Originally from Australia, she now lives in Toronto with her very own hero and is currently in the process of doing her best to travel the world. She frequently indulges in her passions for good coffee, lipstick, romance novels, and anything zombie-related.
***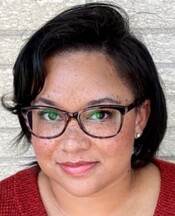 Danielle Jackson Dresser is a contemporary romance author (her debut novel with Berkley will be out in 2022!), avid reader, lackluster-yet-mighty crafter, and accomplished TV binge-watcher.
Once upon a time, she was a publisher publicist and continues to cultivate her love of books and reading by chatting with the best authors in the business as the Editorial Manager of Fresh Fiction and co-host of the Fresh Fiction podcast. Danielle is one of the Boozy Book Broads, a monthly author chat show streamed live on YouTube. She also moderates panels, interviews authors, and hosts a book club at Love's Sweet Arrow, the romance-focused independent bookstore.
Danielle lives in Chicagoland with her very own romance hero husband, darling daughter, and two tempestuous cats. Follow her on Twitter and Instagram, @dj_dresser.