1–What is the title of your latest release?
2–What is it about?
It's an enemies-to-lovers contemporary romance about a romance-writing heroine who loves her dogs and hides behind snark, and what happens when she's forced to work with a new guy in town who has a fear of dogs and who basically (on the surface) represents everything she loathes.
3–What do you love about the setting of your book? 
First, it's set in Alaska, which is just gorgeous. And second, I love quirky small towns, and my town is torn in half by a century-old feud that makes everything about living there far more complicated than it should be.
4–How did your heroine surprise you? 
I always knew she used snark as a way to deflect and keep people at bay, but when I started writing her, it became clear that she also did it because she is overprotective of the people she cares about. She's always willing to make herself a target to take the heat off of others.
5–Why will readers love your hero? 
He's an ambitious cinnamon roll! He brews beer, bakes, cooks, and he knows how to keep a secret.
6–What was one of your biggest challenges while writing this book (spoiler-free, of course!)? 
Kelsey, my heroine, has such a strong personality. She could overtake every scene and make the entire book about herself, if I let her. I had to be careful to make sure I wasn't stifling her, but at the same time, let my quieter hero tell his story too.
7–Do you look forward to or do you dread the revision process? 
I love revising! It's my favorite part. Revising is when I get to take an ugly draft and start making it into something readable.
8–What's your favorite snack to have on hand while writing? 
I don't know if coffee counts as a snack, but it's coffee.
9–Where would you go for an ideal writer's retreat? 
It would have to be somewhere quiet, maybe with mountains and a rocky coastline. Of course, if it's too pretty out, I'll want to go exploring and never write anything, so that's a challenge.
10–What's the best piece of writing advice you've received? 
Read widely in the genre you want to write. Not only will you start to internalize how it's done, it will spark ideas.
11–Who is the fictional character you want to hang out with the most? (anyone in literature!)
Strangely, Miss Marple. I would love to hang out in a quaint English village and have tea with her while she tells me stories about all the murders she's solved.
12–What's one of your earliest book memories?  
I had this picture book about a dragon who captures a princess, and I can't remember the title or what happened, but I can still remember the illustrations and how obsessed I was with them. I must have read (or forced my mother to read) that book hundreds of times.
13–If you had to write in a different genre, what would it be and why? 
Urban/paranormal fantasy! That was the genre I started out writing, and I still love it. 
14–What song will automatically put you in a good mood? 
"It's Alright" by Dar Williams. Even the title is telling me everything is good.
15–What is your favorite way to practice self-care?
Walks in the woods! There's something so soothing about it, and the exercise boosts my mood.
16–What can you eat and never get sick of? 
Pizza. Plus it works for any meal.
17–Will you share a favorite, recent-ish book you recommend? 
Just one??? Do you know how hard that is? Limiting myself to recent romance releases, I'll go with WILD LOVE by Lauren Accardo. It has serious swoons, lots of angst, and is set in the gorgeous Adirondacks.
18–Do you have any hobbies? 
I love to cross-stitch, and I've been working on a huge project for a couple of years now. Maybe one day I'll finish it. I also love hiking and am lucky to live near some great mountains for that.
19–Are you an early bird or a night owl?
I want to be a night owl because it sounds cooler, but I'm a total early bird.
20–What can readers expect from you next? 
The final book in my Hearts of Alaska series, LOVE AND LET BARK, releases in November of this year. It's a second chance romance between two people who had a secret relationship as teens. It features a hot firefighter, husky puppies, and being snowed-in in a cozy Alaskan cabin.
It's up to a trio of adorable rescue huskies to make two lonely hearts in a coastal Alaskan town realize that true love is worth too much to turn tail and run.
Glaciers have nothing on Kelsey Porter when she decides to freeze someone out. After getting burned once, she's not about to let it happen again. And right now all that icy contempt is focused on one annoyingly attractive and entitled interloper: Ian Roth. Not only is he looking to take advantage of her quaint, coastal community, tainting the small-town charm of Helen, Alaska, but he has committed the one crime she can never forgive–he doesn't like her dogs.
Unlike what Kelsey believes, Ian loves Helen's charms as much as she does. That's partly why he's determined to open a brewery there, and he's not about to let anything or anyone stop his dream from coming true. But he didn't count on the beautiful, prickly woman getting under his skin. Or having to be within hand-biting proximity of her three huge huskies.
When Kelsey's family conscripts her into helping Ian get his brewery off the ground, she finds herself caught between a rock and a hard . . . muscular . . . man who has a fear of dogs. But the longer they work together, the more she can feel herself begin to thaw. Now she'll have to choose: let sleeping dogs lie to protect her heart, or mush head-on toward love.
Romance Contemporary | Romance [Berkley, On Sale: June 29, 2021, Mass Market Paperback / e-Book, ISBN: 9780593198858 / eISBN: 9780593198865]
Delightful story with humor, heart, and dogs!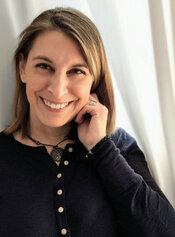 Growing up, Alanna Martin wanted to be an astronaut, a doctor, and an actor—possibly all at once. After nine years of studying psychology, she somehow became a writer instead. This turned out to be the best career choice of all because she can work in her pajamas while drinking wine. She firmly believes in the power of fluffy books, long walks in the woods, and that there's no such thing as too much coffee.