Instead of trying to find your perfect match in a dating app, we bring you the "Author-ReaderMatch" where we introduce you to authors as a reader you may fall in love with. It's our great pleasure to present STEVE GOBLE!
Hello. My name is Steve Goble, and I love ocean breezes, fresh seafood and long walks on sandy beaches where corpses wash up. (I was told to write this sort of like a dating profile, so. . .)
Writes:
I write historical murder mysteries featuring Spider John Rush, who as a young ship's carpenter was given a choice by attacking pirates — join us and use your valuable carpentry skills on our behalf, or drown. Spider joined, and has spent several years now trying to escape piracy and return to the woman he loves and a son he's never really known. Along the way, he and his pirate friends get caught up in trying to solve murderous plots. The latest book in the series, A BOTTLE OF RUM, finds Spider investigating a series of deaths in an English madhouse, and confronting vengeful pirates along the way.
About:
I worked in community journalism in Ohio for more than 30 years, before leaving that field and taking up work at a digital investigations and cybersecurity company. I am married to a fine writer and we are raising a kid who is a fine writer, too. When not writing about murder and mayhem on the high seas, I might be reading a good book, watching a Godzilla movie, playing with my garage band friends, cheering for the Ohio State Buckeyes, walking our dogs or enjoying really good beer.
What I am looking for in my ideal reader match:
Must love high seas adventure AND complicated murder plots.
Must be comfortable with salty language and piratical violence. (Although my first novel, THE BLOODY BLACK FLAG, once was included in a prize basket purportedly filled with cozy mysteries, my books definitely are not cozies …)
Love of puzzles is a good sign. I try to make sure my readers get all the clues when Spider does, so their chances of solving the crime are just as good as his.
Appreciation of dark humor is a must. My characters are human, but they are pirates, and they often joke about horrible things.
What to expect if we're compatible:
Fast, breezy reads with an emphasis on action and characters. I love reading a good dense John Le Carre´ spy novel, but that's not generally the sort of thing I write. Things move along fairly quickly in my books.
Expect likable characters who also happen to be pirates who have done some pretty bad things. Spider is basically a good man who was dealt a bad hand in life, and is now trying to redeem himself. His companions are also more decent people than one might expect to find on a pirate crew, though they do love a sharp sword and a good fight and they are not as eager as Spider to leave piracy behind.
You'll possibly learn a thing or two about real pirates as you read. I'm not a historian, but I do try to pepper my tales with accounts of actual pirates when it makes sense.
If you are interested in meeting me online, I'm on Facebook at "Steve Goble, Author,"  Twitter as @Steve_Goble and I blog infrequently at stevegoble.com.
A Spider John Mystery Book 3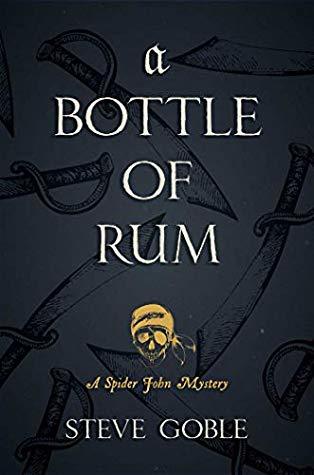 August, 1723 — Spider John Rush believes he has escaped piracy forever. Enjoying rum and chess in a dark Lymington tavern, he dreams of finding passage to Nantucket to reunite with his beloved Em and to finally get to know the son he remembers only as a babe in arms, though the lad must be dreaming of going to sea himself by now. But when a lazy taverner is stabbed to death, one glance at the victim tells Spider the pirate life has followed him ashore and he cannot possibly ignore this bloody crime. The wise maneuver would be to run before authorities arrive, but Spider is denied that choice because he's already deeply, connected to the crime–he fashioned the murder weapon with his own hands.
The knife was a gift to a young man, one who ran off with the notorious Anne Bonny before Spider could drag him into a respectable life.
Soon, Spider John and his ancient shipmate Odin are dodging accusations and battling smugglers on a trail that leads to a madhouse where patients are dying one by one. Spider finds himself tangling with a horribly maimed former shipmate, vengeful pirates, a gun-wielding brunette, a death-obsessed young woman, a sneaky farmhand and a philosopher engaged in frightening experiments. But death seems to be winning at Pryor Pond, and the next life lost may be the one Spider desperately wants to save.
Spider must brave sharp steel, musket balls, gunpowder bombs, dangerous women and gruesome surgery if he is to find his foolish young friend alive and try once again to put piracy in their past.
Historical | Mystery Historical [Seventh Street Books, On Sale: November 12, 2019, Paperback / e-Book, ISBN: 9781645060031 / eISBN: 9781645060031]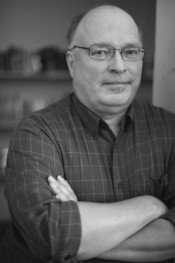 Steve Goble is the author of the Spider John mystery novels. A digital producer for the Cincinnati Enquirer and the USA Today Network in Ohio, Goble edits news copy and helps manage website and print production, along with social media presence, for ten USA Today Network sites in Ohio. Previously, he wrote a weekly craft beer column called "Brewologist," which appeared on the USA Today Network websites.