Welcome back to Day 2 of the Summer BBQ Recipe Roundup! We're joined by Sera Sera Taíno, author of A DELICIOUS DILEMMA, with a truly delicious recipe! Read on for the details and for a chance to win a copy of her book.
Don't forget to check out Day 1 if you haven't already–historical romance author Minvera Spencer gave us a sweet start to this year's BBQ Roundup. And come back all week for more books, food, and fun!
Day 1 with Minerva Spencer 
***
In A DELICIOUS DILEMMA, the main character, Val Navarro owns Navarro's Family Restaurant together with her father in the fictional New Jersey town of East Ward. When the city builds a light rail station, the tight-knit neighborhood comes to the attention of a large development corporation. As the co-founder of the fair housing coalition, Val finds herself fighting not only for her working-class community's future but for her restaurant as well. When she meets Philip Wagner, a reserved, handsome stranger with whom she feels an instant connection, she doesn't realize that he is the heir of Wagner Developments, the company gentrifying her neighborhood. Now the struggle is on, not only for the survival of her business, her home, and her neighborhood, but for her heart as well.
A DELICIOUS DILEMMA takes place in late spring and progresses through the summer. One popular and refreshing dish on the menu at Navarro's Family Restaurant is Puerto Rican Shrimp and Crab Ceviche with Avocado. Found in multiple variations throughout Latin America, the dish takes on the character of the region where it is made. Ingredients can include anything from octopus and fresh fish to scallops. Growing up, ceviche was a summer staple in my family's home. Chilled until ready to serve, ceviche makes a fabulous addition to any picnic or cookout.
Puerto Rican Shrimp and Crab Ceviche with Avocado
Ingredients
1 pound cooked large shrimp or salad shrimp; peeled, deveined and sliced in half
1/2 pound cooked crab meat or imitation crab, shredded
3 Roma tomatoes, diced (cherry tomatoes will do in a pinch)
1/2 cup red bell pepper, diced
1/2 cup green bell pepper, diced
1 medium red onion, diced
1/2 cup cilantro, finely chopped
1 ripe avocado, peeled, cubed
2 tablespoons of olive oil
2 limes, juiced
Salt and pepper to taste
Directions
Set diced avocado aside. Mix all remaining ingredients in a bowl. Stir well until everything is coated. Season to taste with salt and pepper. Fold the avocado pieces into the ceviche. Refrigerate for at least 1 hour before serving. Best if chilled overnight.
If served at an outdoor event, be sure to keep chilled until ready to eat.
For those with shellfish allergies: substitute shrimp and crab with any mild, white fish such as tilapia, halibut, flounder, or sole. Fish should be cooked traditionally by heat or using acid. To "cook" fish with acid:
Use fresh limes. Place sliced pieces of fish in a glass or ceramic dish. Do not use a metal prep bowl.
Be sure to use enough lime juice to cover the fish. Cover it with plastic wrap and put it in the refrigerator for 3-4 hours to allow the acid to "cook" it.
Fish is "done" when it turns white and becomes firm.
Free recipe collection with every pre-order of A Delicious Dilemma. Just email a screenshot of preorder receipt to [email protected]
***
COMMENT TO WIN: Thank you to Sera and Harlequin for today's wonderful blog post! For a chance to win a copy of A DELICIOUS DILEMMA, tell us in the comments what your favorite ice cream flavor is… perfect to cool off on a hot summer day! 1 winner, US and Canada only–good luck!
PS – come back tomorrow for another awesome author, delectable recipe, and fabulous book giveaway! 
***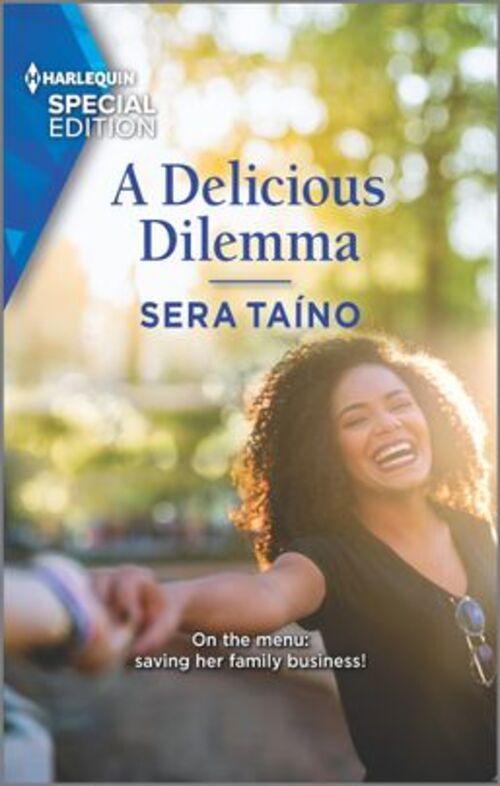 Different worlds collide in Sera Taino's debut novel.
It's hard to remain enemies when you've broken bread together
Val Navarro's first mistake: going out dancing after a bad breakup when the chef should be focused on her family business. Her second mistake? Thinking the handsome, sensitive stranger she meets could be more than a rebound – until she discovers he's Philip Wagner of Wagner Developments. His father's company could shut down her Puerto Rican restaurant and unravel her tight-knit neighborhood. When Philip takes over negotiations, Val wants to believe he has good intentions. But is following her heart a recipe for disaster?
From Harlequin Special Edition: Believe in love. Overcome obstacles. Find happiness.
Romance Contemporary [Harlequin Special Edition, On Sale: August 24, 2021, Paperback / e-Book, ISBN: 9781335408068 / eISBN: 9780369710208]
Sera Taíno writes Latinx romances exploring the joy of love in the context of community and family in all its rich diversity.
She was selected for the Harlequin Romance Includes You Mentorship, an initiative launched in 2019 to reach out to diverse communities of writers and bring more own voices stories to romance readers.
When she is not writing, she can usually be found teaching, traveling, or wrangling her family.