I thought readers might be interested in tracking the evolution of my brand new series.
I'd been happily writing the Caribou Crossing Romances, set in the interior of British Columbia, but after eight titles I was ready for a change of scene. Where better than my favorite spot for boating, the Gulf Islands near Victoria, British Columbia?
I developed a series concept, with synopses for the first two books. Then, to give my pitch punch, I created a "one-sheet," even including photos of the locale. Here's what it looks like.
My pitch centered on a fictional island that I called Destiny—Where finding love is a matter of destiny!
Here's what I said about the setting. Destiny, a tiny island in the Pacific Northwest, is blessed with craggy bluffs, forested hills, secret coves, and meadows dotted with wildflowers. The locals are individuals—make that eccentrics!—reflecting the island's history of aboriginal people, loggers and fishermen, African-American and Japanese immigrants, hippies, artists, boaters, and escapees from the city. The picturesque town of Blue Moon Harbor provides the necessities of life for residents as well as attractions for tourists. When you meet your love on Destiny, life will never be the same.
Well, my editor at Kensington Books loved the concept and my proposal went through the mysterious process that happens when a publisher is deciding whether to contract for a book. And the upshot was: The island remains exactly as I conceived it, and it's called Destiny. But my proposed series title, Destiny Island, got changed to Blue Moon Harbor. It seems that for some people the name "Destiny" has religious/inspirational connotations, and this contemporary romance series is moderately spicy one with no religious theme. And the last thing an author or publisher wants to do is mislead readers.
Here's what I said about book 1in the one-sheet:
Destiny Calls
When Ottawa lawyer Eden Blaine's mother sends her to a tiny Pacific Northwest island on a quest to find her long-lost aunt, little does she imagine that destiny—in the shape of Blue Moon Air pilot Aaron Gabriel—is calling.
After breaking up with her boyfriend of four years, Eden's priorities are clear: first and always, her family; second, her career with a charitable foundation. Though perhaps she could squeeze in a rebound fling with a sexy, charismatic seaplane pilot . . .
A fling is all that the rugged, self-contained Aaron ever offers a woman. Having never lived in a loving home, he knows better than to pin his hopes, or his heart, on love. The only people in the world who truly matter to him are his sister and her baby. And yet, there's something about Eden that cracks the protective shell around his heart….
Eden can't help but be drawn to the lover who introduces her to new adventures and ideas. Still, the fact remains that he's as tied to his life on Destiny Island and to his tiny family as she is to her own family and her career in Ottawa.
Can Eden risk her heart again? Can Aaron risk his for the first time? Will it end in disaster—or is love their destiny?
Well, guess what? Again, my concept survived intact. If you look at the final back cover blurb for the book, created by the Kensington team with my input, you'll find it's remarkably similar to what's above.
What's different is the title. I'd planned to use "Destiny" in all the titles, but since Kensington wasn't keen on that word, we had to find something else. Sometimes, it can take forever to find the right title, and this one was a collaborative effort between my editor, my agent, and me. In fact, it was my agent, Emily Sylvan Kim (Prospect Agency), who hit on FLY AWAY WITH ME.
And it's exactly right! (Thank you, Emily!)
By the way, the second novel in the series, which I had titled Return to Destiny in the one-sheet, became COME HOME WITH ME.
We're using "with me" in each title, hoping for a bit of resonance.
If you'd been making the decisions, would you have chosen Blue Moon Harbor for the series name? What title would you have given the first book?
The second title in the series is the novella "Blue Moon Harbor Christmas" in WINTER WISHES, a holiday anthology (October 2017) that also contains novellas by Fern Michaels, Jules Bennett, and Leah Marie Brown. Then COME HOME WITH ME will be out in late December, and SAIL AWAY WITH ME in the fall of 2018.
I'd love to hear your thoughts, and any comments you have on the island setting and the story concept.
Giveaway
Tell Susan in the comments what you think about "Destiny Island" and the new series and you'll be entered to win an
autographed print copy of FLY AWAY WITH ME. It is open internationally.
[giveaway id=15008]
Also, I hope you'll visit my website (where you can subscribe to my newsletter, find all sorts of info about all my books, and get in touch with me) and my Facebook page. I'm also on Amazon, Pinterest, Goodreads and BookBub.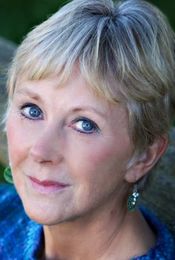 International bestselling author Susan Fox, who also writes as Susan Lyons and Savanna Fox, "knows what women want in a contemporary romance" (Publishers Weekly). Her books have won numerous awards and Love Somebody Like You was a RITA® finalist.
Susan is a Pacific Northwester with homes in Victoria and Vancouver, British Columbia. She has degrees in law and psychology, and has had a variety of careers, including perennial student, computer consultant, and legal editor. Fiction writer is by far her favorite, giving her an outlet to demonstrate her belief in the power of love, friendship, and a sense of humor.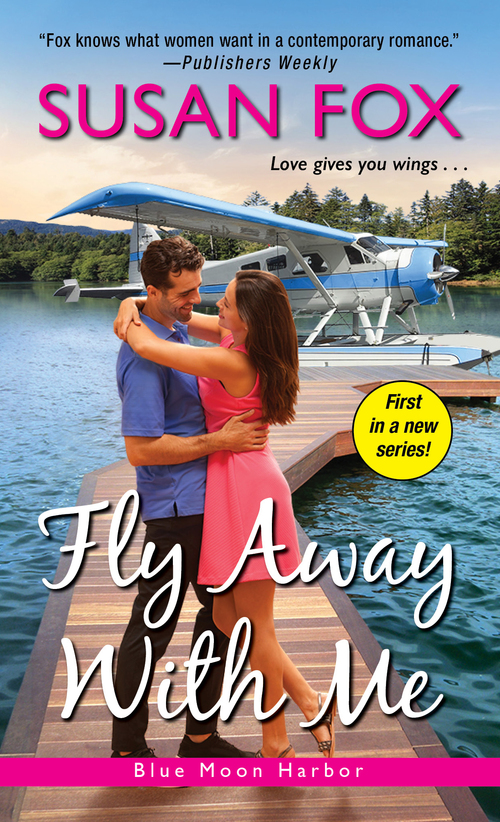 Known for its rugged beauty and eccentric residents, tiny Blue Moon Harbor is big on love . . .
For busy lawyer Eden Blaine, a trip to a Pacific Northwest island she's never even heard of is far from a vacation. Eden's ailing mother has tasked her with finding her long-lost aunt, who once had ties to a commune on the island. Still reeling from a breakup with her longtime boyfriend, romance is the last thing Eden is looking for. But her gorgeous seaplane pilot has her wondering if a carefree rebound fling is exactly what she needs. . .
Aaron Gabriel has no illusions about happily ever after. His troubled childhood made sure of that. But he does appreciate a pretty woman's company, and Eden is the exact combination of smart and sexy that turns him on. Still, as he helps her search for her missing aunt, the casual relationship he imagined quickly becomes something much more passionate— and much harder to give up. Can two people determined to ignore romance recognize that their heated connection is the kind of love destined to last?
Romance Contemporary [Zebra, On Sale: July 25, 2017, Mass Market Paperback / e-Book, ISBN: 9781420143249 / eISBN: 9781420143256]
Save