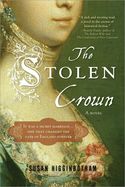 One thing that can be said for certain about Edward IV-the king whose secret marriage to Elizabeth Woodville sets the events of my novel The Stolen Crown into motion-he knew how to put on a show.
Take, for instance, the welcoming of Louis de Gruthuse to England in 1472, an event recorded by Bluemantle Pursuivant. We know that Gruthuse was led to the chambers of Edward IV's queen, where the ladies were dancing and playing games; that Edward presented his visitor with costly gifts, including a great gold cup containing a unicorn's horn, feasted with him, and hunted with him; and that when the long days of pleasure were over, Gruthuse was escorted to a splendid bed of "as good downe as coulde be thought."
Edward got another chance to demonstrate the magnificence of his court in 1478, when his four-year-old son, Richard, Duke of York, married little Anne Mowbray, who at age five was even longer in the tooth than little Richard. We have a detailed description of the wedding festivities and especially of the celebratory jousts, at the conclusion of which the king's eldest daughter, Elizabeth of York, presented the winners with golden initials studded with a diamond, a ruby, and an emerald.
Historical novelists as well as historians owe a debt of gratitude to the people who thought to record these events-too many medieval ceremonies, such as the funeral of Richard III's queen, were either never described in detail or described in documents now lost to us. Not only do such contemporary descriptions give a flavor of the times (and provide a welcome reminder that fifteenth-century life was more than just battles and executions), they often can give us a much-needed indication of what lesser known historical figures were doing at a given date.
For instance, references to my hero and heroine, Harry and Kate, are sparse between their marriage in 1465 or 1466 and Harry's ill-fated rebellion in 1483, but we get a rare glimpse of both of them at the ceremonies described above. Thanks to Bluemantle Pursuivant, we know that Harry danced with little Elizabeth of York during Louis de Gruthuse's visit and that Harry and Kate dined together at the banquet that followed. Because of the person who recorded the 1478 marriage ceremonies, we know that Harry and the Duke of Gloucester (the future Richard III) led the newlywed Anne Mowbray into her wedding feast and that at the same feast, Kate sat beside the bride's mother. As a novelist, I put both episodes to work: Kate uses the festivities of the Gruthuse visit to entice her nervous husband into consummating their marriage, and the wedding banquet in 1478 allows Kate the chance to hear a piece of gossip that will have fateful consequences when Harry remembers it years later.
So, lovers of history, let's give those who recorded these festivities a grateful thanks. And who knows? Maybe five hundred years from now, someone will be poring over our wedding videos, trying to recapture an age gone by.
THE STOLEN CROWN BY SUSAN HIGGINBOTHAM–IN STORES MARCH 2010
On May Day, 1464, six-year-old Katherine Woodville, daughter of a duchess who has married a knight of modest means, awakes to find her gorgeous older sister, Elizabeth, in the midst of a secret marriage to King Edward IV. It changes everything-for Kate and for England.
Then King Edward dies unexpectedly. Richard III, Duke of Gloucester, is named protector of Edward and Elizabeth's two young princes, but Richard's own ambitions for the crown interfere with his duties…
Lancastrians against Yorkists: greed, power, murder, and war. As the story unfolds through the unique perspective of Kate Woodville, it soon becomes apparent that not everyone is wholly evil-or wholly good.
ABOUT THE AUTHOR
Susan Higginbotham is the author of two historical fiction novels. The Traitor's Wife, her first novel, is the winner of ForeWord Magazine's 2005 Silver Award for historical fiction and is a Gold Medalist, Historical/Military Fiction, 2008 Independent Publisher Book Awards. She writes her own historical fiction blog and is a contributor to the blog Yesterday Revisited. Higginbotham has worked as an editor and an attorney, and lives in North Carolina with her family. For more information, please visit Susan's website.
To comment for a chance to win on Thank You Historians please click here.