I'm a football fan. There. I said it. I love football. I know there are a lot of women who just don't get the appeal. Like my daughter-in-law. She can't understand how I'm content to spend an entire Sunday parked on the couch, cheering through one game after another. Then there's Monday Night Football, and God bless the NFL for adding Thursday night games. I have my favorite team, of course. Having grown up in Boston, I'm a diehard New England fan. Go Pats! But I also cheer on the local boys and I'll watch whatever game is on. I can't help myself.
I'm a gridiron girl.
It helps if you understand the rules of the game, which I do, but football is more than a simple game. It's a modern day test of strength and courage. Let's face it, lining up across from a three hundred pound behemoth intent on ripping off your head takes guts. As man has from the beginning of time, these guys don their armor and face down their foes. Granted, football is a mostly bloodless war waged in the relative safety of million dollar stadiums, but it's also a brutal competition, based on strategy, perseverance, and amazing feats of athleticism. Okay, I admit, the hunky, wide-shouldered warriors in tight pants are a big part of the appeal. But, seriously, what's not to love?
As a romance author, it's only natural I'd combine my two loves to weave stories of those hunky heroes of the gridiron and happily ever after. That was my goal as I sat down to write the Players series. My heroes are larger than life athletes, like Kevin "Tuck" Tucker, the hero of TO WIN HER TRUST, book 2 of the series. He's a modern day warrior with a good heart and needed a strong heroine of his own. He found her in CC Calhoun.
"Let me get this straight. You expect some kissing?"
She nodded. "Necessary to test the theory."
"And petting?"
One shoulder rose in a dismissive shrug. "I'm curious. Sue me."
"No need for that. Curious is good. What if I insist on a practical demonstration, just to be sure I know what I'm getting into, before I agree?"
She cocked her head. Challenge sparkled in her eyes as she repeated his tease from earlier. "Can you give me a minute to think about it?"
Though his mind screamed mistake, his libido was currently running the show. Permission to kiss the hell out of her with immunity? He couldn't wait to get started. The laughter in her eyes said she expected a smile, but he couldn't quite manage one at the moment. "I can make you swallow those words."
She hummed deep in her throat and damned if she didn't tug on a tiger's tail. "Prove it."
He didn't hesitate, spinning her around by the arm. Wrapping her in his arms, he pulled her close enough to delight his body with the press of her soft curves against his hard angles. He dropped his head, swooping down to take a big taste of what he'd wanted from the moment he first laid eyes on her.
He demanded entrance, pressing his tongue along the seam of her lips until she complied. She opened her mouth. He plunged deep and retreated, only to plunge again. Honey and vanilla, sweet as the day was long, her flavor exploded over him. Her breathing hitched, became uneven, and he didn't care.
No consideration was given for her inexperience or innocence. Frustration drove him as fire licked at his body. This woman had somehow claimed a place in his mind no other woman had occupied. Until he discovered the reason her scent and taste and image wouldn't leave him alone, he had no choice but to go along with her screwy proposition. She'd made a tactical error, however, admitting to a curiosity at the physical consequences of her theory. Those consequences would no doubt burn them both. Little Miss Sunshine didn't have the first inkling of how powerful carnal desire could be, but she was about to learn, because he'd be damned if he'd suffer alone.
So, what about you? Do you scratch your head at sports loving chicks like me, or do you have your own favorite — and how much does the uniform play into it? 😉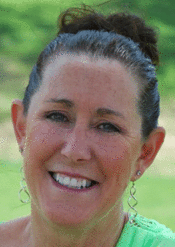 Wife, mother and really young grandmother, Mackenzie lives with her high school sweet heart husband, a neurotic Pomeranian, and a blind cat. She calls Phoenix home because the southwest feeds her soul. Though her friends claim she's a princess, she disagrees. After all, one can't raise two rambunctious boys to wonderful men without getting a little dirt under their nails. A lover of the romance genre, her resolve to share her stories with others was sharpened by a bout with breast cancer. Today she is an award-winning author and eight year survivor, living the dream. Her friends call her Mac. She hopes you will, too.
Can she trust this player with her heart?
Ever since experiencing a childhood trauma, reclusive artist CC Calhoun has suffered from panic attacks. But when a fateful kiss from handsome wide receiver, Kevin "Tuck" Tucker, is enough to stop one of those episodes cold, she wonders if guarding her heart has been the right choice. Will going on a test date with Tuck open her to trusting someone for the first time in years? Or will she wind up being just another notch in the football player's bedpost?
Tuck has a reputation for charming women into bed, but after his kiss with CC, he's left aching for more. When he proposes a second date, his attraction to the sexy blonde looks like the makings of true love—something he's never quite believed in—until now. But when Tuck discovers CC's childhood secrets, will the pro athlete be tough enough to stay by her side—or will he betray her hard-earned trust?