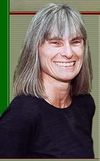 First let me say what a pleasure it is to be invited to guest blog on Freshfiction.  As I have discovered, the blogosphere is a warm and inviting, if curious, place to be.  In my own blog, www.susanwilsonwrites.com, I recently observed what a difference a few years make in how books are publicized and marketed.  Where once an author had to buy new clothes, now she can sit, as I am, at her kitchen counter in her pjs and communicate with fans and future fans.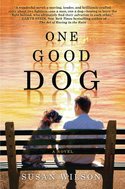 ONE GOOD DOG is my sixth novel and a departure from my usual focus.  All of my books:  BEAUTY, HAWKE'S COVE, CAMEO LAKE, THE FORTUNE-TELLER'S DAUGHTER, and  SUMMER HARBOR have, as the central theme, the relationship between women and men.  In ONE GOOD DOG, I explored the relationship between two very disparate species:  man and dog.  And yet, there were some real similarities to a romance in Adam and Chance's relationship.  They meet 'cute' (sort of); they each have to learn to trust the other; they eventually develop a bond that transcends any prior experience of love. 
My challenge was to write a compelling, engaging and believable story with a dog as a central character.  Good books—and some not so good—have done this before, but I think this may be the first time a dog and a man share the narrative.  By playing with POV and tense, I was able to give Chance and Adam distinct voices.  Chance, I have to say, actually felt as if he was dictating his story to me, so easily did I slip into the head of a dog.  I wonder if that's a good thing?  Woof.
My other challenge was to take a man who is, at the outset, rather despicable, and turn him into a character that readers can cheer on.  This was also a fun exercise, and I really got to flex my anti-hero writing skills.  But, at the same time, I needed to know what made Adam the way he was.  In other words, define him against a backdrop of influences; but, also hold him responsible for his actions. 
Not all children who go through the foster system end up as damaged as Adam.  Many do.  Not all pit bulls end up fighting.  Many do.  Given a chance, maybe both can be redeemed.  I hope that fans of Freshfiction enjoy ONE GOOD DOG. 
Leave comments on THE CHALLENGE OF WRITING A COMPLELLING DOG!