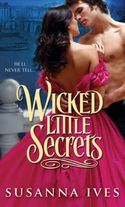 Hello, my name is Susanna, and I'm a writer.
Years ago, my friend, the amazingly talented writer Tina Whittle, and I decided to go on a writing retreat at a horse ranch where we didn't ride a single horse, but rambled about the grounds, drank wine, ate chocolate and talked about writing. We are great at chatting about writing, whereas actually putting words on paper is a different matter. She was about to get published by a prestigious press, and I was about to not get published for several more years. We had that great writerly philosophical discussion of what it means to your identity and psychology to admit in public that you are a writer.
So when the business manager asked that fateful, "what do you do?" Tina took a breath and said, "I'm a writer." A clear, concise statement to the universe. I hedged about the matter, saying I was a writer, mommy, web developer, pet owner, housekeeper, etc. Anything I could say to dilute that psychologically pungent word: writer. After all, I wasn't really a writer. Real writers were published.
And then a miracle happened, my book RAKES AND RADISHES was picked up by Carina Press. This was it! I could look someone straight in the eye and say "I'm a writer, dammit!" But I couldn't. In fact, the more writerish I became, the less and less I wanted to admit it. I used to imagine that saying you're a writer would be akin to being at a fancy party, holding your martini glass in that breezy, metro manner and casually mentioning, "Oh, I'm a writer," to which your now duly impressed conversation partner would respond "How very fascinating." But, in reality, they are more likely to say, "Have you considered seeing a doctor for this condition?" After all, writer is just a way to describe a condition of spending hours in front of a computer, gaining weight, destroying your posture, and giving away your life so that your fictional characters might live wild, passionate existences in exotic locations.
Even now that I have an actual paper bound book titled WICKED LITTLE SECRETS by Susanna Ives sitting on my bookshelf, I still have a difficult time admitting the writer part in casual conversation. But it's different now. I prefer to keep the knowledge to myself. I don't want others to know about my little hypergraphia issue. I prefer to quietly watch and note the speech patterns of the person ahead of me in the checkout line or how the hot air burns my lungs on a summer afternoon.
Many decades ago, I spent a summer at a prestigious acting camp. The lead drama teacher asked the simple question, "What do actors do?" This was such a trick question. Well, I fell for it and came up with the best philosophical brilliance that my naïve sixteen-year-old brain could muster. After suffering through all our elegant answers, she gave the answer none of us had gotten. What do actors do? They act.
What do writers do? They write. Plain and simple.
That said, here's the wonderful blurb from that shiny new book on my shelf, WICKED LITTLE SECRETS—the fruit of hours spent in front of the computer being all writerly.
It's Not Easy Being Good…
Vivacious Vivienne Taylor has finally won her family's approval by getting engaged to the wealthy and upright John Vandergrift. But when threatened by a vicious blackmail scheme, it is to her childhood friend that Vivienne turns; the deliciously wicked Viscount Dashiell.
When Being Wicked is so Much More Exciting… Lord Dashiell promised himself long ago that his friendship with Vivienne would be the one relationship with a woman that he wouldn't ruin. He agrees to help her just to keep the little hothead safe, but soon finds that Vivienne has grown up to be very, very dangerous to all of Dash's best intentions.
One commenter will win a copy of WICKED LITTLE SECRETS
To comment on Susanna Ives's blog please click here.