Thank you to Sara and the whole crew at Fresh Fiction for inviting me back again. I love visiting with all y'all and I've got a brand new book on the market, TALK COWBOY TO ME.
My first cowboy books featured the Luckadeau cousins who originated down in the Louisiana area then migrated up to Texas. I remember well when the editor called me and told me that she not only wanted to buy my submission, LUCKY IN LOVE, but wanted to make it a series. I said, "But all of Beau's brothers are married." To which she replied, "He's got lots of cousins, doesn't he?"
That started me on a cowboy journey that I'm still enjoying today. Beau, Griffin and Slade Luckadeau were indeed cousins. After the Lucky Series, I wrote the Honky Tonk Series and although those four books were set in an old Honky Tonk in Mingus, Texas, the heroes were still Texans. And then there was the Spikes & Spurs and the Burnt Boot series featuring the O'Donnells.
So what could I say when Adele O'Donnell and Remington Luckadeau showed up on my porch with a story to tell. Oh my goodness! Getting to work with both families in a little feud over a ranch—now who could possibly turn down a story like that? So I invited them in for a glass of sweet tea and some fresh baked cinnamon rolls and we talked!
Now the old rancher who had the place up for sale deserved a gold star for being a genius. He wanted to go on one of those month long around-the-world cruises with his lady friend so he talked both Adele and Remington into moving onto the ranch. Whoever had done the best job at the end of the time would get to buy the place.
The Double Deuce was exactly the right size and near enough to Adele's extended family without being too close. A perfect fit to raise her two daughters who were definitely ranch girls.
But it was also the right fit for Remington who had inherited the raising of his two nephews when their parents died suddenly in a car wreck. The boys were both city kids who knew nothing about ranching.
Kids can be a handful on a good day. Now throw them into a competition—and pitch in an old cow dog, Boss, a cat named Blanche, and a crazy rooster, Jerry Lee, who doesn't know how to crow in the morning and the excitement never ends. Add a romance between two people who can't afford to fall in love. And it really was a story worth tellin'.
So we had our sweet tea and cinnamon rolls and made an agreement. I would tell their story but they couldn't keep any secrets or hold anything back from me. Believe me, they talked cowboy to me for days. They argued about who got the most space and who would wind up with the ranch. But when it was all said and done, it wasn't up to me at all but the old rancher held that answer in his hands when he came home from his cruise.
Now I'd like to know what you'd do if you had to live on a ranch for a month with Remington? Feel free to drool on the cover while you think about that for a little while.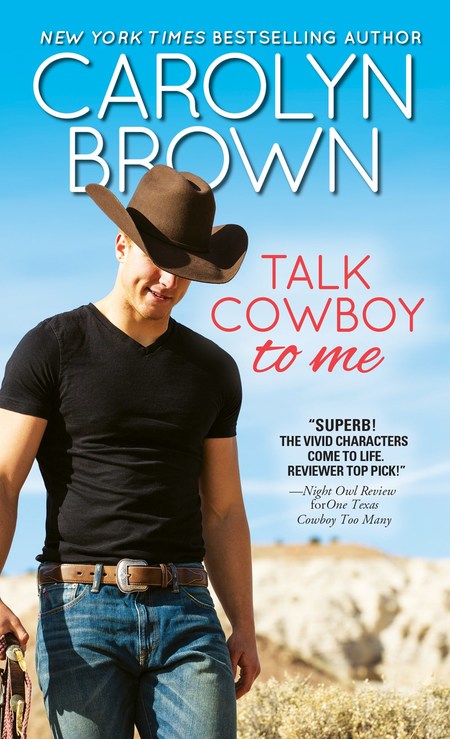 Carolyn Brown brings her signature southern quirkiness to this original tale of Texas love.
One cowboy. One cowgirl. One ranch.
Who will win the Double Deuce by the Fourth of July?
Adele O'Donnell knew that Double Deuce Ranch had to be hers the second she walked onto the property. Freshly divorced, she sees it as the perfect spot for her and the kids to start a new life. Remington Luckadeau was always a carefree playboy…until his suddenly orphaned nephews became his responsibility. The Double Deuce Ranch would be the perfect place to raise two boys. But some fiery woman is fighting him for it, and Remington is not sharing-no matter how the sparks fly when he and Adele are together.
Romance Contemporary [Sourcebooks Casablanca, On Sale: March 7, 2017, Paperback / e-Book, ISBN: 9781492637929 / eISBN: 9781492637936]
GIVEAWAY
Win your own cowboy, uh, a copy of TALK COWBOY TO ME, just tell us in the comments who your favorite Texan cowboy is! Real or film or imaginary!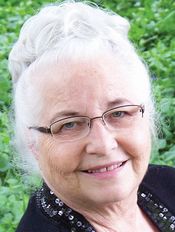 Carolyn Brown is a New York Times and USA Today best selling author and a RITA Finalist who has sold more than 2.75 million books. She presently writes both women's fiction and cowboy romance. She has also written historical single title, historical series, contemporary single title, and contemporary series.
She credits her eclectic family for her humor and writing ideas. She was born in Texas but grew up in southern Oklahoma where she and her husband, Charles, a retired English teacher, now make their home in the town of Davis, Oklahoma. They have three grown children and enough grandchildren to keep them young.