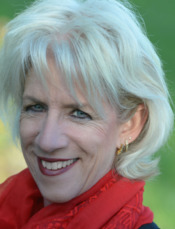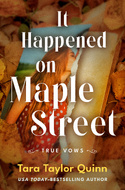 How do you measure that which is not quantitative?  My husband, Tim Barney, and I are on tour with our new book, IT HAPPENED ON MAPLE STREET.  We were here at Fresh Fiction last month.  And last week, a 'tour mate' asked if there was a way for us to know if we're doing what we set out to do.  Is the tour working?  Is the book working?
It's not a question I've ever heard from a reader before.  As a reader, I've never once wondered such a thing.
As an author, I ask that question every single time I put words to paper.  My editors and the marketing and sales and art departments that all have a hand in the creation of my books never stop asking that question.  For the publishing professionals, there is a quantitative answer.  For a lot of them, there is only one scale upon which they judge — did the book sell well?  For them, it's all about the numbers.
For my editors it's more than that, of course, but ultimately, they, too care if the book sells well or not.  The sales of a book they've purchased and worked on reflect on them and can ultimately have an effect on their employment.
As an author, I care about sales, too, but it's not just a business to me, as it is for the publishers.  It's not just about profit.  I care because my numbers determine whether or not I get another contract.  I have to maintain good numbers in order to have the opportunity to write the next book.  That opportunity means everything to me.
But this time is different.  IT HAPPENED ON MAPLE STREET is different.  This book is a one time shot.  I'm never going to write another one like it.  My publisher isn't watching numbers to determine if they want to buy from me again.  We came together for this one project — because we had a job to do.  A message to impart.
While it is a love story — my true life love story — it's purpose is not solely to entertain, but to reach out to a society of women who are hurt by silence — the society of women who are victims of domestic violence.  According to the Center for Disease Control, one in four women in the United States are victims of domestic violence at some point in their lifetime.  The Harris poll showed that sixty percent of all Americans personally know someone who is a victim of domestic violence.
When HCI, the publisher of IT HAPPENED ON MAPLE STREET asked me to write this book, one statement closed the deal.  The acquiring editor said, 'if we can help just one woman with this book, we've done our jobs.'
Our 'tour mate' knows what we're trying to do.  She's on tour with us, of course she knows.  More, she's now got a stake in the job — the passing on of the message.  And she wants to know if we're making a difference.  She wants to know how we'll know.
Tim and I have talked about this.  I've been thinking of it a lot since I first read the question here on tour.  We've been getting letters from women we've touched.  We're receiving a lot good response from people who've read the book.  But have we really helped someone yet?
And, of course, that then asks the question, is there more I can do?  More I should be doing?  Is there a stone I've not yet turned?
Probably.  But if it's there, we'll find it.  Tim and I are on a mission and I can't rest.  I can't reach a point where we've scheduled enough appearances, or agreed to enough events.  I can't be done.  No matter how many women we talk to, or how many letters we get, there's still another woman out there who might be living in the darkness of abuse-imposed silence.  I will be her voice until she can speak.
Something else occurred to me as well.  I was trying to think of a way to bring together people who've read the book.  To create a means by which people could post their thoughts of the book so that people like our 'tour mate' could see that the book is out there, possibly making a difference.  And also so that others who have not yet read the book can find out about it.  And spread the word.
My wheels were spinning and I was up and running on this project that was going to be a conduit for us all to continue to show support to victims of domestic violence who are afraid to speak out.  Until it dawned on me that I was re-inventing the wheel.  The tool is already out there — right where it needs to be.  On the book's page of on-line retailers.  So today I'm asking any of you who have read IT HAPPENED ON MAPLE STREET to visit at least one of the big three — Amazon, B&N or Borders.com(s) and leave your thoughts about the book.  It's free.  If you have time, visit all three.  We need your voices.  Numbers aren't going to speak to the success of this project.  People are.
And if you go, above all else, please be honest.  If you had a problem with the book, say so.  If it moved you, please tell us all why.  This book is about truth.  About standing for truth.  And I stand by that.
This post is brought to you as part of the IT HAPPENED ON MAPLE STREET International Blog Tour. For a complete tour schedule visit www.tarataylorquinn.com. All blog commenters are added to the weekly basket list. One Unique Gift Basket is given each week to one randomly drawn name on the list.
If you or someone you know is a victim of domestic violence, or if you suspect someone is, please contact www.thehotline.org, or call, toll free, 24/7, 1-800-799-7233 (SAFE) or 1-800-787-3224 (TTY). The call can be anonymous and is always confidential. There is not one second of life that is worth wasting.
Next tour stop: Saturday, May 21, Storybroads.
To get your copy of IT HAPPENED ON MAPLE STREET, visit your favorite bookseller, or www.maplestreetbook.com.
Don't miss The Chapman Files! Still available at: Amazon
.
IT HAPPENED ON MAPLE STREET is available on Kindle and NOOKbooks, too!
To comment on Tara Taylor Quinn's blog please click here.