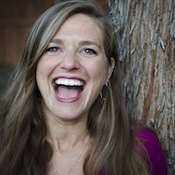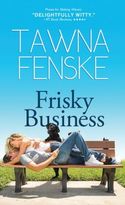 Hello, and thanks for inviting me to hang out with you here at Fresh Fiction! Who brought the wine?
This is my last stop on a blog tour that's been devoted entirely to bad dates. We've all had them, right? In my new romantic comedy, FRISKY BUSINESS, my heroine endures more than her share. After vowing not to date any more wealthy men, Marley embarks on a quest to date only blue collar guys. While the plan makes it easier for her keep her distance from Will—the quirky, unlikely millionaire she desperately doesn't want to fall for—it sends Marley down a path of truly terrible dates.
But like most romance novels, Marley and Will's story has a happy ending. I've been sharing my personal bad date stories throughout this tour, but now it seems appropriate to wrap things up with a happily ever after of my own.
Not long before the release of my debut romantic comedy, Making Waves, I went through a pretty lousy divorce.
Um, we're not to the happy part yet.
After the dust settled, I reached out to a male acquaintance who'd been through his own divorce a few years earlier. At first, I asked him to be my divorce mentor. Then I proposed the idea of a no-strings-attached, friends-with-benefits arrangement.
He balked. It turns out nice guys are pretty thoughtful about such things.
"How about we just agree that if either of us wants to date someone else or starts to develop serious feelings for the other person, we agree to talk about it," I suggested. "Total honesty, OK?"
He agreed, and thus the deal was made.
Well, for a week or so. Turns out I'm not wired for the no-strings-attached arrangement, either. I realized this on a chilly Sunday afternoon when we drove to a scenic lake for a hike.
He turned to me before we got out of the car. "We agreed on total honesty, right?"
"Absolutely," I said, braced for him to tell me he enjoyed clubbing baby seals for sport.
"Right," he said. "Well, since we've both been through ugly divorces, I think we should discuss potential landmines between us."
"Landmines?"
"I'm a bit of an obsessive communicator," he admitted. "That could be a landmine for some people. I'm also a night owl who likes to sleep late, and you're a morning person."
"True," I agreed, pleasantly surprised by the notion of a guy with the maturity and self-awareness to initiate such a discussion. "I start to twitch if I'm not in bed by 10:30 with a good book."
"I'm also a serious introvert who needs a lot of alone-time," he continued.
"Same here," I said. "Guess that's one way for me to occupy my early mornings and you to occupy your late nights?"
"Good point. Okay, I don't eat very healthy. I've been a bachelor for a few years, and when I don't have the kids with me, I sit in front of the computer in my underwear and eat cold cereal for dinner at 11 p.m."
"I'm a hardcore foodie with a neurotic need to feed people," I said, recalling how much I'd been enjoying the meals we'd prepared together with him beside me slicing, dicing, and proving himself quite adept in the kitchen. "I'm also a chronic worrier who can drive people batty with my incessant need to plan for what could go wrong."
"Oh, I'm not very good at planning ahead," he acknowledged. "I'm also chronically late."
"I'm a slob," I said, really getting into it now. "And I will talk too much in the morning and make you want to kill me."
"I can't function until I drink an entire pot of coffee each morning."
"I reread the same books hundreds of times and leave them all over the house."
"I'm a pack-rat."
"I'm overly attached to my pets!"
He smiled. "They're great pets, it's understandable."
"Thank you." I took a deep breath. "Look, about the plan—"
He frowned, sensing something had shifted. "You mean total honesty, or the no-strings-attached arrangement?"
"Yes. Um, see, there's a problem," I said. "I love you."
He smiled, then reached out and took my hand. "This is not a problem."
"Neither is obsessive communication. Actually, it's pretty great."
And it was. It still is. That conversation took place more than three years ago. Our wedding will take place three months from now.
As it turns out, familiarity with your own faults—and a willingness to accept someone else's—is one of the sexiest things in the world.
To comment on Tawna Fenske's blog please click here.