Have you ever opened a book and found yourself walking the streets of your favorite city? I have. I've been transported to real-life places like New York, Atlanta, and Miami, and found myself yearning for imaginary worlds like the dangerous island cliffs of Thisby. It's my favorite part of writing and reading—watching a setting become alive. Books, where setting and atmosphere created a significant dynamic between characters, is what inspired me to become a more atmospheric writer. Thankfully, my co-writer, Jude Sierra, is well known for using personal backdrops to amplify her characters, especially in her critically acclaimed Idlewild and well-loved new release A Tiny Piece of Something Greater. A love for setting and mood was one of the core concepts Jude and I used for building Shadows You Left. Gray, storm soaked skies, Seattle's height, and sea-side scents, and the forest spanning the outskirts of the city were all used as parallels to mimic emotions and conflict between our two leads, Erik and River.
As challenging as it might be, creating a character out of your setting is an intimate and poignant way to inject personality into the fringes of your story. We used this technique as we navigated our first draft, researching weather trends, beer culture, foodie hot-spots, and the overall feel Seattle had to offer. Soon, Jude and I were using storms and rain in tandem with love scenes, sunlight, and brightness to highlight anxiety or being overwhelmed, and we were attaching scents and sounds to familiarity and curiosity. Playing with atmosphere allowed us to find depth in our characters, and it also pushed Erik and River to dig for depth in each other, enhancing the overall mood and tone of the book. Sometimes bending your characters to fit into an emotional scene isn't always enough. Frankly, it usually isn't. But if your setting reacts—if your atmosphere lends to the emotions your trying to convey through reactions—then the story will naturally move forward.
It can also work to lighten your story. Shadows You Left is a particularly heavy, romantic read with dark themes and gritty content. But it's also filled with lighthearted moments cushioned by Seattle's food truck scene, art movement, vintage shopfronts, and quirky nature. Even though Erik and River are being put through hell (well, they're putting themselves through hell) Seattle and the atmosphere around the city works as a reminder that everything grows and changes—storms, seasons, trends, and galleries.
Crafting books with believable settings can make or break a project. As someone who lives in the Pacific Northwest, I personally loved working with our Seattle setting, and I know Jude was excited about it, too. Not only because it's Seattle, home to the Seahawks, amazing craft beer and incredible seafood, but because there's a feeling cities have that I just can't live without. The hustle and bustle and suffocating closeness, the restlessness, and addictive pace. Cities, for me (and for Erik), are escape routes and surrogate homes, places made for leaving and staying depending on the day. They're romantic, each in their own way.
I have to admit, romance aside, I'd stay in Seattle for the beer. Erik? He'd probably stay if he found a good tattoo artist.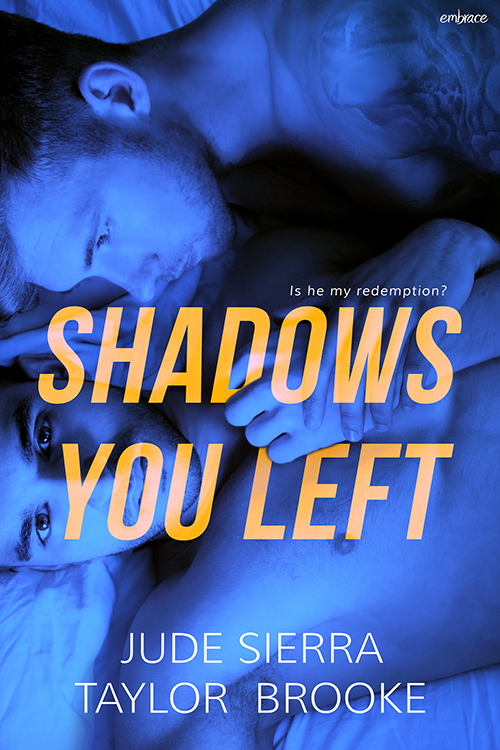 ERIK
The white picket fence.
The happily-ever-after.
That life was never meant for him.
For years he's been bouncing from city to city—from one cage fight to
another.
That's his outlet. That's pain Erik can control.
But in Seattle, everything changed.
River's an artist.
He's a pretty boy.
He does yoga.
Someone so soft shouldn't be intrigued by Erik's rough edges.
RIVER
His life was quiet. He had a simple routine.
Designing tattoos, avoiding drama. Well, mostly.
Then Erik comes along—scarred and dangerous, shrouded in mystery.
A mystery River can't resist trying to solve.
Maybe a secret as dark as his own.
Neither of them expected a relationship so complicated, so intense.
Neither of them expected…each other.
Erik and River are both trying to escape a shadowed past.
But the thing about shadows is: the faster you run, the faster they
chase you.
Romance LGBTQ | New Adult [Entangled Embrace, On Sale: May 7, 2019, e-Book, ISBN: 9781097209231 / ]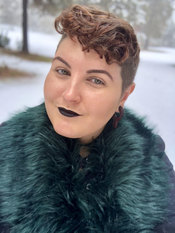 Taylor Brooke (they/she) writes Queer books filled with magic and attitude. After an exciting career in Special Effects Makeup, she moved to Oregon and settled in the mountains with her plants and one-toothed cat.
Taylor is non-binary, pansexual/demisexual and pan romantic/demiromantic but Queer works just fine.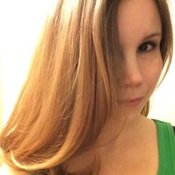 Jude Sierra is a Latinx poet, author, academic and mother who is currently working toward her Ph.D. in Writing and Rhetoric, looking at the intersections of Queer, Feminist and Pop Culture Studies. She also works as an LGBTQAI+ book reviewer for Queer Books Unbound. Her novels include Hush, What it Takes, and Idlewild, a contemporary queer romance set in Detroit's renaissance, which was named a Best Book of 2016 by Kirkus Reviews. Her most recent novel A Tiny Piece of Something Greater was released in May of 2018. Shadows you Left, a co-written novel with Taylor Brooke will arrive spring of 2019 from Entangled Press.
Jude began her writing career at the age of eight when she immortalized her summer vacation with ten entries in a row that read "pool+tv".
As a sucker for happy endings and well written emotional arcs and characters, Jude is an unapologetic bookaholic. She finds bookstores and libraries unbearably sexy and, to her husband's dismay, is attempting to create her own in their living room.
She is a writer of many things that hope to find their way out of the sanctuary of her hard drive, and many that have found a home in fanfiction communities.