We all know and love the classic meet-cute, but let's be honest. Sometimes things completely go to hell. So what happens when the first meeting between hero and heroine isn't so much cute as a total mess? What about the meet-disaster?
In Wrong Bed, Right Girl, Special Agent Reed Bishop is pursuing a lead on a case when he heads to the apartment of the woman he thinks is his informant. Only it turns out she's skipped town and sublet her apartment to none other than our heroine, who's curled up in bed sleeping as peacefully as can be. That is, until a giant slab of man muscle stubs his toe on her suitcase and comes crashing down on her in the dark.
So, yeah. The first words our heroine says (er, shouts) to the hero involve a few choice words I can't publish here, and a threat to stab him in…a sensitive area. The stuff of great romantic memories, right? They might have to leave out some of the details when they're reminiscing to their kids about how they met.
And yet, it really is the start of something special. Talia, a ballet dancer prepping for a make-or-break role, winds up living with Reed in his one-bedroom apartment until his case gets sorted out. These two stubborn, opinionated workaholics are as different as can be. But through all their arguments—and their laughter, teasing, flirting, and more—they manage to surprise themselves by falling in love.
I wanted to write a series about wrong bed mix-ups because I wanted to write about love that comes from unexpected places at unexpected times. Real life isn't the stuff of rom-coms, I know. But I don't think it's so completely farfetched to believe that our most meaningful relationships can grow from unlikely beginnings.
It's not like husband and I had any magical meet cute. We were at a meeting the first day of a new teaching job I'd started. Talk about boring. Because I apparently live under a rock, I had no clue that when he later suggested we meet up at a bookstore some time, that was supposed to be this thing called a d-a-t-e. (But can we pause for a moment on bookstore for a first date? Good thing I eventually opened my eyeballs and married him!)
There was no way I could have known our first eight-hour marathon non-date was the start of a conversation about books and writing and life that we're still having ten years later. Writing about mix-ups and mistakes gives me hope that for the rest of us—those of us more likely to spill coffee on our future spouses than sweep them off their feet with the perfect one-liner—things really can work out. We don't have to be charming or smooth. We don't even have to have showered. We can just be…ourselves. Even if it's sometimes a disaster.
Want to read Reed and Talia's meet-disaster? Check out the first chapter to Wrong Bed, Right Girl here [http://rebeccabrooksromance.com/wrong-bed-right-girl-excerpt/]!
Accidental Love Book 2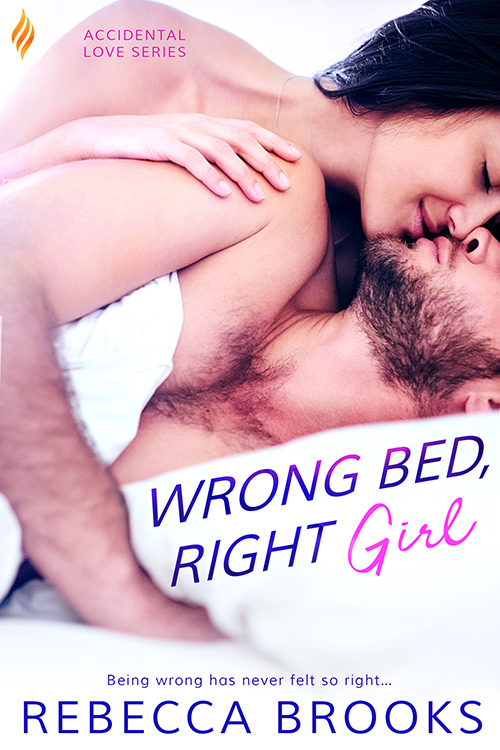 Falling head-first into the wrong woman's bed was not how Reed Bishop's night was supposed to go. Now a gorgeous, half-naked ballet dancer was threatening his manhood…with a book. He can't blame her. It wasn't how it seemed—he was just doing his job, tracking down his lead informant, who, unfortunately, took off, leaving him to figure out what to do with her friend. Staying in her apartment was no longer safe. And that's how he got himself into this mess.
Now she's sleeping in his bed while he tosses and turns on the couch. There are pink tights in his bathroom. Pointe shoes next to his boots. He swears he won't touch her like that…but he can't ignore his fantasies.
As a tattooed, muscled DEA Agent, Reed's seen some things. Drug dealers, murderers…He can't let Talia get close. Even though she's made it clear they're both fighting the same hunger. And he definitely can't use his handcuffs on her…no matter how much she begs.
Romance Contemporary [Entangled Brazen, On Sale: May 13, 2019, e-Book, ISBN: 9781640637849 / ]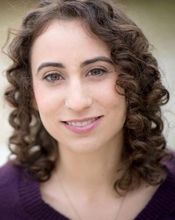 Rebecca Brooks lives in New York City in an apartment filled with books. She received a PhD in English but decided it was more fun to write books than write about them.
She has backpacked alone through India and Brazil, traveled by cargo boat down the Amazon River, climbed Mt. Kilimanjaro, explored ice caves in Peru, trekked to the source of the Ganges, and sunbathed in Burma, but she always likes coming home to a cold beer and her hot husband in the Bronx.
She likes outdoorsy guys with both muscle and heart and independent women ready to try something new.