Thanks for inviting me to visit on my ACCIDENTALLY IN LOVE WITH THE BIKER release tour. AiLwtB, besides being a big long title, is one of Entangled Publishing's "What Happens in Vegas" stories, set at a Romance reader and writer's convention…in Vegas. Best. City. Ever. For romantic comedy.
Next to reading and writing romance, there's nothing much I love more than laughing—especially at myself. And when I started writing Quinn and Kellie's story, I realized I had the perfect opportunity to take a few pokes at those of us who live for those stories that make our tummies (and other body parts) tingle.
But I have to tell you–I'll take on any media snob who disparages romance as somehow inferior to other forms of entertainment. On the other hand, we can't take ourselves too seriously, right? And if you've never been to a romance convention, it's crazy pants WITH sauce.
There are readers from everywhere. All KINDS of people. Young women wandering around at ten A.M. wearing bustiers and cowboy boots and carrying daiquiris. Grandmotherly types in nice sweater sets hanging on the arms of cover models. Grandmotherly types wearing bustiers hanging on to huge, undulating bags of books.
There are aspiring authors talking to themselves, practicing their pitches for editors and agents. Editors and agents running around trying to make it to meetings with each other, meet their existing clients, and recruit new writers. Famous authors sitting in the lobby and eating in restaurants like REAL PEOPLE. And they talk to you!
Just for the record, I did not stalk Jill Shalvis in the bathroom a couple of years ago, I swear. And you wouldn't have caught me running for a chance to hold the door for Suzanne Brockmann in New Orleans a while back. Though I did maybe possibly sorta shove a fellow Entangled author out of the way so I could pour champagne for Jude Deveraux and Karen Robards at one of the dinners in Kansas City. And then I almost wrecked it because I was shaking like a leaf and gushing something completely ridiculous, like, "OMIGOD, YOU'RE MY REASON FOR GETTING OUT OF BED IN THE MORNING," which is absolutely NOT true. I get up every morning because I have to pee.
ANYWAY.
In ACCIDENTALLY IN LOVE WITH THE BIKER, I got to take Kellie and Quinn to a few awesome parties, and they met a few of the amazing readers, and writers, and professionals who resemble absolutely no one I know. Personally. Maybe a few people I've seen from across the room. And if you're ever at a romance convention, feel free to stalk me. Or, at least chase me down the hall to say hello.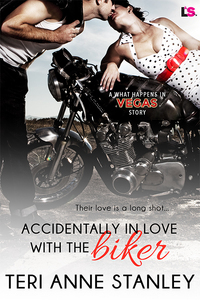 Their love is a long shot
Aspiring writer Kellie Dalton needs a man, and fast. When she's rear-ended by a sexy-as-sin biker on the way to a Vegas romance readers convention, she sees her chance. If he'll pose as her fake boyfriend long enough to impress a bestselling author, Kellie has a shot at saving the bookstore for underprivileged kids she runs back home.
Quinn Anderson doesn't know what to make of the cute little writer who stirs his heart and his libido, but he does know he wants to get better acquainted. And if that means keeping up their sexy ruse all week, he's game.
Quinn knows girl like Kellie deserves someone with a secure future to help with her store, not a guy struggling to turn a profit on his chopper shop. But if his motorcycle designs win the big Vegas competition, he'll have enough prize money to fund his dreams and hers.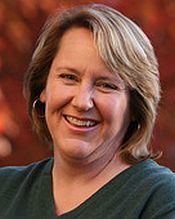 Teri Anne Stanley has been writing since she could hold a crayon–though learning to read was a huge turning point in her growth as a writer. Teri's first stories involved her favorite Saturday morning cartoon characters, followed by her favorite teen idols. She has also authored a recipe column (The Three Ingredient Gourmet), and scientific articles (Guess which was more interesting!). Now she writes fun, sexy romance filled love, angst and nekkid parts.
Teri's career has included sex therapy for rats, making posing suits for female body builders, and helping amputee amphibians recover to their full potential. She currently supplements her writing income as a neuroscience research assistant. Along with a variety of teenagers and dogs, she and Mr. Stanley live just outside of Sugartit, which is–honest to God–between Beaverlick, and Rabbit Hash, Kentucky.