I'm sure someone out there will say I'm a Potterhead, I'm not sure it's true but I do know I've enjoyed the last twelve years or so in the world of Harry Potter. I didn't read the first book, HARRY POTTER AND THE SORCERERS' STONE as HARRY POTTER AND THE PHILOSOPHER'S STONE, the UK title) although I did become aware of the book after reading about it in Time or Newsweek when it first was being issued in the US after a phenomenal run in the UK. It sounded intriguing but not enough that I'd pay import prices for the book. I waited until it came out in trade paper at the my local Waldenbooks. (NOTE sad so many things mentioned no longer exist except in my memory: Newsweek, Time, Waldenbooks). And if I remember buying the first book followed closely by HARRY POTTER AND THE CHAMBER OF SECRETS. But I do remember I was hooked and quite excited because it seemed J.K. Rowling was a prolific and timely author, one book a year is a nice clip. I tried to get my children to read the books, they were both in the teens, one 19 the other 11, but neither seemed interested until the summer of 2001 when the movie trailers started appearing. Then they read the first three in rapid sequence.
The First Three Harry Potter Books
Ah the movies, how many kids do you think it converted into readers?: I know it turned on both my children to trying out this "kids books" and my husband consented to listen to the audio books. Beginning with Book Four, HARRY POTTER AND THE GOBLET OF FIRE, we not only went at midnight to a bookstore to buy a book but we also bought it in two versions: hardcover and audio. So I also blame HP for introducing me to audio books — GOOD ones — because Jim Dale is an amazing voice actor and reader.
The summer of 2001 the first movie appeared and it was beautiful, bringing to the screen the train, Hogwarts, the owls, the magic. Of course being a movie it didn't cover everything in the book but it did give a wonderful flavor of the world of Harry Potter. I remember seeing it twice during the summer. And of course, we bought the film (since I don't manage the film library I have no clue if it was one of the last VHS or strictly DVD).
HARRY POTTER BOOKS Make Great Midnight Parties
Then we eagerly awaited book five, THE ORDER OF THE PHOENIX, which seemed to take FOREVER to come out. The books were getting bigger and heavier and Harry's angst was becoming annoying. Sorry, never one for too much teen angst, it makes me grit my teeth. I want to tell them to shut up and get over it. Ah, well.This was the first book signing when our whole book club went out for dinner and they queued up at the local Waldenbooks. It was fun and Gwen's very faded purple hat still adorns a cupboard in the kitchen. It was fun to share an experience with friends.
More movies, the fandom was gaining speed with symposiums being created around the world, wizard rock bands forming and playing to smaller but increasingly bigger groups. Kids in college like Gwen forming societies around the HP world. Finally six was announced and we stood in line for it again at midnight. But by now I was no longer watching the movies either at the cinemaplex or at home. I was disappointed in book five it dragged too much for me and my life was busy. On my first reading I skimmed the boring middle actually only heard it on our audio play during a road trip. I wasn't so excited about HARRY POTTER AND THE HALF-BLOOD PRINCE but felt I'd read most so far I needed to give her another chance. Fortunately THE HALF-BLOOD PRINCE had great secondary characters to help alleviate the still pouting Harry.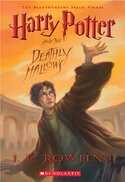 Then it was the final book, HARRY POTTER AND THE DEATHLY HALLOWS, the last of the story according to J.K. Rowling. It was the summer of 2007 and it was hot in Texas. We were asked by the Borders to help with some of the activities and the DFW Tea was also excited to go out to dinner and then to the Big Event, even those who didn't intend to buy or read the books. We went as a large group to Ramon's Hole in the Wall (sadly now defunct) and trouped over to the main Dallas Borders (also defunct) to check out the Night Rider bus (a double decker London bus brought in for the occasion), visit with Doubie, witches, owls in cages, test our trivia knowledge and drink pumpkin juice. You know, just us and a thousand or so other people milling around a book store from 10pm to after midnight. A great memory.
To fill the gap between the final book and the final movie, I attended a Harry Potter symposium, watched a documentary on Wizard Rock Bands, visited Universal Studios Wizarding World of Harry Potter in Orlando (go in the OFF season, we did and it was still crowded!) and listened to all seven books on audio during road trips.
So when the final movie, Harry Potter and the Deathly Hallows Part 2 was announced and some local theatres were offering a special package to see all eight movies in one week, I agreed to go. I knew I'd missed a movie or two, didn't realize it was four of them or half, so it would be an opportunity to see them all on the big screen for the last time. Four of us went Monday through Thursday this week to the NorthPark AMC to watch two films per night. It was absolutely amazing. And I encourage you to read Gwen's recap, published in the Pegasus News. Seeing the films sequentially shows how good they are as parts of a whole. They stand alone but together they tell a broader story. It was well worth the week of my life it seemed to consume.
So, I'll put on my 3D Potter glasses, hang the commemorative lanyard around my neck one more time and write a short blog on my outing as a Potter Head!
Get out there and READ a book…
Sara Reyes
Join us at Readers 'n 'ritas November 11-13, 2011! with Gena Showalter, C.L. Wilson and more guests
See you on the Twitter (@FreshFiction)
PS comment and you could win signed books from the Fresh Fiction treasure trove in this weekend's blog contest. Two WINNERS!!!