We haven't met yet so I need to ask you to read the following sentence and withhold judgement until the end of the post, okay? Ready? Here goes:
My goal in life is to find my authentic self and live my truth.
I know, I know, that's about the most stereotypical LA thing that has ever been said. It could only be more clichéd if I'd mentioned traffic on the freeway making me late for my yoga class in the Whole Foods cleanse aisle. But it's true. I want to live every day being honest with myself. This is exactly why I write young adult paranormal romance. The characters I create are strong, brave, sexy, and always have a witty retort ready to shoot back at anyone who gets in their way. Basically, THEY'RE ALL THE THINGS I'M NOT and that's why I love writing them!
YA paranormal romance allows me to live vicariously through confident, no nonsense girls who wouldn't let a bully (human or otherwise) come between them and their goal. A horrifying creature chases you through the woods? No problem—find a clearing and stand your ground. Obnoxious demons trying to get the better of you? Don't sweat it, you can talk your way out of it. A gorgeous but emotionally closed-off guypushes all your buttons while simultaneously pulling at your heart? Relax girl, you got this.
My characters are who I want to be but know I'm not. Sure, I have my flashes of biting comebacks and my slivers of confidence but I'm not like, Lo, the protagonist in my novel <THE THINGS THEY'VE TAKEN. Lo goes after what she wants and doesn't hold back. Her quest to find her mother takes her into the supernatural world. She isn't ready for it, but she adapts. The same is true for Lo'srelationship with Shaw, the tracker she hires to help her navigate through the journey. She wants him but not at the cost of settling for his standoffish attitude. Would I be able to resist a guy described as "a rugged cut of stubble and flannel" knowing he's no good for me? I'd love to say yes, but I'm trying to be my authentic self here remember?
So while I may not be all the things that make my characters bosses, I know there must be a bit of them inside me if I can conjure them onto the page. Though it may not always manifest when I'd like it to, I know something of their spirit is there. And that's a truth I can live with.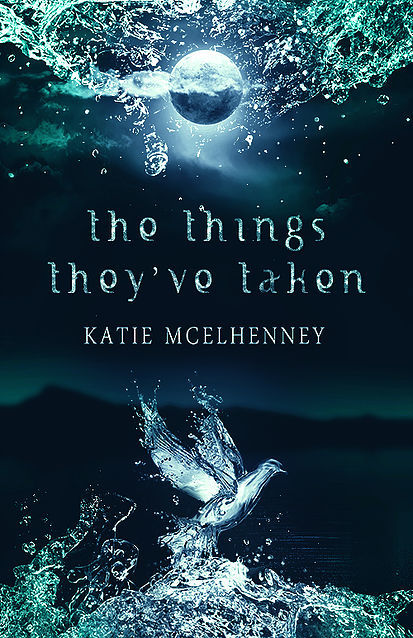 All Lo Campbell wants is to be a normal teenager—to go to one high school, live in one place, and have one real friend. Instead, she travels the country with her mother, chasing the unknown, the what else that's out there…
Until one day, the what else chases back.
Determined to rescue her mom from whatever supernatural being took her, Lo will need more help than a badly dressed demon obsessed with country music. She's going to need a Tracker—and lucky for her, she finds one. Shaw is strong, good-looking, possibly available, and utterly infuriating. Sure, he may have secrets, and his help costs more than a brand-new car, but she'll have to deal with him if she wants to find her mother—and get her home alive.
Young Adult | Young Adult Fantasy [Entangled Teen, On Sale: May 1, 2017, Audio Cassette / e-Book, ISBN: 9781545287347 / ]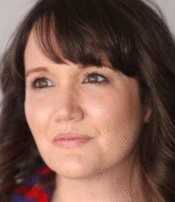 Katie McElhenney was born in Philadelphia into a big family of curious kids and patient adults. A voracious reader and unapologetic daydreamer, she knew she wanted to become a writer someday. With the support of an amazing family, great friends, and some truly spectacular teachers she has written short stories, poems, and novels. A solar-powered human, she now lives in Los Angeles and uses the great weather for year-round trips to the beach and long runs (where the best inspiration happens).