Here in Toronto, the sun is finally out, and it looks like it's here to stay. Many people have thrown on the shorts and sunglasses, and color splashes every article of clothing and makeup. I think it's safe to say that summer is officially here. But even if it isn't quite as warm where you live, that doesn't mean you can't get ready for the hottest summer releases!
June is rife with hot, new titles just waiting to be devoured, so set a reminder for yourself to pick up these amazing books!
The first book I want to talk about is THE CURSE OF TENTH GRAVE by Darynda Jones. Charley Davidson has had a wild ride so far in this series. While you'll probably want to read this series in order, this book is sure to be calling your name when it hits the shelves. Not only is this series laugh-out-loud funny, but Reyes will have you falling under his spell in no time. I cannot wait to see what's in store for these characters next!
ALLEGIANCE OF HONOR by Nalini Singh is a book that almost marks an end to an era, so to speak. It closes up a story arc that's been going on for years. Singh pens a sweet and heartfelt story for readers that not only updates us on where the previous couples are at in their lives now, but also sets up the next story arc for future books. That being said, if you haven't read the other books in the Psy-Changeling series, it's best to start at the beginning with SLAVE TO SENSATION.
And lastly, the Queen of Romance, Nora Roberts has the second book in the Guardian Trilogy out this month. This one features a mermaid named Annika, and once again, Nora Roberts is making breakthroughs. Not only do we have a mermaid, but the hero is someone who can travel through space and time. BAY OF SIGHS is sure to be an intriguing read for every reader.
Let me know in the comments which summer releases that you are most looking forward to reading this month! I'd love to hear them!
THE CURSE OF TENTH GRAVE is book is the tenth book in the Charley Davidson series!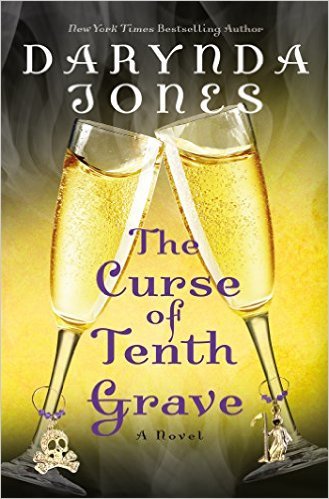 If one door closes and another one opens, your house is probably haunted.
―Bumper Sticker
As a Part-time PI and fulltime grim reaper, Charley Davidson has asked a lot of questions throughout her life: Why can I see dead people? Who is the hot supernatural entity following me? How do I get gum out of my sister's hair before she wakes up? But, "How do I trap not one malevolent god, but three?" was never among them. Until now. And since those gods are on earth to kill her daughter, she has little choice but to track them down, trap them, and cast them from this dimension.
There's just one problem. One of the three stole her heart a very long time ago. Can the Razer, a god of absolute death and destruction, change his omniscient spots, or will his allegiances lie with his brothers?
Those are just a few of the questions Charley must answer, and quick. Add to that a homeless girl running for her life, an innocent man who's been charged with murdering the daughter of a degenerate gambler, and a pendant made from god glass that has the entire supernatural world in an uproar, and Charley has her hands full. If she can manage to take care of the whole world-destroying-gods thing, we're saved. If not, well…
Mystery Woman Sleuth | Mystery Paranormal | Romance Paranormal [St. Martin's Press, On Sale: June 28, 2016, Hardcover / e-Book, ISBN: 9781250078193 / eISBN: 9781466890510]
ALLEGIANCE OF HONOR is book fifteen in the Psy-Changling series! The world has changed and new alliances are being forged.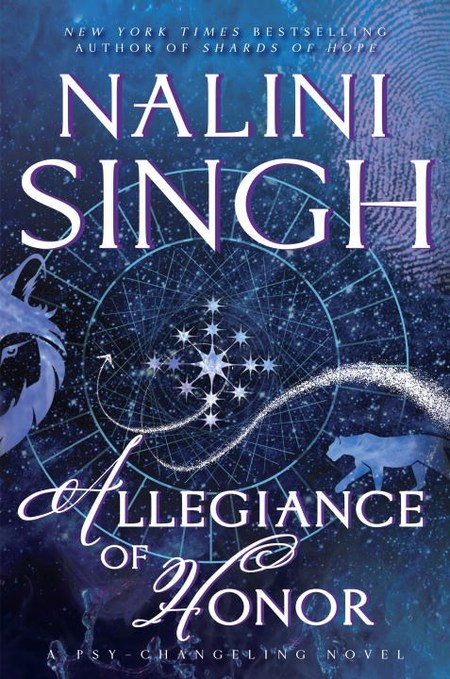 The Psy-Changeling world has undergone a staggering transformation and now stands at a crossroads. The Trinity Accord promises a new era of cooperation between disparate races and groups. It is a beacon of hope held together by many hands: old enemies, new allies, wary loners.
But a century of distrust and suspicion can't be so easily forgotten, and it threatens to shatter Trinity from within at any moment. As rival members vie for dominance, chaos and evil gather in the shadows and a kidnapped woman's cry for help washes up in San Francisco, while the Consortium turns its murderous gaze toward a child who is the embodiment of change, of love, of piercing hope: a child who is both Psy…and changeling.
To find the lost and protect the vulnerable—and to save Trinity—no one can stand alone. This is a time of loyalty across divisions, of bonds woven into the heart and the soul, of heroes known and unknown standing back to back and holding the line. But is an allegiance of honor even possible with traitors lurking in their midst?
Romance Paranormal | Paranormal Romance [Berkley, On Sale: June 14, 2016, Hardcover / e-Book, ISBN: 9781101987766 / eISBN: 9781101987773]
BAY OF SIGHS is book two in the Guardians Trilogy! Nora Roberts loves paranormal and it shows.
The new Guardians Trilogy novel from the #1 New York Times bestselling author of Stars of Fortune.
To celebrate the rise of their new queen, three goddesses of the moon created three stars, one of fire, one of ice, one of water. But then they fell from the sky, putting the fate of all worlds in danger. And now three women and three men join forces to pick up the pieces…
Mermaid Annika is from the sea, and it is there she must return after her quest to find the stars. New to this world, her purity and beauty are nothing less than breathtaking, along with her graceful athleticism, as her five new friends discovered when they retrieved the fire star.
Now, through space and time, traveler Sawyer King has brought the guardians to the island of Capri, where the water star is hidden. And as he watches Annika in her element, he finds himself drawn to her joyful spirit. But Sawyer knows that if he allows her into his heart, no compass could ever guide him back to solid ground…
And in the darkness, their enemy broods. She lost one star to the guardians, but there is still time for blood to be spilled—the mermaid's in the water and the traveler's on the land. For she has forged a dangerous new weapon. Something deadly and unpredictable. Something human.
Romance Paranormal | Fantasy [Berkley, On Sale: June 14, 2016, Trade Size / e-Book, ISBN: 9780425280119 / eISBN: 9780698190740]