Recent blizzards and cold snaps got me thinking about weather and the role it can play in a story. Some of my favorite romances are when characters are snowbound together—or when a sultry summer fling turns into an HEA.
My new historical romance, A GENTLEMAN'S GAME, takes a few plot turns due to weather too. It's the story of Nathaniel Chandler, son of a baronet, and Rosalind Agate, the baronet's secretary, as they (and other travelers) take racehorses across England to run in the Epsom Derby.
Since the Epsom Derby is run in spring, that's when my story takes place. And just as the world begins to green and grow, this is a time of the characters' awakening from roles they've been frozen in for a long time. Nathaniel and his father have a tense, mistrustful relationship. Rosalind owes loyalty to someone who manipulates her. As they spend time together, they both begin to bloom and to reach beyond what they've been before.
A day of rain on the road gives the characters a sense of urgency as they travel. This is their first full day on the road, and it's the first time in which Nathaniel and Rosalind have an intimate (not that kind of intimate…yet) conversation with each other.
The following day, everything is washed clean. Not only the land, but their spirits. It's a day for visiting a village fete, one of the most joyful scenes in the book. Here's how the setting appears to Rosalind:
Kelting was an etching-perfect village through which the road ran like a brown velvet ribbon. Rosalind had never seen anything quite like it: shops with thatched roofs and glinting windows; trees new-leafed and clean from the previous day's rain; tidy pavements and a neat village green on which fiddle music guided laughing couples in a dance. Even a little elbow of a river or a canal, down which men on small flat-bottomed boats were punting to the cheers of onlookers.
Rosalind hasn't had many chances for fun and play, and this clean new day gives her a chance for all of that.
Near the end of A GENTLEMAN'S GAME, it's time for the running of the Epsom Derby! Nathaniel's father, Sir William, has joined the travelers—and on this day, their troubled relationship takes a turn for the better. As the day begins, all seems right with the world to Sir William, and this feeling of buoyancy helps him mend fences with Nathaniel.
The morning of the Derby was fine—but then Sir William Chandler had always found the morning of a race to be fine. Whether the rain fell in sheets or the sun baked, the thunder of hooves over turf was the weather he most cared about.
At the beginning of A GENTLEMAN'S GAME, the characters are short on happiness—but they're never short on hope. Over the course of the novel, as characters fall in love or forgive, the weather reflects their feelings. I hope reading Nathaniel and Rosalind's story leaves readers with the feeling of a spring day: warm and lovely, with a bit of a nip to it.
Have you ever read a book in which the weather played a big part in the story? (Here's your chance to name all those snowbound and summer-fling romances so I can add them to my TBR pile.) Or if not, what's your favorite season of the year, and why?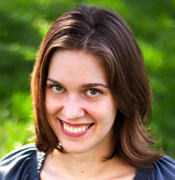 Historical romance author Theresa Romain pursued an impractical education that allowed her to read everything she could get her hands on. She then worked for universities and libraries, where she got to read even more. Eventually she started writing, too. She lives with her family in the Midwest.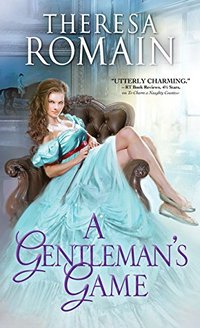 In Book One of Romance of the Turf, a refreshing new Regency series from rising star Theresa Romain, a mystery demanding to be solved brings unlikely allies together in more ways than one…
How far will a man go
Talented but troubled, the Chandler family seems cursed by bad luck-and so Nathaniel Chandler has learned to trade on his charm. He can broker a deal with anyone from a turf-mad English noble to an Irish horse breeder. But Nathaniel's skills are tested when his stable of trained Thoroughbreds become suspiciously ill just before the Epsom Derby, and he begins to suspect his father's new secretary is not as innocent as she seems.
To win a woman's secretive heart?
Nathaniel would be very surprised if he knew why Rosalind Agate was really helping his family in their quest for a Derby victory. But for the sake of both their livelihoods, Rosalind and Nathaniel must set aside their suspicions. As Derby Day draws near, her wit and his charm make for a successful investigative team…and light the fires of growing desire. But Rosalind's life is built on secrets and Nathaniel's on charisma, and neither defense will serve them once they lose their hearts…
"Utterly charming." –RT Book Reviews, 4 ½ stars, for To Charm a Naughty Countess
"Superbly written…it is easy to see why Romain is one of the rising stars of Regency historical romance." –Booklist, for To Charm a Naughty Countess