A few years back I was writing a women's fiction novel with a strong romantic twist. My only problem was that the guy my protagonist loved was boring. He was dependable, handsome, and said all the right things, but he lacked charisma. I was brainstorming with an author friend about my lackluster story when she asked me something like, "What if he is this totally hot guy that exudes masculinity?" I laughed. The man she was describing was straight out of a romance novel, and I didn't write straight romance.
My women's fiction always has a romantic thread, but I admit that I'm a pretty straight-laced girl. My books have never been considered hot or steamy. Writing about anything hot would make me blush, so at first I didn't think I'd be able to write the kind of man into my novel that my author friend was talking about. I didn't even know if a man like that would interest readers of women's fiction, even they do tend to like romantic threads in their stories.
Around the same time that I was trying to enliven that novel with a stronger love interest, my husband and I attended a Professional Bull Rider event at the Cheyenne Frontier Days Rodeo. We attend the rodeo every year, but because my book was on my mind I instantly saw everything differently. Before we ever even found our seats, I sensed the excitement in a way I hadn't before. How could I have not paid attention to all this in the past? I mean, who could be immune to such a powerful display of beast versus man? Certainly not all of the young women in the audience.
The writer in me couldn't help but take note of the actions of the women around me who were obviously smitten with the cowboys being introduced. I didn't really blame them. Those cowboys were heroes complete with boots and chaps, all lined up before them. Holy Cow! I thought some of these girls were going to faint. And the rest of the ladies who weren't about to pass out in their boots and hats were like me, sitting beside their own cowboys waiting for the show to start. I glanced over at my husband, dressed in Wranglers, boots, and a hat that he had owned forever. He wasn't a tourist, and he was mine. I had my own hot cowboy!
It turns out that even straight-laced women like their men to be, well, hot. I can say it now. I like my husband's business attire, but I love to see him wearing boots and hat. I like his strong, masculine qualities. I went home and completely rewrote my story, making the guy a cowboy hero complete with all the masculine appeal of the American cowboy. In the end, it enlivened the whole story line and the novel became a brand new, and I think better, story.
My protagonist, Manda Marshall, suddenly became a rodeo wife and her new hot husband, Keith Black, became a professional saddle bronc rider who on his way to retirement, but not at all ready to give up being on the back of a bucking horse. Out of nowhere it seemed, there was an instant attraction that turned up the heat not only on the romance side of the story, but also in the couples interactions and misunderstandings as deeper secrets and difficulties in their life together are encountered.
I think it was John Wayne who said, "Courage is being scared to death, but saddling up anyway." That's what I did with this story. I wrote a hero that was completely out of my comfort zone because I didn't think it would fit the kind of story a lady like me would write. Well, I was wrong. Ladies like me love romance, and we all want a hero, even if we don't need him to save us.
I can't wait for readers to get their hands on THE REAL THING, which releases on April 7th, 2016.
Giveaway
Who is your hero? Tell us below and one commenter will win a copy of WAKING UP JOY!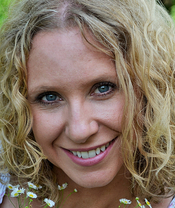 Tina Ann Forkner is a substitute teacher and award-winning novelist. Her books include Waking Up Joy, Rose House, and Ruby Among Us. Her latest, The Real Thing, releases April 7th. She grew up in Oklahoma and currently lives in Cheyenne, Wyoming.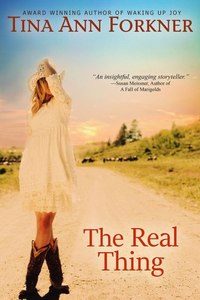 Sometimes you have to don a pair of cowgirl boots…
Manda Marshall is ready to leave heartache behind when she marries Keith Black, a champion saddle bronc cowboy and man of her dreams. But going from the serenity of small town Tennessee to the exhilaration of the rodeo, nothing can prepare her for being a cowboy's wife. Becoming the new stepmom to Keith's little boy and teenaged daughter has Manda relying on her deep sense of longing for a family and budding love for her stepchildren to strengthen their bond.
Manda's desire of being a rodeo cowboy's wife begins to take second place as she works to reinvent a life for herself and new family, but when mysterious phone calls from Keith's missing ex-wife dredge up the past, Manda finds her marriage and family in an unusual and heart wrenching dilemma. The life she had worked so hard to build is suddenly redefined and her commitment to her husband and family is tested.
What Manda discovers has the power to heal or break her family in this emotional tale of cowboys, rodeo queens, and what it really means to ride beside a cowboy and his family, no matter the risk.