When I was in high school I wanted a pair of Justin Ropers, a type of boots that were very popular in a town where many of the teenagers knew how to ride a horse. I wasn't one of those teenagers, but I still wanted boots.
I did live out in the country and considered myself to have a tomboy side, so having a pair of country-looking boots seemed pretty normal to me. Unfortunately, on the first day I wore them to school, I felt extremely out of place. I remember feeling like a fraud as I walked past a group of girls who it seemed had earned the right to wear their boots, because they had horses and I didn't.
Sadly, I knew I wasn't the real thing, like those other girls, and everybody else probably knew it. It wasn't until my real, cowgirl friend, Amy, stopped me in the hall to say she liked my pair of boots that I began to feel like I belonged in them. After that, I wore them as much as I wanted to. The only thing I would change about that story is the part about my needing someone else to make me feel worthy enough to wear those boots.
There is just something about donning a pair of cowgirl boots that makes you feel strong and like you're part of something that can only be described as rugged and earthy. Put on western boots and suddenly you're a part of a group of tough women who can handle anything — even if you aren't really a cowgirl.
Manda Marshall, the main character in THE REAL THING, marries a cowboy, but she isn't really a cowgirl. She doesn't even know how to ride a horse. Like me with my cute pair of boots in high school, she feels like a fraud in her boots, but there is much more to her story than that.
What about you? Do you wear boots? What do you don when you need a little something to make you feel stronger?
Tina Ann Forkner is a substitute teacher and award-winning author of multiple novels including her newest release The Real Thing. Her novel, Waking Up Joy, is a recipient of the Virginia Romance Writers HOLT Medallion Award of Merit for Romantic Elements. Tina is also a proud member of Tall Poppy Writers and Women's Fiction Writers Association. Learn More: www.tinaannforkner.com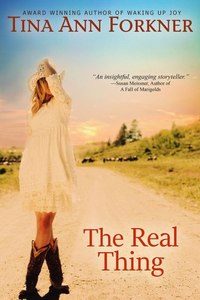 Sometimes you have to don a pair of cowgirl boots…
Manda Marshall is ready to leave heartache behind when she marries Keith Black, a champion saddle bronc cowboy and man of her dreams. But going from the serenity of small town Tennessee to the exhilaration of the rodeo, nothing can prepare her for being a cowboy's wife. Becoming the new stepmom to Keith's little boy and teenaged daughter has Manda relying on her deep sense of longing for a family and budding love for her stepchildren to strengthen their bond.
Manda's desire of being a rodeo cowboy's wife begins to take second place as she works to reinvent a life for herself and new family, but when mysterious phone calls from Keith's missing ex-wife dredge up the past, Manda finds her marriage and family in an unusual and heart wrenching dilemma. The life she had worked so hard to build is suddenly redefined and her commitment to her husband and family is tested.
What Manda discovers has the power to heal or break her family in this emotional tale of cowboys, rodeo queens, and what it really means to ride beside a cowboy and his family, no matter the risk.