As weather turns toward spring, thoughts turn toward love…and those of us who adore lushly romantic period drama sigh and miss "Downton Abbey" anew. What to do, but search for Downtonesque-books to fill that yearning?
We begin in the Victorian era with Meredith Allard's WHEN IT RAINED AT HEMBRY CASTLE. Wealthy American Daphne accompanies her father Frederick to England to visit his dying father, the 8th Earl of Staton. Discovering after their arrival that her cousin Richard, the earl's heir, has no interest in either the title or the estate he is to inherit, Daphne's father feels compelled to remain after his father's death and run the estate for the unreliable new earl. Daphne is drawn into the aristocratic life by her grandmother, the dowager countess, who wants to turn her into an English lady and wed her to a titled husband. Although Daphne finds Edward Ellis, an enterprising young journalist—and grandson of Hembry Castle's butler—far more fascinating that the aristocrats her grandmother recommends, Edward doesn't travel in the same society as the residents of Hembry Castle—and is supposed to marry another girl. Love, duty and destiny clash as Daphne tried to untangle the complex web of conflicting interests and emotions.
Spanning events in both World Wars is Alix Rickloff's SECRETS OF NANREATH HALL. Red Cross nurse Anna Trenowyth survives the hazardous evacuation from Dunkirk at the beginning of World War II only to learn that her adoptive parents have been killed in an air raid. She soon faces additional trauma when she discovers her next nursing assignment will take her to a hospital set up inside a place she barely remembers—Nanreath Hall, the home of her biological mother, who died when Anna was six. A parallel storyline presents her mother's story in pre-World War I England. A typical aristocratic daughter, Lady Katherine Trenowyth is expected only to marry well. Her acceptance of that conventional future begins to weaken after she meets bohemian painter Simon Halloway, who sweeps her into an exotic and exciting world far different from her family's. But choosing to be different has a price, and Katherine ends up destitute and alone. Drawn back to the setting of her mother's life, Anna must decide how much of the past she dares uncover—and whether trying to reestablish ties with the family she lost is worth the cost.
Ireland and Australia are settings shared by Rosemary McLoughlin's TYRINGHAM PARK. Life at the luxurious Irish estate changes forever the day eight-year-old Charlotte's two-year-old sister Victoria goes missing. Her mother, Lady Edwina, seems to be distraught, but with his war office work deemed too important to be left, her father cannot return home. Abandoned for the most part to the care of her malicious nanny, Dixon, made well aware that both her mother and Dixon would have preferred Charlotte, rather than Victoria, to have been the child lost, she grows up finding what solace she can from the other servants. When she later reaches outside the family, hoping to find love and acceptance at last, she discovers that the long shadow of Victoria's loss still has the power to affect her life.
McLoughlin gives us a sequel in RETURN TO TYRINGHAM PARK. This time the tale begins in Australia with a doctor's fateful decision. After delivering twins to a poor farmer's wife who already has seven children, the doctor impulsively decides to secretly keep one child to replace his wife's stillborn baby. The only witness to this act is a mentally defective man whose testimony won't be believed, so after the doctor and his wife leave Australia for Ireland, the deception remains undiscovered. As heiress to her aristocratic mother's wealth, the stolen twin can expect a life of privilege and luxury, while the farm child looks forward to hard work and grinding poverty. But truth will out, as the doctor's guilt, family ties, buried secrets and social manipulation combine to bring the far-reaching events set in motion by that one act to a tumultuous conclusion.
Ready to return to the world of maids and chauffeurs, luxurious manor houses and grand drama? Grab one of these stories and immerse yourself in a bygone world of privilege and glamor!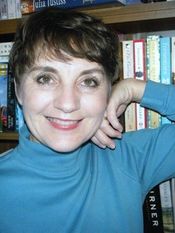 Real, intense, passionate historical romance
After twelve years as a vagabond Navy wife, an adventure that took her from Virginia Beach, VA, to Monterrey, CA, to Tunis, Tunisia to Oslo, Norway and back, Julia Justiss followed her husband to his family's East Texas homeland. On a hill above a pond with a view of pasture land, they built an English Georgian-style home. Sitting at her desk there, if she ignores the summer heat, she can almost imagine herself in Jane Austen's Regency England.
In between teaching high school French and making jaunts to visit her three children (a Seabee in Gulfport, MS, a clothing buyer in Houston and a mechanical engineer in Austin, TX) she pursues her first love—writing historical fiction.
Series: Regency Silk & Scandal | Hadley's Hellions | Ransleigh Rogues
The courtesan's courtship
Pursuing a role in Parliament, Christopher Lattimar needs a virtuous marriage to make society overlook his roguish past. When beautiful and disarming Ellie Parmenter offers to reform and refine him, he's too tempted to say no.
Once a courtesan, Ellie knows a thing or two about polishing a diamond in the rough. She has no designs on Christopher—or any man in search of a wife—but their best- laid plans begin to tumble once lessons in respectability turn to seduction…
Hadley's Hellions
Four friends united by power, privilege and the daring pursuit of passion!
Romance Historical [Harlequin Historical Romance, On Sale: September 1, 2017, e-Book, ISBN: 9781488021695 / eISBN: 9781488021695]