There are lots of fun things to do in the Motor City. My favorites include things like NOT getting mugged and NOT witnessing a gang killing because that's all I hear about in today's news. City gone bankrupt. The terrors of 8 Mile. A whole lot of empty urban landscape ready for filming the newest zombie apocalypse movie. But Detroit still has a lot going on that's fun. Guess which ones of the following are true.
A great big tire on I-95. It was a Ferris wheel at the 1964/5 New York World's Fair, but now has tread where the gondolas used to be.
Motown Museum. A small shingle clad building where Motown's unique sound was produced from 1957-1072. Any Marvin Gaye fans out there?
The crumbling ruins of

The Grande Ballroom, a place that once hosted jazz legends and psychedelic rock bands.
The Detroit Children's Zoo. Don't worry. There's a new exciting one on the opposite side of Belle Isle, but the remains of this one are still visible.
Michigan's Central Station – Hundreds of trains passed through there each day…once upon a time
The Heidleberg Project – One man's attempt to bring beauty to an urban landscape by making abandoned buildings artistically exciting.

Secret groups of shifters live there, getting their animal on while saving the city one hot heroine at a time.
Answer: ALL ARE TRUE! …well, except for the Heidleberg Project. It's alive and well as it tries to bring art to the community. https://www.heidelberg.org/ Personally, I love their bumper sticker that reads: Life Without Art is Stupid.
Perhaps you were wondering where the secret groups of shifters live? Well, if I told you, it wouldn't be secret, would it? But you can learn more about them in Alpha Unleashed, the first book set in Detroit in my Grizzlies Gone Wild series. It begins a new trilogy of danger in the Motor City when someone poisons the water and normal, everyday people start turning into shifters. Fortunately, the women of Detroit are strong and determined, even in the face of incredible happenings. Once they figure out the score—grizzly bears in Detroit!—they're able to ride the rollercoaster that comes from loving a man who is half animal and all sexy. Check out Fresh Fiction's Review here: http://freshfiction.com/book.php?id=93342
"Superbly crafted, smart, action-packed, innovative, thrilling: a winner all the way." Fresh Fiction
"Alpha Unleashed is a fast-paced, wild bear-shifter ride! I loved it!" — New York Times bestselling author Jennifer Ashley
Leave a comment about what you'd like to do in Detroit (even if it's find the secret lair of the grizzly bear shifters), and you could win e-copies of the first Grizzlies Gone Wild trilogy.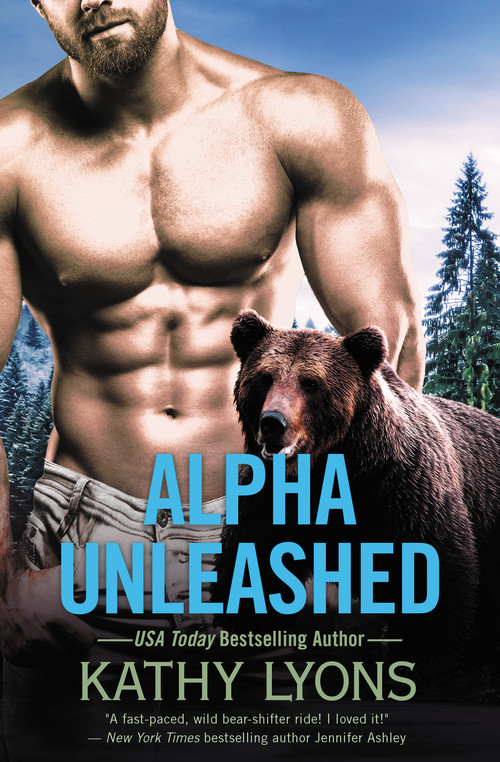 Some men aren't meant to be tamed. Especially if they're Grizzlies Gone Wild.
YOU CAN'T KEEP A GOOD BEAR DOWN
Alyssa Nelson doesn't actually believe that Simon Gold is a shape-shifting grizzly bear—until she sees it firsthand. Aaaaand the award for Totally Surprising Changes goes to Simon Gold. But Alyssa doesn't have time to deal with the fact that her ruggedly hot, long-time secret crush is a shifter . . . not when her brother has turned into one, too.
After ten months in bear form, Simon is struggling. He's not ready to deal with anyone, let alone the bold and gorgeous Alyssa. Mine, whispers his bear. But all hell has broken loose in the Detroit shifter community, and it's spreading to humans. Now Simon must face the darkest place of all: where bear and man become one. And the only way he can make it back to his humanity is by finding—and claiming—his mate.
Romance Paranormal [Forever Yours, On Sale: March 6, 2018, Paperback / e-Book, ISBN: 9781538762097 / eISBN: 9781538762097]

Superbly crafted, smart, action-packed, innovative, thrilling: a winner all the way!
Kathy Lyons is the wild, adventurous half of USA TODAY bestselling author Jade Lee. A lover of all things fantastical, Kathy spent much of her childhood in Narnia, Middle Earth, Amber, and Earthsea, just to name a few.  There is nothing she adores more than turning an ordinary day into something magical, which is what happens all the time in her books. Winner of several industry awards including the Prism—Best of the Best, Romantic Times Reviewer's Choice, and Fresh Fiction's Steamiest Read, Kathy has published over 50 romance novels, and she's just getting started.