Eating dark chocolate improves your focus and concentration. We know how frustrating it is when your mind is wandering all over the place (like worrying about making dinner) when all you want to do is hide in your bed and read.
Chocolate releases phenylethylamine into your brain. This chemical makes you feel as if you're falling in love. So pairing a fine chocolate with a reading will enhance the feelings of love readers already experience when caught up in a great book. Who doesn't want that?
Scientific studies have shown that eating chocolate boosts your memory. Have you ever picked up a book, read it most of the way through and then realized you'd already read it? I do that all of the time. I certainly could use more chocolate to help me remember which books I've already read.
Chocolate makes you happy. Reading makes you happy. Doing both together should make you extremely happy. Eating chocolate releases endorphins (which releases stress) and serotonin (which acts like an antidepressant).
Finally, because—come on—it's chocolate and it's delicious!

Dorothy St. James is the author of the Southern Chocolate Shop Mystery series. ASKING FOR TRUFFLE (Sept. 12, 2017) is the first book in the series.
When Charity Penn receives a letter saying she won a trip to Camellia Beach, South Carolina complete with free cooking lessons at the town's seaside chocolate shop, the Chocolate Box, she's immediately skeptical. She never entered the contest. Her former prep school friend offers to look into the phony prize―only to end up drowned in a vat of chocolate.
Struck with guilt, Penn heads to the southern beach town to investigate why he was killed. But as wary as she is of the locals, she finds herself lured into their eccentric vibe, letting her defenses melt away and even learning the art of crafting delicious chocolates. That is, until delight turns bittersweet as she steps straight into the midst of a deadly plot to destroy the seaside town. Now, only Penn's quick thinking and a mysterious cask of rare chocolate can save the town she's learning to love.
Rich and decadent, Asking for Truffle, the first in a new cozy series by Dorothy St. James, is sure to be a delectable read for fans of JoAnna Carl and Joanne Fluke.
Fresh Fiction called Asking for Truffle: "An easy reading cozy mystery that keeps you hooked from page one with delicious characters and a delightful story."
Visit Dorothy at her website: www.dorothystjames.com and enter to win the world's rarest chocolate bar.
You can also find Dorothy on:
Facebook: www.facebook.com/dorothy.stjames
Twitter: www.twitter.com/DorothyMcFalls
Pinterest: www.pinterest.com/dorothystjames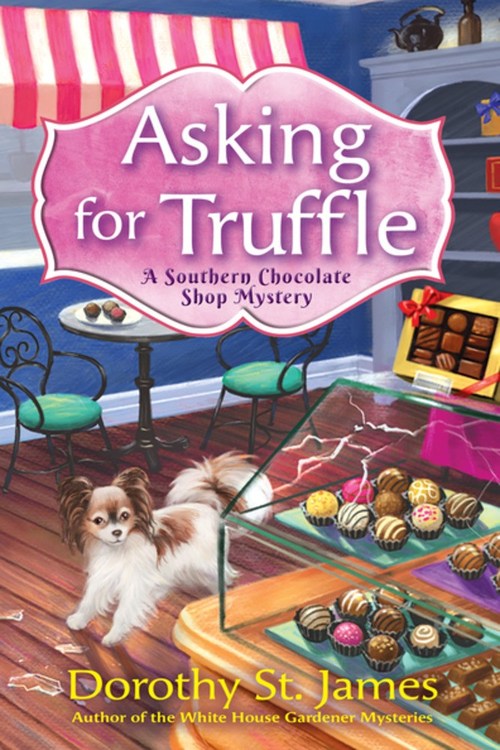 Mystery Cozy [Crooked Lane Books, On Sale: September 12, 2017, Hardcover / e-Book, ISBN: 9781683312918 / eISBN: 9781683312925]

Feast yourself on Asking for Truffle and enjoy this delicious mystery!