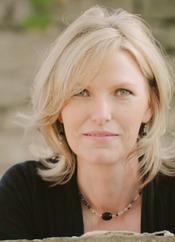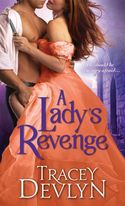 Huge thanks to Fresh Fiction for having me here today. I'm really looking forward to chatting with folks!
Writing my debut novel, A LADY'S REVENGE, proved challenging on many levels. Setting aside the fact that it's my first manuscript and has undergone much reconstruction, I managed to stretch the bounds of the Regency romance world in several areas of the story. For instance, I opened the story with a torture scene and my heroine has suffered both physically and mentally at the hands of her enemy and now she can't abide a man's touch.
From an early age, Cora deBeau's heart was set on avenging the brutal murders of her parents. She trained, she planned, and she eventually sold her soul. Some would call her single-minded, stubborn, and ruthless, others will label her intelligent, courageous, and protective of furry four-legged creatures. Most will agree, however, that she's a damaged and complicated woman.
As you can tell from my description above, A LADY'S REVENGE is not a light and humorous read. The book focuses on the darker side of espionage and human nature. I enjoyed exploring this side of Cora and a few of my other characters as well.
So, are you turned off by a vengeful heroine? Or, if the author provides the right motivation, do you cheer her on? Do you prefer the hero to be the avenger? Would love to hear your thoughts on this subject.
Please leave a comment for a chance to win a print copy of A LADY'S REVENGE (U.S. and Canada only, please).
* * *
BRIEF SUMMARY OF A LADY'S REVENGE (available now):
A British agent flees her French captor's torturous dungeon and falls in love with the decoder responsible for her imprisonment.
British agent Cora deBeau has spent the last three years seducing secrets from the most hardened of French spies while searching for her parents' killer. When her latest assignment goes awry, she suffers at the hands of her French captor until Guy Trevelyan, the Earl of Helsford and master cryptographer, saves her during a daring rescue. Scarred and wary of men, Cora shies away from the one man who could heal her savaged heart.
After rescuing Cora from a French dungeon, Guy discovers it was one of his deciphered messages that led to her captivity. Guy strives to earn her forgiveness while outwitting their enemy. But will he find the scars on her wounded soul run too deep?
* * *
ABOUT THE AUTHOR:
Tracey Devlyn writes historical romantic thrillers (translation: a slightly more grievous journey toward the heroine's happy ending). An Illinois native, Tracey spends her evenings harassing her once-in-a-lifetime husband and her weekends torturing her characters. For more information on Tracey, including her Internet haunts, contest updates, and details on her upcoming novels, please visit her website at:
TraceyDevlyn.com |  Twitter |  Facebook | Lady Janes Salon Naperville
* * *
BUY LINKS
Paperback
Amazon | Barnes and Noble | B-A-M | Booktopia | Powell's | The Book Depository
eBook
Amazon | All Romance | Barnes and Noble | B-A-M
To comment on Tracey Devlyn's blog please click here.