We live in an era of strong women. When I was born, the second wave of feminism was just taking hold in the United States and Europe. While the first wave concentrated on women's right to vote, the second focused on more self-determination through workplace, family, and sexual roles. Despite heavy resistance, women demanded equality in all parts of their lives.
Yet even as women like my mother burned their bras, they read their daughters fairytales. Filled with damsels in distress, the heroines were saved at the last possible moment by their Prince Charmings. While still a tiny tot, I dreamed that a bold man would come along, sweep me off my feet, and carry me to his palace to live happily ever after. In later years, when my parents divorced and assorted caregivers succumbed to mental illness and addiction, my fantasies of rescue grew stronger.
I wished for a hero, but like most of you, I had to save myself. Life made me tough. Fighting for my fair share put me arm-in-arm with my equality-demanding sisters. Yet my childhood fantasies lived on. It was a given that both elements would show up in my books.
ALIEN RULE, the second in the Clans of Kalquor series, is a blend of my youthful wishes and the struggles that hone the female survivor of any era. Yes, there is a Prince Charming. In fact, there are three alien Prince Charmings, the heirs to the thrones of Kalquor. If I'm going create a fantasy, I'm going to pour it on, okay? As tough as we are, we each deserve at least three heroes, ladies. Trust me on this.
There is also a damsel in distress, a product of a future dystopian Earth. Yet she's no shrinking violet. The heroine is a woman of fiery temper and indomitable will. She is us, a member of the sisterhood engaged in the continued struggle to determine her own destiny. She knows how to survive and thrive no matter the obstacles.
Alien Rule is fairytale meets future, a grown woman's romantic fable set in a science fiction universe. It's the realization that women can indeed have it all, and on their terms. Sure, the heroine recognizes that it's nice to have a trio of big, strong fellows eager to kick butt on her behalf. Maybe she'll even let them get in a lick or two on their shared enemies. They need their hero moment, after all.
They'll also be there for her when her strength fails her, as it fails all women and men at some point in their lives. The heroes won't think less of her for it, because they truly are Prince Charmings. They know that at the end of the day, she's a leader in her own right, a force to be reckoned with, and that she still deserves her happily-ever-after. Just as we all do.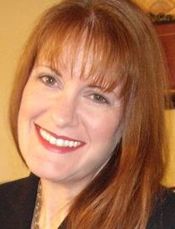 Tracy St. John lives in coastal Georgia with her husband and son. You'll often find her haunting train museums with her locomotive-loving son. Besides writing, she has also worked in video production both in front of and behind the camera. She's usually cast as the gun-toting bad gal, getting handcuffed in the end. She has no complaints.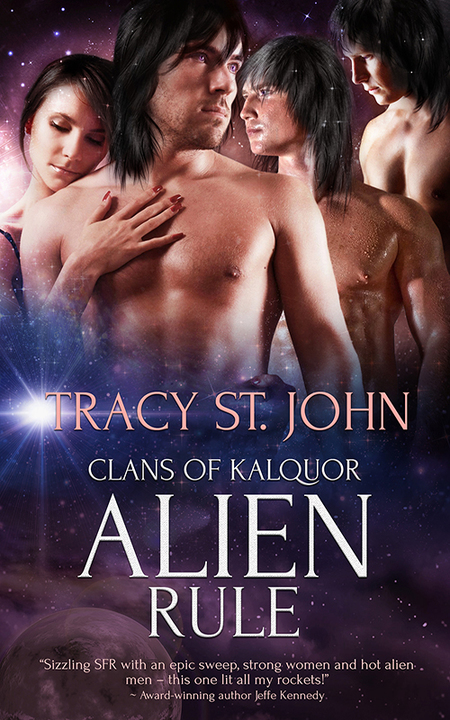 The mighty Kalquorian Empire trembles on the verge of extinction. After watching a virus decimate their female population, Kalquor is desperate to find a way to survive.
Marked for execution, Jessica McInness knows joining the enemy is her only hope for survival. When Kalquor's crown princes arrive to rescue her, she discovers the three alien men aren't quite what she hoped for in lifelong mates. Arrogant and brutish, the royal clan infuriate her—and awaken passions no other men have.
The Kalquorians are determined to seduce the temperamental woman who inflames their lusts. They relentlessly pursue the hesitant Earther, resorting to forceful means to claim her as their mate. But love comes at a high price when the princes' choice of a princess incites a rebellion on Kalquor and endangers Jessica's life.
Reader Advisory: This book contains BDSM situations including bondage, D/s, spankings, and multiple partners.
Publisher's Note: This book has previously been released elsewhere. It has been revised and re-edited for re-release with Totally Bound Publishing outside of the USA.
Romance Science Fiction | Romance Erotica Sensual | Erotica Paranormal [Totally Bound Publishing, On Sale: October 25, 2016, Paperback / e-Book, ISBN: 9781786860675 / ]