Halloween doesn't have to mean adding inches to your waistline, although that certainly is a delicious way to celebrate the holiday;) Our cozy authors, however, have given you another outlet for that addictive gene dying to take over—and it's better for your weight, better for your teeth, and much better for your mind! Skip the sugar, and the corn syrup, and possibly the Hershey's all together this Halloween, or at least limit it to one, and binge on mystery reading instead!
For those readers who have already purchased their treats and have bags of candy sitting on the upper self of their pantry, I have two mysteries you can sink your teeth into right away. And for after Halloween, when the kid's candy is scattered across the kitchen counter—calling your name like someone from beyond the grave, I have two more releases to keep the spirits at bay.
Dig in—the tricks are deadly, and the treats are wrapped in delightful covers!
Giveaway Alert!
Click here, for my Fall Thriller Giveaway and enter for your chance to win five mystery treats!
Until Next time, get cozy and read on!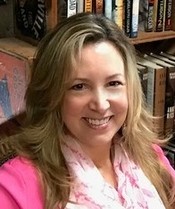 Kym Roberts is a retired detective sergeant who looks for passion, mystery and suspense in every book she reads and writes. She can be found on the web kymroberts.com, on Facebook at Kym Roberts (author) and on Twitter @kymroberts911. Look for her new romantic suspense release, Red Lace, A Hard Men of the Rockies Novella and upcoming mystery release, Fatal Fiction, A Book Barn Mystery available for pre-order now.